Written by Richard Upton

NH FRAMERS OF FREEDOM
Rarely remembered, Meshech Weare was among NH's most powerful early leaders. He has been called "The Father of New Hampshire" and was the first "president" of the state in 1784-85 before governors technically existed. His name is remembered by the citizens of Weare, NH and in his birthplace of Hampton Falls. Yet we have so far been unable to find a single portrait of him. Got one?
SEE more NH framers of freedom
Meshech Weare
Jan 16 1713 to Jan 14 1786
The American Revolution in New Hampshire could well be considered through the life and career of Meshech Weare of Hampton Falls. New Hampshire's outstanding civil leader during this period, Weare is often called "the father of his state."
He was a highly respected man from a well established family with deep Colonial roots, many of his ancestors having held public office. He was a believer in law -- not a radical dreamer, but a practical and generally conservative man.
His life illustrates the theory of many modern historians that the American Revolution was a relatively conservative uprising, fought over the right of the American colonies to govern themselves by making their own laws. Although Americans asserted control over their own government, they continued to follow many of the same laws and customs they had cherished for over 100 years before the Revolution, being careful to do no more damage to established institutions than was necessary to establish independence.
Meshech Weare was one of the relatively small number of persons of that day who had a college education; he, like other leaders of the American Revolution, was a member of a minority who knew how to read, write and think well and who could express their political ideas fluently in speeches, letters and pamphlets.
Sixty-two years old at the commencement of the American Revolution, Weare was a man of substantial property. He was then an associate justice of the Superior Court and a colonel in the Third Regiment of provincial militia. It must have been a difficult step for him to abandon his allegiance to the Crown in order to support the American uprising.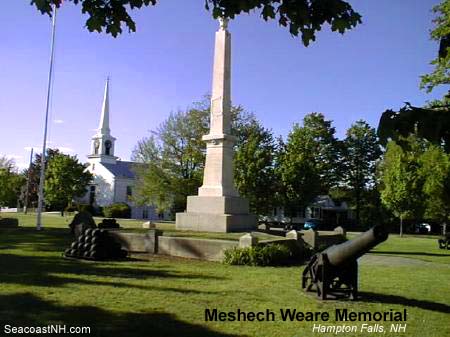 The "Father" of New Hampshire
He was born June 16, 1713, in that part of Hampton which was later Hampton Falls and is now Seabrook. He was the son of Nathaniel Weare and his second wife, Mary Waite, and was the youngest of 14 children.
He graduated from Harvard College in 1735, two years before the birth of the last royal governor of New Hampshire, John Wentworth. He originally prepared himself for the Congregational ministry but abandoned this plan upon his marriage in 1738 to Elizabeth Shaw. Instead, he devoted his attention to improving the substantial land acreage his wife had brought to their marriage. Following the untimely death of his first wife, he was married in 1746 to Mehitable Wainwright. It was during this period that he studied law for several years; perhaps using law books passed on to him by his father and grandfather, who had been lay judges in the provincial courts.
His public service began in 1739 when he was elected town moderator. During the ensuing 35 years he served in various elective public offices, including selectman and representative of his town in the Assembly. He was three times speaker of the House of Representatives and eight years its clerk, and in 1754 was one of New Hampshire's delegates to the Albany Congress.
As political unrest increased in 1774, Weare moved slowly and counseled caution, but upon the outbreak of hostilities in 1775, he cast his lot irrevocably on the side of the Revolution.
On January 5, 1776, New Hampshire became the first American state to adopt a formal constitution. Meshech Weare was a leader in the framing of this document, which served as the basic instrument of government for the ensuing eight years or until the adoption of a second and more permanent constitution in 1784. Under this constitution, there was no established executive, and the legislature was supreme. In practice, executive power was delegated to a Committee of Safety consisting of eight or ten legislative leaders. This committee had full power to act on behalf of the government while the legislature was not in session. After a brief interval, Weare was elected chairman of the Committee of Safety and served in this capacity through out the Revolution.
The legislature re-established the pre-existing system of provincial courts, and Weare was appointed chief justice of the Superior Court, then the highest state court, and served in this position from 1776 to 1782. In addition to these heavy responsibilities, he also served as presiding officer of the Council, which was then the upper house of the legislature, holding this position throughout the Revolution.
The Committee of Safety, over which Weare presided, was a most interesting governmental institution. It operated both at the state and (through a network of town committees of safety) at the local level, and was virtually a law unto itself while the legislature was not in session. Its duties included supervision and coordination of military affairs within the state, raising of recruits and supplies, regulation of the state militia, custody of prisoners of war, supervision of the entrance and clearance of vessels from Portsmouth Harbor, regulation of privateers and captured prizes, surveillance of the Loyalists, regulation of trade and currency (including prevention of counterfeiting), and supervision of price controls.
NH's First "President"
Upon the adoption of the second constitution in 1784, Weare was elected by popular acclaim and without opposition, as the first governor, then known as "president." Although in failing health, he managed to serve out his term of one year. He left public office much poorer than when he entered it, due to his unremitting attention to public affairs. He survived his retirement from office by only a few months and died at his home in Hampton Falls on January 14, 1786, in his 73rd year.
It is regrettable that the state has no official portrait of President Weare. His career during the American Revolution was a remarkable example of public trust in one man. To equal Weare's service today, a single man would have to hold simultaneously the offices of governor, president of the state senate and chief justice of the Supreme Court.
Richard Upton was a Concord lawyer and former speaker of the New Hampshire House of Representatives. This article originally appeared in "NH: Years of Revolution," Profiles Publications and the NH Bicentennial Commission, 1976. Reprinted by permission of the publisher. This article first appeared online here in 1997.
Please visit these SeacoastNH.com ad partners.