| | |
| --- | --- |
| Warm Hands in Coal Pockets | |
Written by Strawbery Banke Archive
Strawbery Banke Presents
HISTORIC PORTSMOUTH #134
Albert Walker's Portsmouth Coal Pockets provided anthracite coal for about six dollars a ton. Company coal shovelers, office workers and teamsters pose here at the coal bunker on Market St at the turn of the 20th century. Wood kindling at the right sold for two or three cents a bundle.
HISTORIC PHOTOS of the Greater Portsmouth Area appear here weekly

From HISTORIC PORTSMOUTH
Early Photographs from the Collections of Strawbery Banke
by James L. Garvin & Susan Grigg, Peter Randall Publisher
(c) Strawbery Banke Museum . All rights reserved
SEE ALSOL Coal Office
BONUS CLOSE-UPS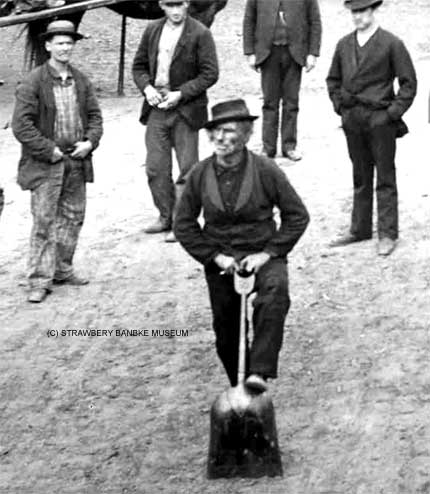 WORKING IN A COAL MINE (lyrics)

Well I been workin in a coal mine
Goin down down
Workin in a coal mine
Whew about to slip down
Five oclock in the mornin
Im up before the sun
When my work day is over
Im too tired for havin fun
Lord I am so tired
How long can this go on
I been workin goin workin
Whew about to slip down
Please visit these SeacoastNH.com ad partners.