| | |
| --- | --- |
| The Old Portsmouth Museum | |
Written by Charles W. Brewster
BREWSTER'S RAMBLE #122
This is among the strangest of Brewster's many rambles into local history. Here he describes in great detail the contents of a 1799 museum of curiosities run by a merchant from the British colony of Demerara, now Guyana. But the old curousity shop is long gone following the downtown fires.
RAMBLE CXXII.
ABOUT Charles Brewster
Editors Note: C.W. Brewster was a Portsmouth columnist in the mid-1800's. This article includes his opinions and may not reflect current research or current values. -- JDR
Central Portsmouth before the Great Fire -- Nicholas Rousselet -- The Museum -- Sailor Anecdote, &c.
THE last number was a ramble on the north side of State street from the water to where the Sherburne house stood half a century ago.
Next west of the "haunted house" was a tavern and seamen's boarding house, kept by Benjamin Chandler. It was an old affair, of two stories, with an ell fronting on the street, the main body of the house setting some fifteen feet back. A mill stone with a hole in the centre, was used for a door step.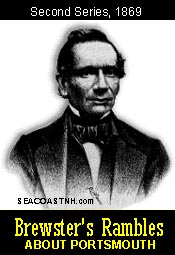 On the southeast corner of Mulberry and State streets was a small two-story building occupied by Joseph Jackson.Next west, on the opposite corner of Mulberry street, was a large two-story dwelling facing on State street, with a store adjoining extending on Mulberry street. Sixty years ago they were the property of Nicholas Rousselet, who came to this town from Demerara as early as 1787, and married Catharine Elizabeth, daughter of Samuel Moffatt, and sister of the wife of the late Dr. N. A. Haven. Mr. Rousselet was a merchant, and a gentleman of some taste for the curiosities of nature and art. He changed the name of Mulberry lane, to Demerara street, and over the store he built on that street, he commenced the Portsmouth Museum, where he displayed all the curiosities he could gather.
We have seen a schedule of the leading articles, drawn up by him in January, 1800. Among them were two engravings of Winter scenery, two of Parker's dog Bank, two of Lord Howe, two of Cleopatra, two of the King and Queen of France, engravings of an attack by a Shark, group of Dogs, six Landscapes, a full sized Lady, the Graces, the Distress, and painted Flowers. The expense of these imported from London was $200. He also names a pair of Crystal Chandeliers, which cost $60, and a "Mahogany Lady's Cabinet," which cost $160. Whether it had been the property of some West India mahogany lady, the schedule says not. This valuable Cabinet, we note in another place, was afterwards transferred to his brother-in-law, Dr. Haven. A picture of Mr. Rousselet, and another representing his being cast away. Six representations of Game. There was a collection of the skins of Snakes and Reptiles, and a variety of animals. A desk with seven drawers contained insects of great variety. A Crucifix of Ambergris. A Sword with agate handle. A trunk of curious female apparel. A Spy-glass, and an Object glass with Pictures. Among the books in the Museum were 52 vols. on Natural History, with illuminated engravings, and about one hundred other volumes.
Nothing was added to the Museum after the proprietor left for Demerara in July, 1800, where he soon after died. He had a daughter, Lucy A. Rousselet, who accompanied him, was married there, but did not survive her father ten years. The property here then came into the possession of Dr. N. A. Haven.
The following document shows that his lady's cabinet was not neglected in preparing a Museum for the public eye:
INVENTORY OF JEWELRY IN HAIR TRUNK, TAKEN APRIL 15, 1799, AFTER THE DECEASE OF MY WIFE, WITH THE ASSISTANCE OF MRS. ODIORNE, OF KITTERY, HER SISTER:
A gold Watch with a gold chain and a gold seal;
A Whistle, small etui, and 5 other small trinkets;
A gold Watch, set in diamonds, on the back a lady holding her head with her left arm;
2 red trinkets, set in gold;
A gold Ring, representing a lady under a tree, with her dog sleeping;
1 with two diamonds and coroline figure;
1 with small diamonds; 1 with corolines;
5 plain gold Rings;
A small Box with my picture and gold chain;
A Snuff-Box with silver plate marked C. E. R, containing a gold necklace and gold locket;
A Snuff-Box as slipper, containing a gold necklace as a chain with gold
lock--weight 5 oz.;
A pair gold Bracelets, with ivory representations;
A silver Snuff-Box, marked C. E. R.,containing a pair gold bracelets as
buckles, with black velvet strings;
A gold Breastpin representing Minerya and ship at sea;
1 ditto representing a woman and her dog;
A Snuff-Box of turtle-shell, containing a pair of sleeve buttons and a pair
gold earrings;
A Snuff-Box and glass motto, "Look within," containing a gold necklace, with mother-of-pearl circles;
A small Box and motto, containing a gold necklace for a child;
A gold Tumbler in a green case;
A turtle shell Etui, with silver knife, scissors, penknife, and a silver
smelling bottle representing a pear;
John Haven was tenant in this house for several years, up to June, 1800, when he removed to his new house, built by him on Islington street, now occupied by George W. Haven.
The store connected with the house on Mulberry street under the Museum, was at one time occupied as a piece goods store by Mr. Timothy Winn, the third, from Woburn, Mass., who was esteemed a very estimable citizen, but by some persons called "Three-penny Winn," because the inscription on his sign was "TIMOTHY WINN, 3d." He however enjoyed the joke, and would not alter the sign.
The last occupant of this building was another Frenchman named Leonard Serat, a tailor. He used it for a shop and residence. Over his door was an oval sign representing two sailors displaying clothes, with a ship between them. There was a projecting sign with his name and business -- on one side "Taylor," on the other "Tailor." When asked his motive, he replied -- "If I have not spelt it right on one side, it certainly will be on the other." He used to say he could spell his name with one letter. He might be seen explaining it, by placing a rat on the sidewalk, and making a C before it. He would say -- "Dere is de C and dere is de rat -- and if dat don't spell Serat, what does it spell?" Although the fire cleared away the property and his signs, as well as the weather-beaten "Museum" sign, yet the old gentleman still lives in Melrose, Mass., works at his trade, and takes snuff as bountifully as he did fifty years ago.
There is one little story illustrative of sailor character, which occurred in this neighborhood. A sailor once called on a female friend in the tailor's
shop of Mr. Nathaniel Fernald on the east, and chanced to break the eye of a needle. He made inquiry where he could have it mended, and was pointed over the way to the blacksmith shop of a wag named George Plaisted, who was asked if he could do the job. Plaisted looked at it, pronounced it rather difficult, but thought it might be done for ten cents. So he sent George Beck to the next shop for a cent's worth of needles, blued the eye of one of them over the fire, rubbed it, and handed it over to the tar. He examined it, said it could not have been done better in England, paid the price and half a pint of rum for his skill, and restored the needle to its owner. The little story has been so often told, we think it has enough of interest now to have a locality.
Text scanned courtesy of The Brewster Family Network
Copy of Rambles courtesy Peter E. Randall
History Hypertext project by SeacoastNH.com
This digital transcript © 1999 SeacoastNH.com
Please visit these SeacoastNH.com ad partners.