| | |
| --- | --- |
| Red Lights on Water Street | |
Written by Seacoast History
Page 1 of 2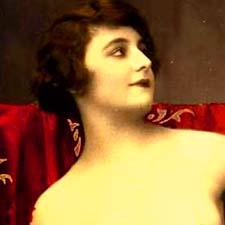 SEACOAST NH HISTORY
No, we're not talking about street lights. Not Christmas lights either. Always a popular town with visiting sailors, Portsmuth was especially known for its bordellos -- in their heyday from 1897 to 1912. Under police protection and with a nod from town officials, our waterfront was a shopping center for the world's oldest profession.
SEE Last Brothel on Water St.
SEE: Deadly Summer of 1912
The "Combat Zone" Flourishes

It's easy to miss the irony on Marcy Street, unless you know its secret past. Today Portsmouth's gentrified waterfront includes a G-rated family park and gardens across from a squeaky-clean colonial museum. But from the 1890s until the closing of the infamous "red light" district in 1912, this street was Sin City, the locus of the flesh trade in a gritty seaport.
Today, all but one of nearly a dozen former bordello buildings are gone, purchased and destroyed starting in the 1930s by the wealthy Prescott sisters for whom the park is named. Like an early version of urban renewal, relying on an inherited fortune, Mary and Josie Prescott worked to rub the scarlet stain from their childhood neighborhood. With their lawyer Charles Dale, they wanted the seamy image "wiped from the face of the Earth." Even the name was changed from Water Street to Marcy Street.
But so far, two local historians have refused to hush up. The short profitable history of this morally bankrupt era is well chronicled in the late Ray Brighton's book "They Came to Fish," and in a detailed college paper by Kimberly Crisp. Crisp's 80-page study is enlivened by the fact that Alta Roberts, the last surviving Portsmouth madam, was her great great aunt. Her study includes oral testimony from more than a dozen local citizens.
Where seamen meet seaport, prostitution often follows. As recently as 1941, Navy Secretary Knox announced in the Portsmouth Herald that he would exercise a four-year ban on prostitutes "in or near the navy yard" in Kittery, Maine. In 1897, spurred by the action of the Spanish-American war, as many as 1,500 visiting sailors per day were ready to ferry across the Piscataqua in "liberty parties," according to Brighton. They arrived at the head of Water Street, near where the Memorial Bridge now stands.
The Elm House waited conveniently at this spot, ready to greet sailors, soldiers, and navy yard workers as they arrived on the ferry. Local fishermen too found this a conveniently located stopover. Former boarding homes, now buildings of "ill repute" checkered the city, from Maplewood to Porter streets and elsewhere. The names were usually innocuous -- Commercial House, The Union House, The Home, America House.
Infamous Madams
But Water Street was the hub and madam Mary Baker's Gloucester House was perhaps best known. Unlike bordello owner and neighbor Alta Roberts, who constantly wore black and was rarely seen in public, Mary Baker advertised her presence around town, wearing a high red wig, exorbitant clothes, furs and hats, always with a velvet choker and a large broach. When new girls arrived, many likely in their early teens, Baker paraded them through town in her fancy carriage. Legend says that Baker had diamonds embedded in her front teeth, while Roberts had a mouthful of gold caps.
According to Crisp, Portsmouth's prostitutes were renowned for their beauty "from London to Hong Kong." Crisp makes a case for her great great Aunt Alta, who reportedly supported many down-and-out characters. Brighton notes that women were allowed to keep half of their two dollar fee. But bordello life was far from glamorous, even at the peak of the red light era.
Farm girls, looking for independence in the city, were sometimes seduced or shanghaied into an illegal life of hardship, shame and disease. According to Brighton, a troupe of performers whose show failed at the Portsmouth Music Hall, were forced to earn their ticket out by working at local bordellos. When pimp and house-owner "Cappy" Stewart learned that one of his "working girls" wanted to attend Catholic church services, she was fired. New prostitutes arrived by train almost weekly at the high point of the bordello business, and were moved on as soon as their popularity faded.
Literally nothing is known of the lives of individual Portsmouth prostitutes from this era. Information on the red light district, gleaned mostly from scanty police and town records and from local hearsay, paints a confusing picture that might best be described as opulent sleaze. Water Street bordellos could be fancy, most thinly fronted as legitimate saloons or dance halls. There might be elegant furniture, indoor plumbing, costly wallpaper and gilded chandeliers. Roberts' place reportedly had erotic pictures that disappeared into the wall at the push of a button. A local barber was widely known to house two prostitutes above his barber shop. Cappy Stewart's establishment boasted 16 ladies and 27 rooms, both could be rented by the night or by the hour.
The 15-year hey-day of prostitution in Portsmouth seems intimately tied with the tenure of certain city officials, most prominent among them was police chief Thomas Entwhistle. Marshal Entwhistle, also a member the New Hampshire state governor's council, apparently oversaw a well-organized adult industry. (Entwhistle was also a key figure in the arrest of Smuttynose Murderer Louis Wagner in 1873.) Prostitutes submitted to regular checkups by a doctor who reportedly issued health certificates that were prominently displayed. When an honest local policeman decided to probe deeper into the world of local vice, he was beaten, stripped to his underwear and left with a warning note. For the records, brothel madams were ritually fined for running "a disorderly house." Crisp's sources say it was common knowledge that the houses were patronized by area politicians, key businessmen, even clergyman and students from nearby Phillips Exeter Academy. Portsmouth tycoon Frank Jones is said to have hired the women to entertain businessmen and dignitaries at his prestigious local hotels. According to legend, the detailed paintings on the ceilings of some Rockingham Hotel rooms, now condominiums, were painted as a distraction for Jones' working girls.
Crisp and Brighton both tell the story of the Four Tree Island Museum and Emporium, located where there are currently tourist picnic tables just off Peirce Island near Prescott Park. The formerly isolated site once included a "museum" of curios brought by a captive audience of sailors from around the world. The bar was reportedly made from a stuffed cow, the udders turned to beer taps. Locals say that the proprietor ferried potential customers across the Piscataqua River to the island for 50 cents, but that the same ferry cost five dollars for a return trip.
Lights Out
Madam Alta Robert Indeed, it was the primary customers, the men of the sea, who were slowly shut out of the swanky establishments. When men in uniform were banned from certain local houses for rowdy behavior, they complained to their commanding officers. In 1911, in a few weeks' time, four visiting seamen were found dead in the Water Street area. Although murders among sailors were not uncommon at this time, many believe this was the beginning of the end for Portsmouth's red light areas.
Possibly in retaliation, the naval officials posted a ban on Portsmouth establishments for a week in 1912, due ostemsibly to a measles outbreak. Sailors, banned from patronizing Portsmouth businesses, were marched to the train station and instructed to have their fun in Boston. A navy official wrote the local newspaper suggesting that the town could use a little "cleaning". Regulations against men in uniform were removed, the navy ban was lifted, and city officials were forced to take action against the owners of the whorehouses.
A combination of naval pressure, an indignant public, local elections and aggressive church groups seem to have come together at this time to disinfect the blighted areas of the city, especially Water Street.
By 1912, most brothels had metamorphosed back to innocent businesses: legitimate boarding homes, a grocery store, an antique shop. Only half of the brick building once owned by Crisp's ancestor Alta Roberts survived the scourge of the Prescott sisters. It stands at 57 Marcy Street, once 16 Water Street. A 1933 photograph shows former -madam Alta Roberts at age 78 posing in the doorway of her brick home. Squinting in the sun, hands on her hips, she stares at the camera defiant and unrepentant.
By J. Dennis Robinson. All rights reserved. First published in 1998. Photos courtesy of Kimberly Crisp and Portsmouth Athenaeum.
Sources: Brighton, Raymond. "They Came to Fish". Portsmouth: Peter Randall Publishing, 1994 and Crisp, Kimberly. "Water Street Remembered." Honors Thesis, University of New Hampshire, 1996 (unpublished).
See larger photos of images above on NEXT page

Please visit these SeacoastNH.com ad partners.