FRESH STUFF DAILY
Seacoast New Hampshire
& South Coast Maine
SEE ALL SIGNED BOOKS by J. Dennis Robinson
click here
| | | | |
| --- | --- | --- | --- |
| Click on a special section to the right or select an article from the list below. | | | |
| | | | |
---
Written by The Shipyard

THE SHIPYARD
Although Portsmouth is technically her home, Portsmouth has not seen the Privateer Lynx in years. Launched in Maine in 2001, the replica of a local privateering ship cruises the waters of the world. We received a few photos from the designer recently (read on)
Written by Maritime Heritage

THE SHIPYARD
It's a rare day in the 21st century when a new privateer arrives in its home port. The recondstucted Lynx had such a day in October, 2001. Owner and builder Woodson Woods selected Portsmouth, NH because, he says, of its history as a privateering port -- and for its tax free status.
Written by J. Dennis Robinson


JOHN PAUL JONES
The first sloop of war Ranger was built at Portsmouth Harbor and shocked the British Isles in the American Revolution. The second tall ship Ranger was built in the minds of local historians, but launched only in their dreams.
Written by J. Dennis Robinson

MARITIME HISTORY
Legends of pirates at the Isles of Shoals persist, despite a lack of historical evidence. One band of pirates, however, were captured with their loot at Star Island. Author Clifford Beal tells the story in his revealing and highly readable new book "Quelch's Gold".
Written by Seacoast Maritime Heritage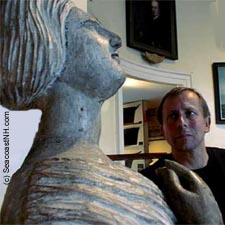 MARITIME HERITAGE
"I saw through flickering candlelight what presumably was the scarecrow. It was hidden under a thin blanket. Hesitantly, I walked toward the figure to uncover the blanket. When the figure's intense gaze met mine the world stood still. Who are you? Who made you? Where did you come from?" – Karl Eric Svarskog
Written by Shipyard Stories

MARITIME HERITAGE
Historians take note. We find eBay to be among the most effective research tools available. By tracking items sold, and writing to sellers, we often discover details about the past that could never be learned in a library. Case in point, these purloined binoculars come with a fascinating story.
Written by J. Dennis Robinson
MAY 15, 1985
Portsmouth, NH

The day the USS Albacore moved from the sea to dry land attracted thousands of viewers and the US Secretary of the Navy. There was a lot of waiting, a little bit of action. At the end of the day there was a large submarine stuck in the mud. Here is our minute-by-minute account.
Written by J. Dennis Robinson
MARITIME HERITAGE
Portsmouth's little tall ship is now 25 – and expecting a baby. The gundalow Captain Edward Adams will continue sailing the Piscataqua, but plans are on the drawing board for a new wooden ship that will carry Seacoast passengers.
Written by Former Shipyard Workers

ATTN: RETIRED NAVY YARD WORKERS
Gor a good story about the history of submarine building and repair at Portsmouth Naval Shipyard? Send it along and we'll consider publishing your memories on this web page. Express Yourself to SeacoastNH.com via email.
Written by Ray Brighton

THE SHIPYARD
A three-week strike at the Portsmouth Naval Shipyard is hard to imagine today -- yet it happened about 150 years ago. And it happened through one of those weird convolutions that only federal officials can get themselves into.
Subcategories
John Paul Jones

(1747 - 1792)

Scottish born naval captain John Paul Jones visited New Hampshire twice. In 1777 he took Portsmouth-built RANGER with a Piscataqua crew to France. There he worried the British in a series of guerilla raids before his famous battle in the BON HOMME RICHARD. Later, a hero decorated by the king of France, he returned to Portsmouth to fit out the AMERICA, largest ship of war ever built in the nation to that day. Jones stayed at the Purcell House, today the Paul Jones Museum. This site offers those stories and many more.

Article Count:

37

The Shipyard

PISCATAQUA SHIPS

Skilled boatbuilders were producing fine wooden ships from the dense local forests by the late 1600s. The Raleigh, first of the ships in the Contientnal Navy was built here before the Revolution. Shipyards flourished all along the Piscataqua and the Portsmouth Naval Shipyard in Kittery, Maine is over 200 years old. This section is dedicated to those ships, the men and women who built and sailed them, and their families.

Article Count:

32

Old Ironsides

USS CONSTITUTION

Among the oldest pictures in the US Navy archives is an iamge of :Old Ironsides" under repair in Portsmouth Harbor. Though built and berthed still in Charleston, Mass, the USS CONSTITUTION has deep ties to the Piscataqua. The oldest US naval ship was here for nearly two decades during a strange era in her history -- told here.

Article Count:

8
Please visit these SeacoastNH.com ad partners.
News about Portsmouth from Fosters.com
Thursday, January 18, 2018