FRESH STUFF DAILY
Seacoast New Hampshire
& South Coast Maine
SEE ALL SIGNED BOOKS by J. Dennis Robinson
click here
Written by J. Dennis Robinson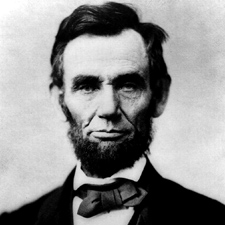 Abraham Lincoln has a number of ties to Seacoast, NH. But Lincoln has ties to everywhere. Sometimes you just have to go to where history happened. No historic site in America, none is more powerful than the bedroom in the Peterson House in Washington DC. In April 1865 Lincoln was carried here from Ford's Theater across the street. Today, it looks exactly the same.
Written by J. Dennis Robinson


PEPPERRELL AT LOUISBOURG
We won. But can you name the first major military victory in American history? It made England rejoice, France despair and set the wheels in motion for an American Revolution three decades later. And it all started here.
Written by Portsmouth Guide

PORTSMOUTH GUIDE
We get a lot of mail from readers looking for genealogical information about this region. We just cannot supply detailed research on their ancestors, but we can lead them to professional who do. Send us email if you want to hire a historian, or check out the following resources. The Web, of course, is the ideal place to learn about your past. Here are the key archives we use locally.
Written by J. Dennis Robinson

UNKNOWN NH HISTORY
New Hampshire's best known orator cut his teeth as a lawyer here in Portsmouth, NH. He lived in four houses, got married, kep an office and began his family. But times were tough and fame called him to Massachusetts. Here is the story of how Daniel Webster lived a decade in the state's only seaport, but has been all but forgotten inthe town he once loved.
Written by J. Dennis Robinson

BEHIND THE LEGEND
Like Paul Revere, historian Dorothy Vaughan woke Portsmouth citizens to an invasion. Progress, she said, was destroying the colonial character. The city responded and preserved over 30 buildings in Strawbery Banke Museum. It all started in June 1957 – or did it? The simple truth is – there is no simple truth.
Subcategories
History Matters

HISTORY MATTERS

Seacoast History by author / editor J. Dennis Robinson, presented biweekly in collaboration with The Portsmouth Herald. (check the Monday Herald every other week for printed version). In "History Matters" Robinson explores regional history and its connection to modern issues in a dramatic and highly readable style. The author has been writing about the "America\'s Smallest Seacaost" (sm) for over two decades.For up to 100 original aritlces by JDR also click here to visit AS I PLEASE. For the latest news see the Portsmouth Herald online web site just click here.

Article Count:

178

As I Please

HISTORY MATTERS

The editor ponders history, mostly, in this popular Seacoast column. This index contains over 100 original columns by J. Dennis Robinson. The author has been writing about the "America's Smallest Seacaost" (sm) for over two decades.

Article Count:

88

Historical Societies


You will find a small historical society building in almost every town in the Seacoast region. Each is unique, run by its own cluster of local history fans and filled with curios. Most are in great need of funds and volunteer help. If you have more updated links, please send them along, and please -- help preserver your town history before it is too late.

Article Count:

2

Jesse James Films

THE DINGUS PROJECT
Jesse James in the Movies

At least 50 American films and documentaries include the character of outlaw Jesse James. The Dingus Project is one man\'s attempt to view ALL of those films. Writer J. Dennis Robinson began this project after writing a biography of Jesse James for children -- Jesse James, Legendary Outlaw, published in hardcover and paperback by Compass Point Books.The goal, besides watching a lot of movies, is to provide a quick databse that shows how few of these films are based on fact, and how widespread the "imaginary" view of Jesse James has grown. Thanks to Hollywood, the historic Jesse James has all but disappeared. So far we\'ve obtained copies of over 30 films and documentaries related to Mr/ James and we\'re posting them like crazy in anticipation of the Brad Pitt film to be released in 2007. Sure, it\'s crazy, but so was Jesse.

Article Count:

25
Please visit these SeacoastNH.com ad partners.
News about Portsmouth from Fosters.com
Sunday, February 18, 2018