WHAT'S NEW?
| | |
| --- | --- |
| Signature Dishes of Seacoast Chefs | |
Written by Crystal Ward Kent

TASTE OF THE SEACOAST
Classic. Distinctive. Unforgettable. These are the words diners use to describe memorable meals — chefs' signature dishes that people order again and again. Here are some of the region's classic dishes. Click to visit three exciting restaurants.
SUBSCRIBE TO Taste of the Seacoast
JUMP TO: Grissini or to Three Chimneys
Cape Arundel Inn
Kennebunkport, ME
The Cape Arundel Inn is located at 208 Ocean Avenue, right on the water in Kennebunkport, Maine. The charming, gray shingled house has earned kudos for both its ambience and its food. Local media have labeled it "most romantic," while TV Diner voted awarded the inn its highest platinum accolade. It's easy to see why. In the dining room, ocean waves break on the rocks just outside the windows, providing dramatic views. The setting is intimate -- just you and your dining companion, and all that sea and sky beckoning beyond.
Richard Lemoine, executive chef, is a craftsman in the kitchen. He works extensively with seafood in celebration of Maine's natural bounty. "People definitely come here expecting lobster and fresh seafood," he says. "I like to work with natural products that we have locally and seafood fits that description. I also use local produce and other signature products like Maine blueberries."
The dishes described here are so popular they have been on the inn's menu since they opened in 1994. Two classic and hearty appetizers are the Lobster Chardonnay Risotto with wild mushrooms, roasted asparagus tips, and shaved Reggiano Parmesan, and Panko Crusted Maine Crab Cakes with Napa cabbage slaw and gingered wasabi aioli. Diners also rave about the salads, especially the Grilled Romaine Hearts with Maytag Blue Cheese, red pepper confetti, and wild Maine blueberry vinaigrette, and the Autumn Caesar Salad, which blends crispy fried green tomatoes, house-smoked Maine lobster tail, and creamy lemon basil vinaigrette.
Although you could probably make a meal of the appetizer/salad combinations, save room for the entrees. At the top of the list is the Sautéed Maine Lobster with Wild Mushrooms and Herb Beurre Blanc. The sautéed lobster and mushroom mixture is returned to a spinach-lined lobster shell and broiled to perfection. "Guests love this dish because it combines the earthy taste of the mushrooms with the fresh flavor of the lobster," explains Richard.
Another favorite is the Pan-Fried Potato Crusted Halibut Fillet with roasted autumn vegetables and dill horseradish remoulade. The combination is perfect for fall, and the colors of the vegetables and remoulade echo the vivid autumn foliage.
Both dishes disappear quickly, but all the lobster offerings are extremely popular. "We go through 35 pounds of lobster per day," says Richard. "This generates a lot of shells, which in turn yield eight gallons of lobster stock per week. We use the stock in our lobster entrees, risotto, and various soups and sauces. We run a thrifty, New England kitchen like the old-timers did."
Although the Cape Arundel Inn offers a variety of desserts, one has particularly stood the test of time. This distinctive offering is the Broiled Ginger Strawberries over Grilled Buttermilk Biscuit; it is served with Tahitian vanilla whipped cream and toasted shaved coconut. The unusual blend of flavors is magical, each one layered upon the next to create its own unique taste.
The Cape Arundel Inn is open seven days a week from 5:30 p.m. to 9 p.m. For more information, call (207) 967-2125, or visit their web site.
CONTINUE TO NEXT SIGNATURE DISH

Grissini
Kennebunkport, ME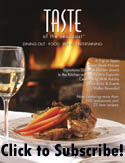 Continue exploring Kennebunkport with a visit to Grissini — the Italian word for breadstick--a wonderful Italian restaurant at 27 Western Avenue. Grissini is stunning inside, with warm, golden walls, open beams, and a massive stone fireplace at one end. Candelabras and flowers adorn many of the tables. Black-and-white checkerboard floor and Italian art clearly capture the essence of the Old Country.
Their specialty dishes are based on northern Italian classics. They opened in 1996, and their offerings have clearly struck a chord with locals and visitors alike.
Grissini offers baskets of warm breadsticks (of course), and a diverse array of salads and antipasti. The menu changes frequently, but these samplings give an idea of what everyone's talking about. For salads, the classic Caesar is always a favorite with its mix of hearts of romaine, shaved Parmesan cheese, garlic croutons, and garlic-anchovy dressing. Another distinctive choice is the Polenta Verde, which is mixed greens, polenta croutons, grape tomatoes, Kalamata olives, and fresh Mozzarella with a balsamic vinaigrette. Among the antipasti selections there is always homemade soup, plus traditional offerings such as fried calamari with lemon aioli and salsa puttenesca, or Involtini, a smoked salmon with Ricotta, capers, and a lemon-artichoke-caper vinaigrette.
Diners love the open kitchen at Grissini, which features a wood-burning grill. The grill allows them to create unique dishes such as their farm-raised chicken with cippolini onions and wood-grilled asparagus--already a classic. Equally flavorful is their wood-grilled salmon with sautéed shitake mushrooms; served with spinach, garlic mashed potatoes, and a balsamic butter sauce. Or try the Agnello, a braised honey glazed lamb shank with spicy barlotti beans and arugula pesto.
"Just about anything we do on the grill becomes a customer favorite," says Lee Fopeano, general manager. "Customers love seeing their dishes created and the flavor combinations are amazing."
Their brick-oven pizza is famous and constantly in demand. If you love cheese, try their Formaggi, which is loaded with Fontina, Mozzarella, Gorgonzola and Parmesan cheese, accented with a dash of garlic oil. Fans of combinations go for the Pancetta Affumicata which is topped with tomato sauce, caramelized onions, roasted red peppers, smoked bacon and goat cheese. But the number one choice is The Margherita, a classic, topped with tomato sauce, mozzarella cheese and fresh basil.
What would an Italian restaurant be without homemade pasta? Grissini doesn't disappoint, presenting a wide selection including Burina, a fresh fettuccini mixed with peas, onions, prosciutto, and parmesan in a light cream sauce; Cannelloni, featuring stuffed pasta sheets of beef, Mozzarella and Parmesan with tomato sauce, and a of penne pasta with Bolognese meat sauce, and Parmigianino Regina.
The dessert offerings are all classics, including crème brulee, chocolate mousse and of course, tiramisu. "The Tiramisu is a house favorite," says Lee. "It is a traditional Tuscan dish. We make our own sponge--we don't use lady fingers. It's then laced with espresso and Mascarpone mousse, and dusted with powdered chocolate. We serve lots of them each night."
For more information about Grissini, call (207) 967-2211.
CONTINUE TO NEXT SECRET

Three Chimneys Inn
Durham, NH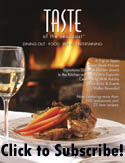 Over in Durham, New Hampshire, is The Three Chimneys Inn, a beautifully restored mansion and carriage house dating from 1649. There are two cozy and distinctive indoor dining areas. The ffrost Sawyer Tavern, with its open hearth, summer kitchen, granite walls and rough-hewn beams is a warm haven on a winter's night. The Maples is a quietly elegant room, with soft yellow walls, hardwood floors, floral print armchairs and intimate tables. The stone fireplace is hung with cooking pans, just as in Colonial times, and with the candles lit, one easily feels transported back to the days of Early America.
Three Chimneys Inn has won numerous awards for their cuisine. Yankee magazine has named them "Editor's Pick" every year since 1998; Phantom Gourmet has voted them "Best Inn Dining in New England," and they received the 2004 Award of Excellence from the American Restaurant Association.
Executive Chef David Masotta is new to Three Chimneys Inn, but already is committed to carrying on the tradition of excellence. "I want to keep the menu updated and fresh," he says. "Right now, it's a good blend of New American cuisine, with hints of French, Italian and even Thai. It's very distinctive fare."
David has added some new dishes to the menu that are already very popular.
For lunch, try the homemade focaccia bread with marinated garlic chicken, fresh Mozzarella, Provolone, and roasted red peppers with a sun-dried tomato mayonnaise. The combination is especially fresh and flavorful, and perfect any season. Another new favorite is their traditional Reuben with a twist--you still get your sauerkraut, Swiss cheese and tomato, but these classic ingredients are combined with marinated Portobello mushrooms and served on mottled rye bread.
At dinner, look for his tasty mix of shrimps, scallops, shallots and tarragon, which are sautéed in a blend of pear juice and white wine. "I created this recipe some years ago in Boston and it was very popular," he notes. "The pear juice adds an unexpected sweetness that accents the seafood."
Another new classic is the lobster and salmon combination. The salmon is pan-seared, then when half done, poached in a Thai curry sauce. David then adds lobster broth and coconut milk with a dash of lime. The finished fish is served on a bed of Yukon gold potatoes, tomatoes and spinach. A lobster claw or tail accompanies the halibut.
Other favorites at Three Chimneys Inn are the grilled tenderloin accompanied by a sweet potato bleu cheese dauphinois, a bleu cheese fritter, and a watercress salad and port wine sauce; and the Potato Crusted Haddock, fresh North Atlantic Haddock baked with a potato crust, then topped with lemon dill butter sauce.
Lunch is served Tuesday through Saturday from 11:30 a.m. to 2:30 p.m., and dinner seven nights a week, from 5 p.m. on. For more information on The Three Chimneys Inn, please call (603) 868-7800, or visit their web site.
By Crystal Ward Kent. © 2007 Taste of the Seacoast. All rights reserved.
Please visit these SeacoastNH.com ad partners.