WHAT'S NEW?
| | |
| --- | --- |
| Seacoast Brunch is Weekend Indulgence | |
Written by Crystal Ward Kent
Page 3 of 3
Harbor's Edge at Sheraton Harborside
Portsmouth, NH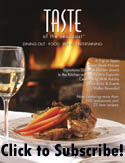 In the heart of downtown Portsmouth, New Hampshire is the Sheraton Harborside Hotel and their Harbor's Edge dining room which looks out over Portsmouth's busy harbor. Diners may see a pair of tugs guiding a large vessel out to sea, a graceful sailboat floating past, or just the swift-flowing Piscataqua streaming by. The warm ambience of the dining room provides the perfect setting for a relaxing breakfast buffet offered every Sunday from 7 a.m. to 2 p.m., year-round. On Sundays in December, bring the family for a special brunch with Santa. Starting this fall, live entertainment will again be featured at brunch.
Classic breakfast fare is very popular with all diners, and includes eggs any style, omelettes made to order, Eggs Benedict, French toast, pancakes made to order, and Belgian waffles, made to order with your choice of fruit toppings. Bacon and sausages can accompany any choice.
If you're looking for something more substantial, try their roast sirloin or apple-glazed ham. Or, on the lighter side, choose from a complete array of breakfast pastries and scones, fruit blintzes, fresh fruit, or smoked salmon with bagels and cream cheese.
"We have many local regulars and recommend reservations," says Traci Schaake, food and beverage director. "It is important to remember a hotel restaurant when searching for the perfect brunch spot. Our view is outstanding; our food is delicious, our service is wonderful, and the value is exceptional."
OUTSIDE LINK: Sheraton Harborside and Harbor's Edge, call (603) 559-2626 or
Stage Neck Inn
York Harbor, ME
Located on a lovely point in York Harbor, Maine is the Stage Neck Inn, a classic hotel is surrounded by stunning views of York Harbor and York Harbor Beach. The restaurant doesn't offer a classic brunch, but instead serves a regular lunch menu with a variety of brunch specials. This option is available year-round from 12 p.m. to 2 p.m., and reservations are required. The dining areas are elegant yet comfortable, with mesmerizing ocean vistas year-round.
Stage Neck Inn's luncheon menu is extensive, with the full complement of salads, entrees, desserts and seasonal specials. But save room for the brunch offerings. These include Smoked Salmon Benedict, Maine Crabmeat Benedict, the classic Eggs Benedict, and a Seafood Omelette made with shrimp, crabmeat, and sea scallops in a parmesan cheese veloute sauce.
Two of their brunch best sellers are the DownEaster, which is a New York sirloin with home fries, two eggs any style, and juice, and the Stage Neck Inn French Toast, which is thick pieces of fresh bread, deep fried, and served with warm maple syrup, and your choice of ham, bacon or sausage. Hotcakes are another favorite and they go as fast as their name implies.
Dessert is one temptation after another--crème brulee, chocolate mousse with raspberry coulis, warm apple crisp with vanilla ice cream, profiteroles with ice cream, chocolate sauce and raspberry coulis, blueberry pie, and more.
"Stage Neck Inn is simply a beautiful place to dine," says Phoebe Apgar-Pressey,
general manager. "The setting is gorgeous any time of year, and we pride ourselves on fine, classic cuisine. We have many repeat guests so we must be doing something right."
OUTSIDE LINK: Stage Neck Inn, call (207) 363-3850
Clay Hill Farm
Cape Neddick, ME
A bit further up the Maine coast is Clay Hill Farm on the York/Ogunquit line. Clay Hill Farm looks out over 30 beautifully landscaped acres. The rolling sweep of lawn and careful plantings provide lovely views each season, whether the grounds are vivid with foliage or blanketed with snow. The restaurant offers seasonal, themed brunches which vary from year to year. Past favorites include the Holiday Brunch with Santa, New Year's Jazz Brunch, Gospel Brunch for Martin Luther King Day, Valentine's Brunch, Irish Brunch and Spring Fling. Brunches are usually offered monthly from November to April, and from 11 a.m. to 3 p.m.
The food is tied into the theme, so offerings differ from month to month. The brunch is a sit-down meal, as opposed to a buffet, and is very hearty. "We plan our brunch like the old days, when the main Sunday meal as at midday," explains Jennifer Lewis, marketing manager. "We try to please as many palettes as possible, and we make sure that no one leaves hungry."
While the menu changes with the theme, certain favorites are sure to repeat. These include a delectable seafood crepe, grilled rib-eye, wide range of seafood ("This is Maine," laughs Jennifer. "We have to have plenty of seafood!"), soups, pastas and their famous house salad. The pastas always include a vegetarian offering, and usually feature a lasagna or ravioli. The house salad is a truly wonderful creation of baby spinach, dried cranberries, and pistachios, topped with a maple vinaigrette.
Four to five different desserts are offered with each brunch, so you are sure to find something to entice you. Although they don't serve traditional breakfast food, diners don't seem to mind, as the themed brunches are incredibly popular. "Because we change the theme, each brunch is different--different food, different entertainment--it's a special event every time," explains Jennifer. "We have quality entertainment for every brunch. We had the Funky Divas for our gospel brunch, and a well-known Irish entertainer in March; some fabulous acts have performed here. People want to experience all the brunches. They are unique and it's a great way to celebrate whatever season we're in."
OUTISDE LINK: Clay Hill Farm, call (207) 361-2272

TASTE TIP: Petit fours are small cakes that may have a variety of filling and are usually iced decoratively. Though according to Larousse Gastronomique, they can also be sweet biscuits or even savory. They are typically bite-sized.
Please visit these SeacoastNH.com ad partners.