WHAT'S NEW?
| | |
| --- | --- |
| Seacoast Brunch is Weekend Indulgence | |
Written by Crystal Ward Kent
Page 2 of 3
Abercrombie & Finch
North Hampton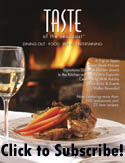 On Route 1 in North Hampton, New Hampshire, folks from both near and far flock to Abercrombie & Finch's New England Breakfast Buffet, which is served every Sunday year-round from 9 a.m. to 1 p.m., and is very reasonably priced. Abercrombie & Finch has a cozy, friendly atmosphere that immediately makes you feel at home.
"We have a large clientele that's here like clockwork every Sunday," says Skip Marten, executive chef. "We average 475 people every buffet."
One customer favorite is the "create your own omelets" feature. Customers fill out a ticket at their table, listing whatever they want in their omelets. The waitress collects the tickets, and the omelets are prepared while they visit the buffet line. The omelette options are endless--peppers, onions, mushrooms, ham and bacon, various cheeses, salsa, and more. You can also have eggs any style with bacon, ham or sausage, Eggs Benedict, and for something different, Eggs Strada, which is like a quiche with a French bread instead of a crust. The filling changes every Sunday.
Abercrombie & Finch also offers cream sausage and biscuits, housemade baked beans, home fries, pancakes, French toast, and Belgian waffles with whipped cream, which Skip prepares right in front of you. "Guests love getting that nice warm waffle," he says. "You can have it with maple syrup, strawberry sauce, or a third choice which varies. Sometimes it's raspberry sauce; another time it might be three-berry sauce, cranberry or blueberry. We like to mix it up."
The breads alone are mouth watering. There are their famous sticky buns, which have a praline base ("They're like pecan upside down rolls rightside up," explains Skip), sweet rolls, white chocolate raspberry scones, sour cream coffee cake, and a variety of seasonal offerings.
Although the variety is amazing, Skip says the number one reason their buffet is so popular is the consistent quality of the food. "There are no surprises here," he states. "You are going to get the same great meal you had last time. Our guests tell us again and again that it's the consistency that brings them back. They know they can count on us. We stay consistent because we've had very little turnover in the kitchen. I've been here 10 years and I'm a 'newbie.' Both line cooks and my prep cook have been here 15 years, and my sous chef, Joe Riley, has been here 20. That makes a difference."
OUTSIDE LINK: Abercrombie & Finch, call (603) 964-9774
Acorns at the New England Center
Durham, NH
If you're in the Durham, New Hampshire area, don't miss brunch at Acorns at the New England Center. This elegant feast has been voted "Best Brunch in New England" by Phantom Gourmet multiple times. Offered Sundays, 9 a.m. to 1 p.m., year-round, brunch is served in the New England Center's beautiful Acorns dining room. Tall windows offer a stunning view of the woodland setting, so guests may be treated to colorful foliage, a soft snowfall, or sunlight dappling the leaves, depending on the season.
"People love the atmosphere," says Jeff MacDonald, food and beverage manager at the New England Center. "We have this beautiful room, quality food with a creative flair, and good prices. We also have an excellent jazz trio so dining is a mellow experience. It's really the perfect Sunday escape."
Acorns also offers an egg station, and again, it is a customer favorite. Omelettes, eggs any style, and the classic accompaniments of bacon, ham and sausage are first choice with many diners. "For the omelettes we have a wide range of veggies, ham, mushrooms, seafood--basically, if we have it in the kitchen, you can have it in your omelette," says Jeff.
Belgian waffles with whipped cream and fruit are also made to order, and have a devoted following. Lines also form at the carving station, which features a tender roast beef and classic baked ham. For sides, choose from a full selection of salads, including pasta salads, potato salads, and garden salads of tomato and cucumber or carrots and raisins. You can also make your own creation at their full salad bar.
If you love fresh fruit in the morning, choose their excellent fruit salad, or make your own concoction from a selection of sliced melon, pineapple, berries and more.
If brunch means bagels, you won't be disappointed. Acorns offers bagels with nice accents like smoked salmon and cream cheese, and a bounty of muffins, breads, and pastries.
Sampling a mouth-watering array of desserts is part of the fun at a brunch, and this restaurant doesn't disappoint. Eight to 10 different desserts are offered, and they vary with the seasons. Look for a variety of cakes and pies--especially apple pie and pumpkin pie for fall--plus cream puffs, and a hot apple crisp or cobbler with ice cream. Two classics are guaranteed to be featured--key lime pie and Indian pudding. "We're famous for our key lime pie," says Jeff.
"And the Indian pudding has been on our menu since we opened 37 years ago. It's so popular we can't take it off the menu. Customers would boycott us if we did!"
OUTSIDE LINK: Acorns at the New England Center, call (603) 862-2815
CONTINUE TO NEXT SEACOAST BRUNCH
Please visit these SeacoastNH.com ad partners.