WHAT'S NEW?
| | |
| --- | --- |
| Seacoast Brunch is Weekend Indulgence | |
Written by Crystal Ward Kent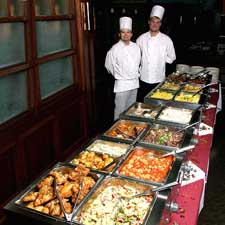 TASTE OF THE SEACOAST
It's a lazy Sunday morning, perfect for snoozing late, reading the newspaper, and enjoying a leisurely brunch. But where to go? Help is at hand. This sampling of well-known brunches and breakfast buffets is sure to tempt you. Thank goodness Sunday comes every week..
SUBSCRIBE TO Taste of the Seacoast
Perhaps the most elegant brunch on the Seacoast is found at the Wentworth-by-the-Sea in New Castle, New Hampshire. The Wentworth is one of the last grand hotels, with graceful architecture and stunning harbor views. From the moment the doorman ushers you in, you know a treat is in store. Brunch is served in the Wentworth's dazzling grand ballroom, complete with Victorian decor and crystal chandeliers. If it's especially busy, you may also be seated at a cozy table in the adjacent enclosed veranda, which overlooks the gardens and harbor.
Although the setting is refined, a jazz duo keeps the ambience light and relaxed. Brunch is served every Sunday from 10 a.m. until 2 p.m. and reservations are recommended. In addition to the standard beverages, such as coffee, tea and orange juice, you can also start off with a sparkling glass of champagne or a mimosa. Now it's time to meet the challenge ahead--choosing what to eat from one of the most amazing selections around.
JUMP TO: Abercrombie & Finch AND Acorns
JUMP TO: Harbor's Edge AND Stage Neck Inn and Clay Hill Farm
Wentworth by the Sea
New Castle, NH
The Wentworth kitchen staff starts work on brunch a full day ahead, and it shows. There are literally hundreds of different offerings. Numerous "action stations" allow chefs to personally prepare your food. The arrangement is entertaining, informative and lets you get your meal exactly as you like it.
"Customers enjoy the open concept; they like being able to interact with the chefs," says Dan Dumont, executive chef. "At our cheese station, we also have local cheesemakers, who not only carve the cheese for you, they also tell you about the cheese as they work."
At the far end of the room, a glittering ice sculpture marks the seasonal fruit display. The display features an abundance of berries, melons, and selected fruits, as well as fruit salads, and on this day, a strawberry fondue. Nearby is the array of breakfast pastries, with assorted whipped butters, cream cheeses and jams. A little further down is the salad and soup table. The menu varies, but it's always creative. On this visit, guests were treated to Chilled Mint Strawberry Soup, Fresh Blueberry, Apricot with Sweet Onion Salad, and Baby Spinach with assorted Fresh Berries, Honey Toasted Walnuts & Crumble with a Bleu Cheese/Champagne Raspberry Dressing.
In the center of the room, is a huge semi-circular table which holds the main entrees and breakfast foods. Chefs move quickly about within the circle as they prepare and serve. Lines quickly form for the Eggs Benedict, cornbeef hash with poached eggs and hollandaise sauce, and Monte Cristo with Lobster Avocado Salad and Melted Gruyere Cheese (all prepared while you wait). Children head for the pancake station, and eagerly watch their choices being flipped. You
can have pancakes with fruit, or the kids' number one choice--chocolate chips. Adults, meanwhile, are asking for the Vanilla and Almond French Toast with warm maple syrup, or maybe a cheese blintz.
If you want something other than breakfast food, try some Gravlox with potato pancakes, or the Seared Atlantic Halibut. At the carving station, chefs carefully slice portions of Pepper Crusted Sirloin, or Herb Roasted Turkey Supreme with Ginger Cherry Chutney. Oysters on the half shell, shrimp cocktail, and covered dishes too numerous to mention round out the main meal.
It would be a serious mistake not to save room for dessert. A three-tiered table features such delicacies as petit fours*, various mousses with fresh berries, pies, strawberries dipped in chocolate, mini strawberry shortcakes, and an assortment of creme brulees.
An outstanding staff is key to the Wentworth's distinctive fare. According to Dan, the hotel's dining room is rated number one out of all American Marriotts--that's 340 hotels--and Ken Shimmer, his banquet chef, is also ranked number one.
"Dining at the Wentworth should be a memorable experience," says Dan. "We strive to have unforgettable food featuring local, organically grown products of highest quality; and, of course, always a beautiful presentation."
OUTSIDE LINK: Wentworth by the Sea, call (603) 373-6566

CONTINUE TO NEXT SEACOAST BRUNCH

Abercrombie & Finch
North Hampton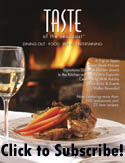 On Route 1 in North Hampton, New Hampshire, folks from both near and far flock to Abercrombie & Finch's New England Breakfast Buffet, which is served every Sunday year-round from 9 a.m. to 1 p.m., and is very reasonably priced. Abercrombie & Finch has a cozy, friendly atmosphere that immediately makes you feel at home.
"We have a large clientele that's here like clockwork every Sunday," says Skip Marten, executive chef. "We average 475 people every buffet."
One customer favorite is the "create your own omelets" feature. Customers fill out a ticket at their table, listing whatever they want in their omelets. The waitress collects the tickets, and the omelets are prepared while they visit the buffet line. The omelette options are endless--peppers, onions, mushrooms, ham and bacon, various cheeses, salsa, and more. You can also have eggs any style with bacon, ham or sausage, Eggs Benedict, and for something different, Eggs Strada, which is like a quiche with a French bread instead of a crust. The filling changes every Sunday.
Abercrombie & Finch also offers cream sausage and biscuits, housemade baked beans, home fries, pancakes, French toast, and Belgian waffles with whipped cream, which Skip prepares right in front of you. "Guests love getting that nice warm waffle," he says. "You can have it with maple syrup, strawberry sauce, or a third choice which varies. Sometimes it's raspberry sauce; another time it might be three-berry sauce, cranberry or blueberry. We like to mix it up."
The breads alone are mouth watering. There are their famous sticky buns, which have a praline base ("They're like pecan upside down rolls rightside up," explains Skip), sweet rolls, white chocolate raspberry scones, sour cream coffee cake, and a variety of seasonal offerings.
Although the variety is amazing, Skip says the number one reason their buffet is so popular is the consistent quality of the food. "There are no surprises here," he states. "You are going to get the same great meal you had last time. Our guests tell us again and again that it's the consistency that brings them back. They know they can count on us. We stay consistent because we've had very little turnover in the kitchen. I've been here 10 years and I'm a 'newbie.' Both line cooks and my prep cook have been here 15 years, and my sous chef, Joe Riley, has been here 20. That makes a difference."
OUTSIDE LINK: Abercrombie & Finch, call (603) 964-9774
Acorns at the New England Center
Durham, NH
If you're in the Durham, New Hampshire area, don't miss brunch at Acorns at the New England Center. This elegant feast has been voted "Best Brunch in New England" by Phantom Gourmet multiple times. Offered Sundays, 9 a.m. to 1 p.m., year-round, brunch is served in the New England Center's beautiful Acorns dining room. Tall windows offer a stunning view of the woodland setting, so guests may be treated to colorful foliage, a soft snowfall, or sunlight dappling the leaves, depending on the season.
"People love the atmosphere," says Jeff MacDonald, food and beverage manager at the New England Center. "We have this beautiful room, quality food with a creative flair, and good prices. We also have an excellent jazz trio so dining is a mellow experience. It's really the perfect Sunday escape."
Acorns also offers an egg station, and again, it is a customer favorite. Omelettes, eggs any style, and the classic accompaniments of bacon, ham and sausage are first choice with many diners. "For the omelettes we have a wide range of veggies, ham, mushrooms, seafood--basically, if we have it in the kitchen, you can have it in your omelette," says Jeff.
Belgian waffles with whipped cream and fruit are also made to order, and have a devoted following. Lines also form at the carving station, which features a tender roast beef and classic baked ham. For sides, choose from a full selection of salads, including pasta salads, potato salads, and garden salads of tomato and cucumber or carrots and raisins. You can also make your own creation at their full salad bar.
If you love fresh fruit in the morning, choose their excellent fruit salad, or make your own concoction from a selection of sliced melon, pineapple, berries and more.
If brunch means bagels, you won't be disappointed. Acorns offers bagels with nice accents like smoked salmon and cream cheese, and a bounty of muffins, breads, and pastries.
Sampling a mouth-watering array of desserts is part of the fun at a brunch, and this restaurant doesn't disappoint. Eight to 10 different desserts are offered, and they vary with the seasons. Look for a variety of cakes and pies--especially apple pie and pumpkin pie for fall--plus cream puffs, and a hot apple crisp or cobbler with ice cream. Two classics are guaranteed to be featured--key lime pie and Indian pudding. "We're famous for our key lime pie," says Jeff.
"And the Indian pudding has been on our menu since we opened 37 years ago. It's so popular we can't take it off the menu. Customers would boycott us if we did!"
OUTSIDE LINK: Acorns at the New England Center, call (603) 862-2815
CONTINUE TO NEXT SEACOAST BRUNCH

Harbor's Edge at Sheraton Harborside
Portsmouth, NH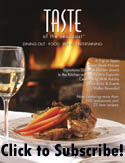 In the heart of downtown Portsmouth, New Hampshire is the Sheraton Harborside Hotel and their Harbor's Edge dining room which looks out over Portsmouth's busy harbor. Diners may see a pair of tugs guiding a large vessel out to sea, a graceful sailboat floating past, or just the swift-flowing Piscataqua streaming by. The warm ambience of the dining room provides the perfect setting for a relaxing breakfast buffet offered every Sunday from 7 a.m. to 2 p.m., year-round. On Sundays in December, bring the family for a special brunch with Santa. Starting this fall, live entertainment will again be featured at brunch.
Classic breakfast fare is very popular with all diners, and includes eggs any style, omelettes made to order, Eggs Benedict, French toast, pancakes made to order, and Belgian waffles, made to order with your choice of fruit toppings. Bacon and sausages can accompany any choice.
If you're looking for something more substantial, try their roast sirloin or apple-glazed ham. Or, on the lighter side, choose from a complete array of breakfast pastries and scones, fruit blintzes, fresh fruit, or smoked salmon with bagels and cream cheese.
"We have many local regulars and recommend reservations," says Traci Schaake, food and beverage director. "It is important to remember a hotel restaurant when searching for the perfect brunch spot. Our view is outstanding; our food is delicious, our service is wonderful, and the value is exceptional."
OUTSIDE LINK: Sheraton Harborside and Harbor's Edge, call (603) 559-2626 or
Stage Neck Inn
York Harbor, ME
Located on a lovely point in York Harbor, Maine is the Stage Neck Inn, a classic hotel is surrounded by stunning views of York Harbor and York Harbor Beach. The restaurant doesn't offer a classic brunch, but instead serves a regular lunch menu with a variety of brunch specials. This option is available year-round from 12 p.m. to 2 p.m., and reservations are required. The dining areas are elegant yet comfortable, with mesmerizing ocean vistas year-round.
Stage Neck Inn's luncheon menu is extensive, with the full complement of salads, entrees, desserts and seasonal specials. But save room for the brunch offerings. These include Smoked Salmon Benedict, Maine Crabmeat Benedict, the classic Eggs Benedict, and a Seafood Omelette made with shrimp, crabmeat, and sea scallops in a parmesan cheese veloute sauce.
Two of their brunch best sellers are the DownEaster, which is a New York sirloin with home fries, two eggs any style, and juice, and the Stage Neck Inn French Toast, which is thick pieces of fresh bread, deep fried, and served with warm maple syrup, and your choice of ham, bacon or sausage. Hotcakes are another favorite and they go as fast as their name implies.
Dessert is one temptation after another--crème brulee, chocolate mousse with raspberry coulis, warm apple crisp with vanilla ice cream, profiteroles with ice cream, chocolate sauce and raspberry coulis, blueberry pie, and more.
"Stage Neck Inn is simply a beautiful place to dine," says Phoebe Apgar-Pressey,
general manager. "The setting is gorgeous any time of year, and we pride ourselves on fine, classic cuisine. We have many repeat guests so we must be doing something right."
OUTSIDE LINK: Stage Neck Inn, call (207) 363-3850
Clay Hill Farm
Cape Neddick, ME
A bit further up the Maine coast is Clay Hill Farm on the York/Ogunquit line. Clay Hill Farm looks out over 30 beautifully landscaped acres. The rolling sweep of lawn and careful plantings provide lovely views each season, whether the grounds are vivid with foliage or blanketed with snow. The restaurant offers seasonal, themed brunches which vary from year to year. Past favorites include the Holiday Brunch with Santa, New Year's Jazz Brunch, Gospel Brunch for Martin Luther King Day, Valentine's Brunch, Irish Brunch and Spring Fling. Brunches are usually offered monthly from November to April, and from 11 a.m. to 3 p.m.
The food is tied into the theme, so offerings differ from month to month. The brunch is a sit-down meal, as opposed to a buffet, and is very hearty. "We plan our brunch like the old days, when the main Sunday meal as at midday," explains Jennifer Lewis, marketing manager. "We try to please as many palettes as possible, and we make sure that no one leaves hungry."
While the menu changes with the theme, certain favorites are sure to repeat. These include a delectable seafood crepe, grilled rib-eye, wide range of seafood ("This is Maine," laughs Jennifer. "We have to have plenty of seafood!"), soups, pastas and their famous house salad. The pastas always include a vegetarian offering, and usually feature a lasagna or ravioli. The house salad is a truly wonderful creation of baby spinach, dried cranberries, and pistachios, topped with a maple vinaigrette.
Four to five different desserts are offered with each brunch, so you are sure to find something to entice you. Although they don't serve traditional breakfast food, diners don't seem to mind, as the themed brunches are incredibly popular. "Because we change the theme, each brunch is different--different food, different entertainment--it's a special event every time," explains Jennifer. "We have quality entertainment for every brunch. We had the Funky Divas for our gospel brunch, and a well-known Irish entertainer in March; some fabulous acts have performed here. People want to experience all the brunches. They are unique and it's a great way to celebrate whatever season we're in."
OUTISDE LINK: Clay Hill Farm, call (207) 361-2272

TASTE TIP: Petit fours are small cakes that may have a variety of filling and are usually iced decoratively. Though according to Larousse Gastronomique, they can also be sweet biscuits or even savory. They are typically bite-sized.
Please visit these SeacoastNH.com ad partners.