WHAT'S NEW?
| | |
| --- | --- |
| Best Kept Restaurant Secrets | |
Written by Crystal Ward Kent
Page 4 of 4
BONTA
Hampton, NH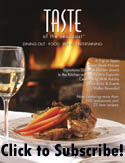 Heading south into New Hampshire, be sure to stop at Bonta at 287 Exeter Road in Hampton, New Hampshire. Bonta is beautifully appointed, with vaulted ceilings, hardwood floors and leather chairs. Large arched windows flood the restaurant with light during the day, and a huge stone fireplace keeps things cozy in the evening. Bonta means "bountiful" in Italian, and the menu reflects that theme.
"Our philosophy is to keep everything fresh and simple," explains Lee Frank, executive chef. "We want to let the food speak for itself."
The menu changes frequently, but an early fall offering featured some tempting choices. Appetizers included Caprese, a combination of homemade mozzarella, vine-ripened tomatoes and basil pesto; Beef Carpaccio, with shaved parmesan, arugula and essence of truffles, and a Halibut Chowder accented with smoked bacon.
There are a number of salad choices, but one standout is the Endive and Gorgonzola, with candied walnuts, crumbled bleu cheese and a bleu cheese dressing.
Among the classic entrees are the "Chicken Under the Brick," which is an old Italian recipe. "You take half of a chicken and roast it under a brick in a cast iron pan," says Lee. "The brick lets the chicken cook crisply without getting dry. The meat is seasoned with salt and pepper. We keep it simple so you savor the beautiful chicken. It's then served with candied shallots and butter braised fingerling potatoes which have been slow-cooked. It's a delicious dish."
Other favorites include the New York sirloin, 10-ounces of grilled perfection, topped with a roasted red chili sauce, and served with hand-cut garlic fries and fresh spinach; a veal piccata with wild mushrooms, lemon, garlic, capers and linguini; and pan-seared day boat scallops with lobster and sweet herb risotto and cauliflower sauce.
Dessert is equally distinctive. How about a pumpkin tart with walnut crème glaze or profiteroles with vanilla gelato and Grande Marnier chocolate sauce?

And then there's the quince and pear crisp, served warm with vanilla ice cream. Sigh!
OUTSIDE LINK: Bonta official web site
Opened Monday through Saturday from 5 p.m to 10 p.m. For more information, call (603) 929-7972..
Copyright (c) Taste of the Seacoast Magazine / All rights reserfed. Electronic rights use granted to SeacoastNH.com.
Please visit these SeacoastNH.com ad partners.