WHAT'S NEW?
| | |
| --- | --- |
| Best Kept Restaurant Secrets | |
Written by Crystal Ward Kent
Page 2 of 4
Chapman Cottage
York Harbor, ME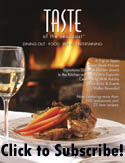 Heading up the Maine coast to York Harbor, be sure to stop at Chapman Cottage. Located in a beautiful 1800s house, the small, intimate restaurant has two dining rooms, each comfortably furnished in a Colonial country style with hardwood floors, white-clothed tables, and large fireplaces. Both offer lovely views of the sweeping grounds and stately old trees. Chapman Cottage opened three years ago, and it's been a whirlwind ever since. They offer an eclectic menu with a little bit of everything. Paul and Donna Archibald are the owners, and as chef, Paul changes the menu in April and October.
"People love our food, that's for sure," says Paul. "But they also love the ambience. We're very relaxed here. We don't rush people. We invite you to linger. We want people to enjoy themselves and relax. That's what dining is all about."
Be sure to start with a salad as there are three tempting offerings: An heirloom tomato with French bleu cheese and balsamic vinaigrette; a lovely combination of goat cheese, sweetened dried cranberries, roasted walnuts and baby greens topped with a champagne vinaigrette, and the house salad, which is cucumbers, carrots, golden raisins, and greens, served with a sherry vinaigrette.
Chapman Cottage makes all their own breads and rolls, including a sweet roll that is irresistible, but don't fill up on bread as the main courses are exceptional.
The diverse selection of entrees includes a Seasoned Risotto with Lobster, Diver Scallops and Shrimp; Duck Breast with Plum Wine Sauce; Dover Sole with a beurre blanc sauce, and their famous Seasoned Diver Scallops. "The diver scallops I get are enormous--each one is 1.5 to 2 ounces," explains Paul. "We serve them five to a plate, so it's quite a meal. Guests just rave about this dish. I can't keep it in stock. We only serve 32 people per night because our dining area is small, yet we go through 24 pounds of scallops in a week!"
All the portions are more than fair--the aforementioned duck breast is 10 ounces; they offer an 8-ounce boneless steak fillet in red wine sauce, and one-half rack of Australian lamb (15 ounces) in a port reduction sauce.
The desserts are as tempting as the entrees." We make a fresh cobbler with various fruits and vanilla ice cream," says Paul. "And we also do a cheesecake which is available plain or with strawberries, peaches, or raspberries, depending on what's in season. This is not a New York-style cheesecake; it is more of a cordon rose style, very light--it just melts in your mouth."
OUTSIDE LINK:Chapman Cottagee official web site
(207) 363-2059,.
CONTINUE TO NEXT SECRET
Please visit these SeacoastNH.com ad partners.