| | |
| --- | --- |
| The Life of Thomas Bailey Aldrich | |
Written by J. Dennis Robinson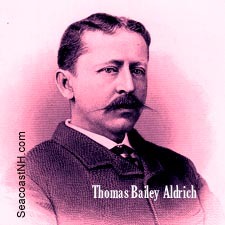 PORTSMOUTH'S BAD BOY
Aldrich (1836 - 1907 ) remains Portsmouth's most famous author, although few of his words are still read. His "Sotry of a Bad Boy" may have inspired Mark Twain's rascal boy books. But his quirky history of Portsmouth, stolen largely from the RAMBLES of Chalres Brewster, remains highly readable today. His boyhood home survives as part of Strawbery Banke Museum.
READ: more on Aldrich and complete text of his two Portsmouth books
Mark Twain attended the memorial ceremony for Portsmouth's Thomas Bailey Aldrich at the Music Hall in 1908. Aldrich's novel "Story of a Bad Boy," Twain said, was his inspiration for Tom Sawyer. That's how famous Aldrich was in his time.
Today his many novels and volumes of romantic poetry go largely unread, even in his hometown of Portsmouth, NH. His reputation hangs largely on his breakthrough book "Story of a Bad Boy" about his Portsmouth childhood. It is still in print, though no threat to "Huckleberry Finn." But there's more to Aldrich worth reading; his out-of-print guide to Portsmouth bears a second look. Published in 1883, "An Old Town by the Sea," is an evocative literary picture of this region at the end of the 19th century.
The Story of a Good Man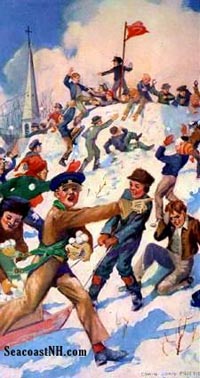 Both the Bailey and Aldrich families, from which he was descended, could trace their roots back to colonial America. "I could boast of a long line of ancestors, but won't." Aldrich once wrote. "They are of no possible benefit to me, save it is pleasant to think that none of them were hanged for criminals or shot for traitors."
While the boyhood adventures of Tom Bailey made him famous nationally, Aldrich grew up mostly in New York, New Orleans and wherever his father's travels took the family. In 1849, the budding poet returned for three years to his grandfather's "Nutter House," now at Strawbery Banke Museum. His first works were published in the Portsmouth Journal, edited by the locally famous Charles Brewster, whose "Rambles About Portsmouth" are still read today.
At age 16, Aldrich, after his father's death, was off to New York to work at his uncle's bank, then at 19 launched his career as a poet, critic and as editor of magazines like Home Journal, Illustrated News, and Saturday Press. After a hitch as a correspondent in the Civil War, Aldrich returned to the "bohemian" New York literary scene.
In 1865 Aldrich moved permanently to the more "proper" literary capital of Boston and permanently married Lillian Woodman. In her chatty book of their 42 years together, "Crowded Memories," she uses the name Mrs. Thomas Bailey Aldrich. The relatively unknown editor and poet kept the company of eminent Boston writers like Whittier, Hawthorne, Lowell and Holmes. By 1870 the Aldriches were popular socially, had twin sons and were feeling the early success of the newly published "Story of a Bad Boy," written while they summered in Portsmouth.
In returning to his pastoral childhood home after a horrible war, contemplating his father on the eve of his own fatherhood, Aldrich had broken through a psychological barrier. He wrote, not about the proper upbringing of a young man, but about the real and mischievous actions of a real boy. William Dean Howells, editor of the respected literary journal Atlantic Monthly, hailed it as the first truly American novel.
Aldrich then began a prolific period of writing novels, poetry and short stories. The family traveled frequently to Europe and beyond. During the 1880s, he became himself editor, after James Russell Lowell and William Dean Howells, of the Atlantic Monthly. It was not the Atlantic's finest era. But it was during this period that Thomas Bailey Aldrich wrote his prose tribute to Portsmouth, New Hampshire.
In 1893, Aldrich wrote to a friend:
"O, how lazy I am! Not so much as a couplet stirring in its shell -- presently I shall have the proofs of my book of stories and 'An Old Town by the Sea' to correct. This will be my summer work. I don't expect ever to write anything more. Inkstand dried up, pen split, ideas gone."
But there were many more books and poems to come, including his highly readable tour of Portsmouth published in 1893. (See entire text of An Old Town by the Sea on this website.) Descriptions of Aldrich always seem to mention his youthful appearance, even in old age. He is described as "jaunty" and with a "boyish alertness" even into his seventies. Aldrich seems destined to be, less a famous American man of letters, then a beloved bad boy from Portsmouth who made good.
By J. Dennis Robinson Copyright © 2006 by SeacoastNH. Com. This articles first appeared here online in 1998. Sourcess: (1) Ahl, Henry Curtis. "A Visit to the Aldrich House." (pamphlet) Aldrich, Mrs. Thomas Bailey Aldrich. Crowding Memories. Boston: Houghton Miflon, 1920; (2) Dictionary of American Biography. New York: Charles Scribner's Sons, 1928; (3) Greenslet, Ferris. Thomas Bailey Aldrich. Boston: Houghton Miflon, 1908; (4) Jacobson, Marcia. Being a Boy Again. Tuscaloosa: University of Alabama Press, 1994.
Please visit these SeacoastNH.com ad partners.