Written by Link Free or Die
Photographer (1896 - 1990)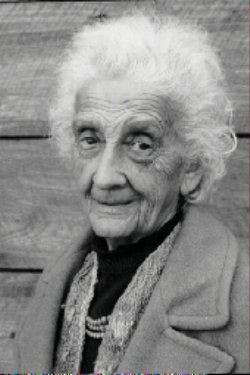 Photographer Lotte Jacobi was already in her 60s when she moved to Deering, NH, but she lived another 30 years here. Some of the most famous people in the world are most clearly remembered through Jacobi's casual intimate portraits. She captured -- in black and white -- the essence of, among others, scientist Albert Eintsein, dramatist Kurt Weill, actress Lotte Lenya, first lady Eleanor Roosevelt, author Loren Eiseley, poet Robert Frost, philosopher Thomas Mann, painter Marc Chagall, actor Peter Lorre and musician Pablo Casals. Born in West Prussia, trained by her father, she was forced to flee Hitler's Germany prior to World War II. She set up her own studio in New York City and worked for Life magazine, though her independent style, she said, did not much suit the editors there. In the 1950s she pioneered an abstract photo form called "photogenics" and long crusaded for the inclusion of photography as an art form in museums. Jacobi's work was part of a long family tradition. Her great-grandfather Samuel Jacobi had been among the original pioneers, learning the photgraphic process in Paris as early as 1839. While in NH, as a friend of photographer Gary Samson, she bequeathed a collection of 47,000 negatives to the University of New Hampshire..Although her work is commonly seen in books, magazines and galleries today, there is precious little information about Jacobi online today. More data, hopefully, will follow.
She photographed some of the
most famous faces in the world
LOTTE JACOBI LINKS
Jacobi Photographer's Spotlight
Clear short feature with photos from the UNH collection byNY Institute of Photography
Lotte Jacobi's lens caught famous faces
Superb summary article from the Concord Monitor in NH includes interview with Gary Samson of UNH
History of Women in Photojournalism
An overview hosted by the University of Missouri
Classic & Contemporary Photographers
Good short, biography from the Robert Klein Gallery in Boston, MA
Lotte Jacobi Bio
Short bio from ArtNet Library
Lotte Jacobi Photographic Collection at UNH
University of New Hampshire special collection includes correspondence and 47,000 negatives by Jacobi.
Albert Einstein by Jacobi
We're not sure where these images came from
Atelier Lotte Jacobi
German article with a number of Jacobi photos
Encyclopedia Britannica Entry on LJ
Central NH Regional Planning Dept
Includes map showing location of Deering NH, Jacobi's home
Henley Library at UMass
Collection of Jacobi pictures (scroll way down)
Forms Inspired by Jacobi
These are not images by Lotte Jacobi, but by a modern photographer named Michelle. Still they translate the concept of the original "photogenics".
Photogeics, the Software?
Photogenics, the Photographer?
The Adademy for Photogenic Arts?
This has nothing to do, as far as we can tell, with the original "photogenics" created by Lotte Jacobi
Contact the UNH Jacobi Collection
Includes images of a few Jacobi photographs too
---
OTHER WOMEN PHOTOGRAPHERS
Women in Photography, The American West
Women's Photography after the Gold Rush
Professional Women Photographers Online
Favorite Women Photographer Books
---
Jacobi photo (c) UNH Special Collections Library
Copyright © 2001 SeacoastNH.com. All rights reserved
Please visit these SeacoastNH.com ad partners.