Written by Link Free or Die
Orator (1782-1852)
Born in Salisbury, NH , Daniel Webster is probably best known today as the lawyer who defended fellow New Hampshireite Jabez Stone in a fictional trial with the Devil. The short story "The Devil and Daniel Webster" adapted to the movies, plays on his fiery debating skill as a Senator from Massachusetts. After attending Dartmouth and training as a lawyer in Portsmouth, NH, Webster became one of the nation's best known speech makers and was appointed Secretary of State under three presidents. Known as "Black Dan" and "Godlike Dan" Webster refuted the Southern concept of the nation as a loose confederation of states. Webster initially opposed Westward expansion and the Mexican War. His compromise position on slavery, though it may have delayed the Civil War, cost him his hopes of running for the presidency. A shy child, his bold oratory and literary style made his name a household word in 19th century America.
"I'd Fight 10,000 Devils to Save
One New Hampshire Man!"
Webster in 'Devil & Daniel Webster"
More Famous NH People

DANIEL WEBSTER LINKS
BIOGRAPHY
Dartmouth's Favorite Son, Class of 1801
An online in-depth exhibit about Webster's link to his NH college
Young Lawyer in Portsmouth, NH
Webster cut his teeth as a young lawyer in the struggling port city
DW: Defender of the Constitution
Site adapted from lecture by writer Dan Orr to the Philomathean Society
Webster Bibliography
A compilation of works by and about Webster from the US Senate
Autobiographical Sketch 1829
From the "Papers of Daniel Webster"
THE DEVIL AND DANIEL WEBSTER
The Short Story on Radio (AUDIO)
New version acted out for streaming medium including Alec Baldwin who appears in the new film version.
The Screenplay
An e-text of the screenplay by Dan Totheroh and Stephen Vincent Benet
Short Story by Stephen Vincent Benet
We thought this story was still under copyright, but here it is
Another copy of the Short Story
The Classic Movie (1941)
The New Movie (2001) with Anthony Hopkins & Alec Baldwin
HISTORIC SITES & ARTIFACTS
Daniel Webster's Birthplace, Franklin, NH
Open summers and managed by NH Div Parks & Recreation

Webster House in Portsmouth, NH
On the campus of Strawberry Banke Museum
Webster Cottage, Hanover
Reputed to be his residence, site of Hanover Historical Society
Webster's House in Portsmouth
A 19th century account by from Charles Brewster's "Rambles"
Old Supreme Court, US Senate (LIVECAM)
The US government's own virtual tour where Webster once sat and where he defended Dartmouth College in his famous speech
Statue of Webster, US Capitol, Washington DC
Marble by Carl Conrads (after Thomas Ball). Given in 1894, Statuary Hall.
Grave of Webster in Marshfield, MA on Find-a-Grave
Webster Statute in Central Park, NYC
Webster on US Currency
Dawn's Virtual Currency Collection details Webster on $10 bills
Thomas Ball Sculpture of Dan, circa 1863
Webster Bust by Shobal Vail Clevenger, circa 1838
IMPORTANT EVENTS
Archived Webster Documents
A list from of locations of items from the US Senate

The Dartmouth College Case, 1818
Speaks at Bunker Hill, June 1825
DW Funeral March, 1852 (AUDIO)
Listen online to the 4th Artillery Brass Band
Speech to US Senate, March 7, 1850
Webster Resigns, July 22, 1850
PHOTO & IMAGE GALLERY
Daniel Webster Portraits from Darmouth Collection

Matthew Brady Photo, Smithsonian, 1849

John Neagle Painting, US Senate, 1858

Lithograph by Francis D'Avignon at National Portrait Gallery
Images of American Political History painting
Clay, Fillmore, Calhoun, Webster in the Senate: 1850

Portrait at NH State Capitol
NAMESAKES
Webster
The state of NH named its online server after Dan WEB-ster, get it?
USS Daniel Webster Submarine (SSBN-626)
Daniel Webster Council, Boy Scouts, Manchester, NH
Daniel Webster Middle School, Milwaukee WI
Daniel Webster Inn, Sandwich, MA
Daniel Webster Elementary, Marshfield, MA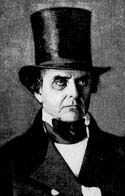 More Famous NH People
Photo from SeacoastNH.com Image Library
Copyright © 2001 SeacoastNH.com. All rights reserved.
Please visit these SeacoastNH.com ad partners.