| | |
| --- | --- |
| William Dean Howells at Kittery | |
Written by Ronan Donohoe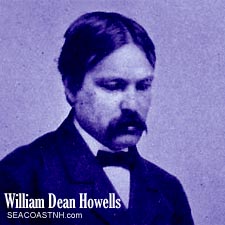 SEACOAST LITERARY LIONS
Howells came to this region late in life in 1902, but his impact was significant. He wrote about the Isles, Portsmouth and Kittery for important publications and his family continued to influence preservation efforts in the region throughout the 20th century.
READ Howells on Celia Thaxter
William Dean Howells
(1837-1920)
Author, editor, playwright, poet and Kittery resident
Of all the Seacoast's men and women of letters who might be styled Literary Lions, William Dean Howells is perhaps most deserving of that distinction. This is especially so if one considers the extent of the audience reached, the quality and sheer quantity of work produced and the number of honors bestowed. Author, editor, poet, playwright, essayist, valued friend and neighbor, Howells' literary talents earned him entry into the most distinguished circles in the world's most cosmopolitan centers. But familiar as he became with New York, London and world capitals, Kittery Point would remain his heart's desire. As he wrote to a friend, "The Great Lakes are great, but Kittery Harbor is big enough for me."
Howells was sixty-five years old in 1902 when he bought the house in Kittery Point which stands today as the William Dean Howells Memorial, He would return annually to his beloved seaside retreat until his death in 1920. By 1902, Howells had established himself as one of the nation's best known and highly regarded men of letters. Born in Martin's Ferry, Ohio in 1837, young William was schooled largely in his father's print shop where he learned to set type and taught himself language and literature. Howells would go on to author approximately 200 books including novels, plays, literary criticism, topical essays, several volumes of poetry, and two presidential campaign biographies (that of Abraham Lincoln in 1860 had earned him an appointment as U.S. consul in Venice from 1861 to 1864). He served as editor of the Atlantic Monthly and Harper's Monthly and he included in his circle of friends such notables as Longfellow, Holmes, James Russell Lowell, Edith Wharton, Sarah Orne Jewett, Teddy Roosevelt, Mark Twain and Henry James.
He would use the power and prestige of his position as editor at Harper's and contributor of a monthly column, the Editor's Easy Chair, to espouse and promote those literary and political positions about which he cared deeply. He took up the cause of women writers, local colorists, anti-imperialism and the injustice of the execution of the seven anarchists hanged following the Haymarket Riots. Before his death he would play a leading role in setting up the Nation Association for the Advancement of Colored People.
A life so filled with work and deadline made the relaxation of his summer residence more precious to him. Everything about life in Kittery seemed to delight the man of affairs seeking refuge from the stresses of the city and its demands. There, his most special place of refuge was his study.
Writing to William James he reported:
I have bought a place here fronting the sea with two acres of shore and we are holding on till we put it in shape. Just now the stable has rested on its journey from the street corner to the east of the house, where I am going to turn it into a study…. to move a building was about all that remained for me to do; and it is such an American experience!
The artist Horace Carpenter captured the image of Howells in his study displayed in this exhibit and had this to say of the scene:
Hardly a dozen yards from Mr. Howells' dwelling house stands the library where the famous author, one may rest assured, spends most of his time. A fine big brick fireplace is at one end of the great library room, where stout burning logs send out a cheerful glow on such days as the east wind takes a notion to swing down and pay its respects. Before this cheerful spot Mr. Howells sits in an old colonial chair, at the end of a delightful old, many-leaved table surrounded by books and papers, he writes and reads. But with all the temptation to work that a well-stocked library and ideal conditions suggest, it may easily be seen that the famous author takes genuine interest and delight in the physical conditions that he finds himself surrounded with. And one may well believe that the village folk, the fisherman and their quaint environment, become naturally and unaffectedly part of his life there, possibly to be reflected unconsciously some day in his literary world.
John Updike in his history of the American Academy of Arts and Letters says of Howells:
But William Dean Howells was an agreeable kind of activist, essentially cheerful in temper (despite private griefs): a person given to taking part in protest marches, but also to showing up at fashionable tea parties. For all this, he was everybody's favorite at the Institute from the time it began…. He was the first individual elected to the Academy (of Arts and Letters) in 1904 and served as its President for life. "Don't let him resign to take a back seat", Hamlin Garland begged the secretary, when Howells was inclined to step down. "He belongs just where he is in the Chair….Character and achievement both combine to fit him for the place."
Character and achievement may have fit Howells for a high place among men of letters but character and achievement also made it possible for him to fully appreciate the quiet delights of his life in Kittery Point. Toward the end of his life he wrote:
Even the days of declining years linger a little here, where there is nothing to hurry them, and where it is pleasant to loiter, and muse beside the sea and shore, which are so netted together at Kittery Point that they hardly know themselves apart.
Ronan Donohoe, a long time history teacher in Exeter, is active in the Portsmouth Athenaeum, Warner HOuse, Portsmouth HIstorical Society and many other local history, church, civic and literary groups. He lives in Portsmouth. .
Please visit these SeacoastNH.com ad partners.