Written by Famous NH People


AT HOME WITH BETTY HILL
The year she turned 80 we sat down with Betty Hill to talk about UFOs, family, plitics and history. We grabbed a couple of quick digital photos and, as it turned out, never remembered to bring the camer in future visits. Here they are.
Visiting with Betty Hill
February 1999

RETURN to ARTICLE: The Grounding of Betty Hill
Betty Hill at 80 in her Portsmouth home with Tassy the cat. Betty has been living here since the 1951, a ecade before her alleged alien encounter with aliens in the mountains of New Hampshire. (J. Dennis Robinson photo)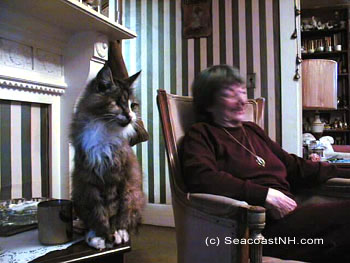 Animatedly revealing her family history, Betty Hill appears to blur in the background, while Tassy studies us in the foreground. (J. Dennis Robinson photo)
Betty and Barney Hill prior to the release of the book "The Interrupted Journey" that documented their story of an alien encounter in the NH mountains
(Photo used by permission of Betty Hill)
Images Copyright (c) 1999 SeacoastNH.com May note be used in whole or in part without written permission. All rights reserved.
Please visit these SeacoastNH.com ad partners.