Written by Editor at Large
Your great- great- grandparents
didn't know the half of it

Monorails whiz overhead. A subway from Ogunquit Center drives underground to the sea. Zeppelins whoosh by. That's how one artist imagined the Seacoast in the 21st century.
We bumped into this wacky postcard the other day in an antique shop and couldn't resist passing it on to you. The photographic montage was never mailed and bears no copyright, but the souvenir card looks to be about 100 years old. As crude as the image seems today, some photo artist worked very hard to cut together this little montage entitled "Ogunquit, Maine in the Future".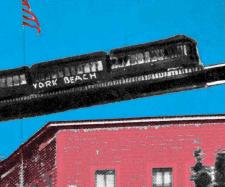 This was the era of the first automobiles and the arrival of the trolley and the "jitney" an early motorized bus. We crudely colorized a few details so you could see this clever vision of the future. This was a time on the very brink of manned air travel and then, as now, New Englanders feared that our towns would be overwhelmed with traffic and tourists and modern contraptions.
We assume there are similar postcards from other summer resorts. Early entrepreneurs knew how to make a buck too. But the artist has gone to the trouble of localizing it. The little house is labeled "Subway to Bald Head Cliff", still a popular tourist attraction near Cape Neddick. The monorail is headed to York Beach and the dirigible to Mount Agamenticus – all popular tourist spots today.
What the futurist never imagined was an even more heinous development – everyone driving his or her own personal car. During the height of the summer season you can get stuck in Ogunquit traffic for up to half an hour. A zillion visitors have to move along one narrow rural roadway. And behind each car are all those personal water craft. And don't forget those motorcycles, bicycles, all-terrain vehicles and campers.
No, we were way too smart to build crowded public transportation that would have saved on fossil fuels, reduced greenhouse gases and kept us out of foreign wars. Did you hear the news recently that earth is also getting dimmer? Yup, sunlight has been cut by 15% in recent decades due to those nasty greenhouse gases that will eventually melt the polar ice caps and flood the whole seacoast all the way to the White Mountains.
But isn't that better than having to wait five minutes for a crowded streetcar? -- Have a nice summer. JDR
READ ALSO: Letter to 2123
READ ALSO: Amanda Visits Seaport World
SEE PHOTOS: Burying the Time Capsule
SEE MORE: Portsmouth Timeline

Please visit these SeacoastNH.com ad partners.