| | |
| --- | --- |
| With Apologies to Kittery | |
Written by J. Dennis Robinson
Page 1 of 2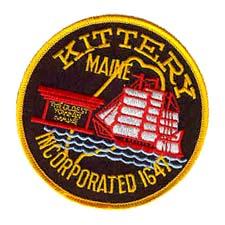 PORTSMOUTH PILFERS MAINE

If you took everything that happened in Kittery our of Portsmouth history – what would be left? Some politics, perhaps, and a few parades. Fact is, Portsmouth historians owe their Kittery neighbor a huge aology for appropriating their best stories. So here is that apology – 400 years in the making, and a summary of what we stole.
READ Where Kittery got its name
NOTE: The gist of this article was presented to the good citizens of Kittery by the author at a pot luck lunch for the Rice Public Library. See the new library guide to Kittery now in paperback.
DEAR KITTERY:


On behalf of my fellow Portsmouth historians, living and deceased, I want to apologize to the town of Kittery. We have been stealing your stories for centuries. We're not going to stop, of course, because too much of what we pretend happened here, really happened there. I just thought it would be nice to admit that we're doing it on purpose.
The "Gateway to Maine" gets it from both sides. Mainers tend to toss off the state's oldest official town as too intimately allied with New Hampshire while we are busy assimilating famous Kittery people and events. Most tourists, racing from one state to another, scarcely notice the town at all. To many, Kittery is little more than a bridge, a pit stop and a line of factory outlet stores on the way to somewhere else.
But for those who know it, Kittery is a rugged little hamlet with a unique mix of grit, charm and commercialism. It clings to the Piscataqua like a barnacle and has been adopted and adapted by fishermen, poets, shipyard workers and the summer gentry.
Here are just a few tidbits of Piscataqua history, Kittery-style:
FOUNDING DATES: Hovering between Canada and southern New England, Maine has a long rich Native American history. Its European occupation begins with French forts dating to the late 1500s. While Portsmouth and Dover battle over the founding date of 1623, Kittery takes the high road and promotes an official incorporation date of 1647. Yet like Portsmouth, the area was very active much earlier.
MASON & GORGES: It all started when English investors Mason and Gorges split their American land holdings in 1629 right up the Piscataqua River. Ferdinando Gorges got Maine, never made it pay, and his heirs sold the province to Puritans in the Bay Colony. Maine was part of Massachusetts until 1830.
PEPPERRELL: Largely ignored by NH history, the dominant character in early Maine was William Pepperrell. Actually there were three William Pepperrells, the first of whom established the biggest fishing industry at the Isles of Shoals in the mid 1600s. One of the wealthiest landholders in the New World, Pepperrell's estate once stretched up the coast for 30 miles and included all of modern day Eliot and the Berwicks.
LOUISBOURG: The Pepperrell fishing industry was so vast that it felt cramped by competition from the French in Nova Scotia. In 1745, as colonel of the Massachusetts militia, son Sir William Pepperrell took 3,000 troops northward. With the help of the British fleet, he defeated the supposedly impregnable French fort of Louisbourg in Cape Bretton. He became the first native born American knighted by the king of England and was one of the wealthiest men in the New World.
INDIAN BATTLES: Kittery with its straggling shoreline of fishing huts actually suffered more damage from Indian reprisals in the late 1600s than Portsmouth. While 14 men women and children died on The Portsmouth Plains area, and three others nearby, Kittery suffered 88 deaths as Natives, goaded by the French, attacked and burned Kittery homes one by one.
WHIPPLE: William Whipple of Portsmouth, the New Hampshire man who signed the Declaration of Independence was born in Kittery in 1730.
PAUL JONES: John Paul Jones may have stayed in Portsmouth, but his 1777 ship Ranger was built at what is now Badger's Island in Kittery. Historians have suggested that, during the construction of Ranger, Jones may actually have stayed aboard ship in Maine. When he returned to Portsmouth in 1781, Jones supervised the launch of the ship of war America, then the largest ship ever built in the New World. It too was launched from Kittery. Kittery likely got the whole Piscataqua warship industry started in 1690 when "Yankee" colonials built and launched the HMS Falkland, the first major British ship built here.
CONTINUE KITTERY HISTORY
Please visit these SeacoastNH.com ad partners.