WHAT'S NEW?
Written by Penny Gourmet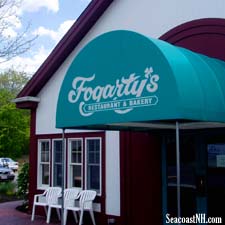 PENNY GOURMET
South Berwick ME
Not yet a half-century old, Fogarty's seems to have been here forever. If you live in Salmon Falls, you know this place, first in the summer for it's ice cream, secondly as a warm homey place for an affordable dinner when the snow flies. If you don't know Salmon Falls, you have a road trip in your future.
Fogarty's Restaurant & Bakery
47 Lower Main Street
South Berwick ME 03908
(207) 384-8361
The first thing you see upon entering the recently expanded and renovated Fogarty's is the bakery counter. That Is the third reason to visit. Alluring cakes and pies are positioned right below the welcoming area on the way in and the cash register on the way out. We have been known to head home with a complete pie or cheesecake.
Fogarty's is located just a few feet on the Maine side of the Salmon Falls River, so it is common to see refugees from Rollinsford, NH crossing the border for meals and ice cream breaks. We tend to get the basics at Fogarty's – an open face turkey sandwich with gravy, a BLT, fish sandwich, whatever is on special. And always, we order that with a mocha frappe, which is large enough to comfortably split between two diners.
Established in 1960, Fogarty's is the local hangout that has evolved from steady repeat visits from the townies – like Strafford Farms in Dover or Carmen's in East Kingston or the Puritan in Machester. No frills, good service, affordable prices. The menu runs from burgers and sandwiches to seafood, beef, chicken and Italian, despite the Irish name and decorations.
A glance at the appetizer menu will demonstrate why we don't suggest this as a Mecca for dieters – fried mushrooms, deep fried zucchini sticks, cheese fries. Side orders include french fries, steak fries, fried clams. Well, you get the picture.
For dessert we can recommend Indian pudding (where else can you still get that?), Aunt Pat's pies, peanut butter pie, the hot fudge brownie or deep dish apple crisp.
When done, we suggest a walking tour of historic Salmon Falls.
Copyright (c) 2005 SeacoastNH.com. All rights reserved.
Please visit these SeacoastNH.com ad partners.