| | |
| --- | --- |
| Untangling the Prince Whipple Legend | |
Written by J. Dennis Robinson
Page 1 of 3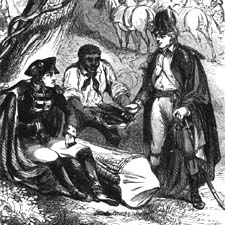 NH BLACK HISTORY
Prince Whipple was among 180 New Hampshire blacks who fought in the Revolutionary War. But was he at Valley Forge with George Washington? Historians now think not. So then why is the Internet filled with stories saying that he was? Well, that little rumor is partly out fault. Here's how it all got started.and why we're glad it did.
MORE NH Black History
I confess. I did not start the rumors about Prince Whipple, but I certainly spread them far and wide. According to legend, an enslaved man from Portsmouth, New Hampshire was with Gen. George Washington at Valley Forge. I got the story ten years ago from historian Valerie Cunningham, who discovered it in the writings of historian William C. Nell. Nell heard about Prince Whipple while writing his breakthrough book Colored Patriots of the American Revolution that was published in 1855. This amazing volume chronicles the lives of black Revolutionaries who fought and died in the war that freed Americans from the shackles of British tyranny – white Americans, at least. Enslaved black veterans remained slaves.
Prince Whipple did accompany William Whipple of Portsmouth during the Revolution. William was one of three New Hampshire men to sign the Declaration of Independence. As a founding father, he has been elevated to a position of honor in American history. The Whipple family purchased Prince at auction when he was a child. Nell suggests that the boy was descended from royalty, but there is no way to verify that Prince was really a "prince" from Amabou, Africa. Prince was a name commonly given to slaves who were stripped of their African or Caribbean identity and assigned the owner's surname. Classical names like Pompey, Caesar, Venus and Prince may have been a means of further segregating blacks in the household from their white "family" members.
Nell places William and Prince Whipple with Washington in the famous camp at Valley Forge. As everyone knows, Washington crossed the icy Delaware River secretly at night and defeated the British at Trenton in a turning point moment in the Revolution. As everyone also knows, there is a dramatic painting of that event. It has been hanging in the Metropolitan Museum of Art for more than a century. Washington stands upright and unflinching in the boat, an American flag flying, as a dozen oarsmen battle the current and floating blocks of ice. In the gigantic 1851 painting by Emmanuel Leutze, the man rowing by Washington's knee is black. Possibly, WC Nell suggested, the man is Prince Whipple of Portsmouth, NH.
I never actually said Prince was in the painting. I simply suggested in a 1997 essay that the man might be Prince. Although the melodramatic painting is by no means a factual depiction of the event, German artist Emmanuel Leutze was very concerned with the figures he placed in the boat. He chose to include a black figure because there were African Americans at Valley Forge. Although Leutze likely never heard the Prince Whipple story, there have been art critics and historians since who made the connection. Other slave names from other states have been suggested, but Prince Whipple has been the most popular. I simply jumped on the bandwagon back in '97 and began waving the New Hampshire flag.
The article ran in a local newspaper an I posted the story on the Internet among hundreds of other essays. A few months later I got an email from historian Blaine Whipple who explained that, according to his exhaustive research, William Whipple was 130 miles away in Baltimore while Washington and 6,000 ragged, starving troops crossed the Delaware. I posted Blaine's letter on my web site with a promise to correct my story. I didn't get right to it. Life intervened. I finally fixed the details yesterday – about nine years later.
Continue with PRINCE WHIPPLE LEGEND
Please visit these SeacoastNH.com ad partners.