| | |
| --- | --- |
| Wallace Nutting's Portsmouth | |
Written by Richard M. Candee
SEACOAST BOOKS

He came, he bought, he sold. Entrepreneur Wallace Nutting preserved and marketed the beauty of Portsmouth's colonial merchant houses at the dawn of automobile tourism. He also perpetuated an idealized vision of the past that had never really existed and spread the Colonial Revival gospel to millions of willing buyers.
WALLACE NUTTING'S PORTSMOUTH
Photographs of the "Colonial" Past 1908-1918
By Richard M. Candee
Back Channel Press (2007)
$15
Contact to Purchase
SEE ALSO: Nutting on Seacoast, NH
Wallace Nutting's idea was brilliant – buy and restore aging 18th century mansions, then fill them with antiques and use them as the backdrop for beautiful photographs. Then sell the photographs. Then charge people to visit the houses. Then reproduce the antiques used in the photos and sell them. Then sell the antiques themselves. Then sell off the houses.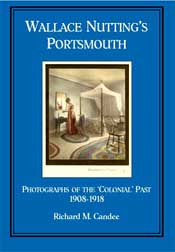 Nutting's "Colonial Chain" of restored houses in Connecticut and Massachusetts culminated with the grand Wentworth-Gardner House in the South End of Portsmouth, NH. The original owner, Mark Wentworth, was the son, uncle and father of three royal governors of New Hampshire and once the richest man in the province. The ornate wood carving and interior design make this an architectural masterpiece, which Nutting used as the setting for his idyllic pictures. The black and white photos usually featured women in "colonial" outfits. An army of women employed by Nutting then hand colored the photos that were sold by the millions.
In this compact paperback volume, architectural historian Dr. Richard Candee offers a complete catalogue of Nutting's Wentworth-Gardner images. He also covers, for the first time, Nutting's study of other Portsmouth mansions and looks at his impact on the region during ten key years in the Colonial Revival that, in many ways, still defines our view of New England.
Born in Massachusetts in 1861, Nutting spent his childhood in rural Maine. He attended Phillips Exeter Academy and Harvard and became an ordained minister. He claimed to be neither artist nor historian, but rather "a clergyman with a love of the beautiful." It was an eye that would make him a millionaire. If the public could not afford colonial mansions, Nutting reasoned, they could at least enjoy his mass-produced vision of beauty by purchasing pictures, reproduction furniture and antiques.
When motor touring faded, temporarily, during World War I, Nutting sold the Wentworth-Gardner House to the Metropolitan Museum of Art that hoped to tear it down and salvage its grand staircase and wood carving. But a group of Seacoast residents saved the 1760 structure and it remains a museum open to the public today. Dr. Candee's volume offers a detailed look into one era of its long and fascinating history. -- JDR
FROM THE PUBLISHER:
In the first local case study of Wallace Nutting's documentary and 'colonial' photography in a single community Richard M. Candee, Professor Emeritus of American & New England Studies at Boston University, captures the energy of this unique man and the Colonial Revival movement he helped spark. A unique visual record of Portsmouth's architectural heritage in the decade before World War I, the black and white or hand colored photographs -­ many seldom been seen before - are interpreted in Nutting's own words.
One of the first entrepreneurs to undertake historic preservation, Nutting also promoted a new appreciation of Old America by restoring one of the city's finest landmarks, the Wentworth-Gardner House. One of a chain of historic house museums, it also provided the photographer many more authentic settings in which to show attractive young women in period dress.
This former minister's photographs of such 'colonial' scenes became little sermons on the importance of preserving our American past.
Please visit these SeacoastNH.com ad partners.