Written by Mark Samons and Valerie Cunningham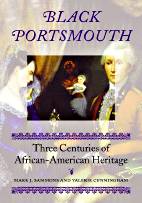 SEACOAST BOOKS

The long-awaited companion book to the SeacoastNH.com Black History web site. Black Portsmouth brings together 25 years of research by historian Valerie Cunningham, originator of the Portsmouth Black Heritage Trail. Dedicated research by Valerie and co-author Mark Sammons tell the nearly 400-year history of African Americans in a small seaport town in New England, breaking new ground all the way.
BUY THIS BOOK NOW from Amazon.com

Few people think of a rich Black heritage when they think of New England. In the pioneering book Black Portsmouth, Mark J. Sammons and Valerie Cunningham celebrate it, guiding the reader through more than three centuries of New England and Portsmouth social, political, economic, and cultural history as well as scores of personal and site-specific stories. Here, we meet such Africans as the "likely negro boys and girls from Gambia," who debarked at Portsmouth from a slave ship in 1758, and Prince Whipple, who fought in the American Revolution. We learn about their descendants, including the performer Richard Potter and John Tate of the People's Baptist Church, who overcame the tragedies and challenges of their ancestors' enslavement and subsequent marginalization to build communities and families, found institutions, and contribute to their city, region, state, and nation in many capacities. Individual entries speak to broader issues—the anti-slavery movement, American religion, and foodways, for example. We also learn about the extant historical sites important to Black Portsmouth—including the surprise revelation of an African burial ground in October 2003—as well as the extraordinary efforts being made to preserve remnants of the city's early Black heritage

VISIT: Seacoast Black History Online

$19.95
University of New Hampshire/University Press of New England
312 pp. 56 illus. 7 x 10"
Please visit these SeacoastNH.com ad partners.