WHAT'S NEW?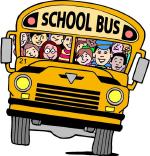 JUST FOR YOU, SEACOAST KIDS
Uncle Ken has a weather report just for you. Learning to check the weather every day is a good habit to learn. And discovering how weather works can be a busload of fun.
KEY FORECAST CONSIDERATION(S): On satellite, there were two distinct areas of cloud zones running SW to NE over the eastern 2/3 of the nation. One was hugging the east coast and spread across most of New England, barely drifting eastward. The other, wider one ran from the Southern Plains up across the Central Mississippi Valley and on into the eastern UMV/western Great Lakes. Only the northern part of this cloud mass was moving east, as it was being driven by a weak cool front attached to a storm over south-central Canada. Radar looping showed general showers out to sea to our east, but still over land across VA and the Carolinas. Two areas of heavy thunderstorms were out west: one across the Southern Plains, the other over WI and SE IA along that frontal boundary. In the models, we see 5000-foot temps are back up to plus 12 C his morning and heading higher. The strong high offshore has placed our winds back into the SW aloft, and so moisture and heat have been streaming back into the region. Today is the transition day back to sunshine and heat. From tomorrow on we sit in the west wing of that Atlantic high, with 5000-foot temps up to plus 14-16 C by Friday afternoon, and solidly at 16 by Sunday through Monday evenings. Also a result of the high: warm and relatively humid SW flow right through the weekend and into next Monday as the summer returns to the region..each day (beginning tomorrow) with a threat of a few thunderstorms, dew points back in the mid 60s, and temps in the 80s. The threat of storms increases each day such that by Sunday, we are mostly cloudy with passing thundershowers quite common, but with a return to more sun and little thunder threat Monday. A very weak cool front sweeps down across and washes out over us from the NW Tuesday, giving us a slight break from the showers as we clear and dry out a wee bit..and that tiny improvement betters itself a bit on Wednesday. East winds are now forecast for next Thursday, giving us one more day of cooler weather.

© 2004 Ken Mitchell. All rights reserved.
Please visit these SeacoastNH.com ad partners.