| | |
| --- | --- |
| Requiem for a Lost Shoaler | |
Written by Friends of Bob


BOB TUTTLE (1922 –2004)
Old Shoalers never die, they say, they simply sail away. "Dr. Bob" has sailed. The editor and members of the Shoals Marine Lab remember the cranky, kindly historian of the Isles of Shoals.
Bob Tuttle was among the revered "Old Men of the Shoals". From the death of poet Celia Thaxter more than a century ago, there has always been an elder historian to tell tales about the barren rocky isles. There was Celia's brother Oscar who died just shy of his 100th birthday. There was Lyman Ruttledge, whose volumes of legend and lore are still read today. There was Fred McGill who strolled Star Island into his 90s and sailed away just last year. And there was Bob.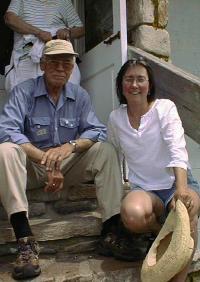 Like most visitors to the Shoals, we met Bob in a dark room at the 1875-era Oceanic Hotel where he gave a perpetual slide show on the history of the Shoals. When we stayed at Smuttynose, Bob would pick us up in his collapsible motorboat to pick up fresh water across Gosport Harbor. He adopted Smuttynose as fully as he adopted Star and Appledore, and was happy to argue for hours over minute details of the 1873 Smuttynose murders. His knowledge was broad. His approach was forensic. His opinions were unshakable.
A few years back Bob and I debated the Smuttynose story on Boston television. After shooting the segment for "Chronicle" on-island, Bob chatted with host Mary Richardson. He asked what she was working on next. Mary told him about another New Hampshire history story, and said she was trying to track down a local curmudgeon who knew the topic inside out. That historian, she realized in amazement – was Bob.
My wife Maryellen loved Bob. While he would joust with men, wrestling them intellectually in a perpetual contest of facts and will, he simply loved women, and they loved him back. They swarmed him like mosquitoes on Appledore.
A few years ago we stopped by Bob's house in Lee to borrow some of his slides. He welcomed us, got the slides, made tea, and told us that his beloved wife Dot had died the day before. In the depth of his grief, he worried about our needs. In his final year he found love again, and his joy beamed out to everyone like a hot oven.
I was supposed to share a weekend workshop with Bob last fall at Appledore. It was a daunting assignment. Bob rarely shared the stage. We planned to test a new history workshop for the Shoals Marine Lab. Bob, who would visit the Shoals at the drop of a hat, called to say he was too ill to show. Bob was never ill, so we knew – since he was a doctor – that something was seriously amiss.
We never saw him again. Always bashful, Bob wanted no public fuss over his departure. He simply packed his gear, and as boldly and quietly as he lived, he sailed away. -- JDR
Remembering Bob Tuttle
From the Shoals Marine Lab
November 26, 2004

To all those who love the Isles of Shoals and those who are drawn to those rugged shores:
It is with great sadness that we report the passing of one of the islands' most stalwart enthusiasts: Dr. Bob Tuttle. Bob died on Friday morning, November 26th after a relatively short battle with an aggressive form of kidney cancer and four months after his 82nd birthday. He died at home with his friend Jane Bonner at his side. At his request, there were no services and he is buried in the Lee, NH community cemetery next to Dot, his wife who died in 2000; they were married for 58 years.
Most of you knew Bob and his legendary [and encyclopedic] knowledge of the history of the Isles of Shoals. He was a consummate gentlemen and a gentle man. He was as much a part of the Shoals and its spirit as anyone alive today. With his wry wit and droll sense of humor, his talks about the Shoals were always captivating, not only to the newcomer, but even to those who know the Islands well and had heard Bob on numerous occasions before. And, oh, how he loved to talk about the islands and the society that those rocky shores created! In my experience, he was the greatest ambassador for the Islands in modern times, be it on Star or Appledore, and even rivaling that of Celia Thaxter!
Bob was a native of New Hampshire, but his medical interests took him far afield to New York, North Carolina, and Texas. This quiet, yet resolute and no-nonsense man was Dean of two medical schools -- and a good one he appears to have been. Knowing him as we did, we know that he was fair, firm and strong -- yet unassuming. When he retired from his medical career, he and Dot returned to their roots in coastal New Hampshire where they lived quietly just outside of Durham. This also coincided with the development of Bob's deep affection for the Isles of Shoals.
Through both Star Island, but especially the Shoals Marine Lab on Appledore Island, Bob thrived on being able to feed his addiction for the Isles of Shoals by becoming the Lab's nearly resident Island historian. In fact, last year he was given a lifetime pass on the Isles of Shoals Steamship Company ferry! We also named a room in the Kingsbury House [the Director's House] after him and it was for him to use whenever he visited. He would travel to Appledore at the merest hint of a request to come talk to folks about his beloved Islands. He came to Appledore weekly with the Garden Tours during the height of each summer and usually at least 6 or 7 times more during the summer to tell the undergraduates who came to study marine science about another dimension of the Gulf of Maine - its rich and vibrant history. He added much to students' lives and he greatly enriched ours. He also was a central member, along with founding director Jack Kingsbury and gardener extraordinaire Giny Chisholm, of the regular adult education course entitled "A Garden is a Sea of Flowers," which ran each summer, usually in July. Of course he was on hand whenever there was volunteer work to be done in the spring and fall too.
Bob Tuttle was an aristocratic, yet humble man. He was unassuming, yet he was passionate about things special to him. We will never forget chatting with him on the steps of Kiggins Commons while he smoked a cigarette, or sharing "toddies" on the deck of the Kingsbury House at five o'clock as the sun sank red in the western sky -- often with Al Hansen goading Bob on about politics or things [not] being done on the island. Or who can forget that Volunteer Weekend a couple years back when Bob put down the non-skid patches on the brow and the bridge between Hamilton and Laighton, but he forgot to remove the paper backing so they didn't stick! And then there was the time he so laboriously replaced the screen on the sliding door of the Commons and a student walked right through it as soon as it was back in place.
But most of all there are the memories of that stately man strolling about HIS beloved Appledore, usually with a cluster of visitors who come to listen to this incredible guy tell about an amazing speck of an island set in a hostile sea. His is truly an Island legacy. Bob Tuttle, doctor, historian, island ambassador and as loyal a friend as you could ever have. -- Jim Morin
Photos by J. Dennis Robinson. All rights reserved.
Please visit these SeacoastNH.com ad partners.