Written by Historic Tours

ON THE LOYALIST TRAIL
When the loyalists left our region, they did not disappear. Some returned to England, but many found their way to Canada. Portsmouth-born governor John Wentworth became royal governor or Nova Scotia at Halifax. We visit our sister region as often as possible. Lunenbug is one of our favorite towns.
Lunenburg, Nova Scotia
ON THE LOYALIST TRAIL
They call it the Lunenburg "bump". It's not a dance, not a skin condition. It's architecture. Lunenburg bumps buldge from the center of homes. They have no particular value, aesthetic or structural. They're simply cute, and distinctive. So they continue to pop up all over town. The oldest house in Lunenburg, Nova Scotia has one, and so do many of the newest in this colorful and unavoidably charming seaside town.
Don't look for a wild nightlife in Luneneburg. The busy shops close early, as do most bars. Live music is easier to find in Halifax, the Nova Scotian capital an hour away. You can ride around the steep streets on a horse drawn carraige in which the driver stands up. You can visit a number of fine restaurants, especially Magnolia's Grille. You may have to wait in line, but it's worth the wait.
Filmmakers love the region. Hollywood productions like Dolores Clairborne, Simon Birch, Two if by Sea, and Weight of Water were filmed here in recent years. The film ship from Mutiny on the Bounty was built here, as was the famous Bluenose 2, symbol schooner of Nova Scotia. There's a fine fishing museum, lots of history to explore, some fantastic scenery, unique galleries, Victorian B&Bs and very friendly people.
Our photo tour begins with the schoolhouse at the peak of the hill. It's ornate painting design is like none we've seen, and sets the tone for the town. No color is too wild or vibrant. The town celebrates its 250th anniversary in 2003. One of the first British Colonies in Nova Scotiia, the village was settled by Swiss, French and German immigrants whose influence is still evident.
Copyright © SeacoastNH.com. All photos by J. Dennis Robinson. All rights reserved.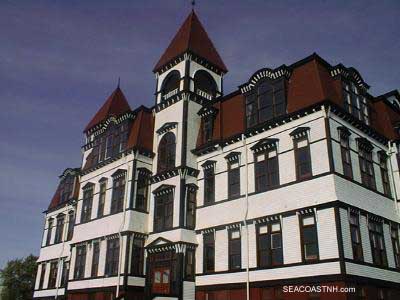 Copyright (c0 2006. All photos by J. Dennis Robinson.
Please visit these SeacoastNH.com ad partners.