Written by Strawbery Banke Archive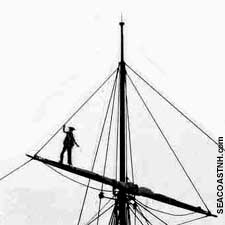 Strawbery Banke Presents
HISTORIC PORTSMOUTH #126
Portsmouth was not founded for religious freedom, but by early capitalists. Centuries later, the USS Marion boosted the local economy during a costly rebuild at the Navy Yard from 1871-73. To sell more copies of this picture, the photographer scratched the rigging lines into the glass negative and whitened the waterline to create a more dramatic image of this 1,900-ton screw steamer.
HISTORIC PHOTOS of the Greater Portsmouth Area appear here weekly
From HISTORIC PORTSMOUTH
Early Photographs from the Collections of Strawbery Banke
by James L. Garvin & Susan Grigg, Peter Randall Publisher
(c) Strawbery Banke Museum . All rights reserved
BONUS CLOSE-UPS
Please visit these SeacoastNH.com ad partners.