| | |
| --- | --- |
| The Spanish War Prisoners | |
Written by Strawbery Banke Archive

Strawbery Banke Presents
HISTORIC PORTSMOUTH #48

In July 1898 the Portsmouth Naval Shipyard got word to prepare for 1,600 prisoners of the Spanish American War. Starving, feverish, exhausted men began arriving from Guantanamo Bay, Cuba six days later. They lived in s hastily constructed POW camp in Kitery, ME. In 1907 a huge naval prison, now unoccupied, was built on the same site.
HISTORIC PHOTOS of the Greater Portsmouth Area appear here weekly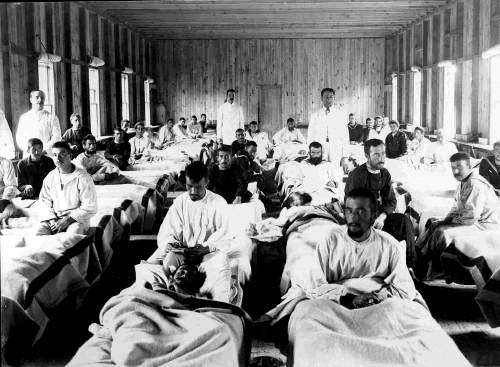 SEE: Spanish Prisoners depart months later
BONUS Close-up Pictures of Prisoners & Caregivers
From HISTORIC PORTSMOUTH
Early Photographs from the Collections of Strawbery Banke
by James L. Garvin & Susan Grigg, Peter Randall Publisher
(c) Strawbery Banke Museum . All rights reserved.