| | |
| --- | --- |
| The Russians Are Coming | |
Written by Strawbery Banke Archive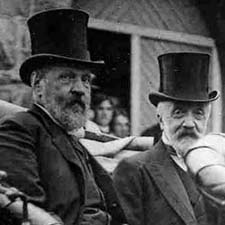 Strawbery Banke Presents
HISTORIC PORTSMOUTH #59

100 years ago this week the Treaty of Portsmouth was in a crisis. Negotiations were going badly and hopes fading for a solution to the Russo-Japanese War. Sergei Witte and Baron Rosen of Russian were photographed during a visit to a Portsmouth cathedral in search of spiritaul guidance. The treaty, miraculously, turned around and peace followed as the whole world watched. A century later Portsmouth, NH hosted a grand summer-long celebration of peace.
HISTORIC PHOTOS of the Greater Portsmouth Area appear here weekly
SEE" The Treaty Centennial Parade
From HISTORIC PORTSMOUTH
Early Photographs from the Collections of Strawbery Banke
by James L. Garvin & Susan Grigg, Peter Randall Publisher
(c) Strawbery Banke Museum . All rights reserved
OUTSIDE LINK: Portsmouth Peace Treaty web site