Written by Strawbery Banke Archives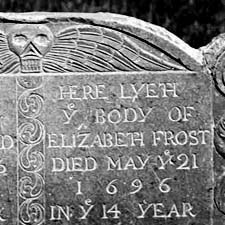 Strawbery Banke Presents
HISTORIC PORTSMOUTH #50
Portsmouth's oldest burying ground was established in 1671 near what is now Prescott Park. This ornate carved stone marked the graves of two sisters who died in 1695 and 1696. A year later their father was killed by Indians while walking home from church in Portsmouth. A new Blue Ribbon Committee is currently drawing attention to Portsmouth's historic and endangered graveyards.
SUMMER/ FALL 2005: hear graveside LECTURES in Portsmouth
SEE MORE Seacoast Area Cemetery Photos
From HISTORIC PORTSMOUTH
Early Photographs from the Collections of Strawbery Banke
by James L. Garvin & Susan Grigg, Peter Randall Publisher
(c) Strawbery Banke Museum . All rights reserved.
Please visit these SeacoastNH.com ad partners.