| | |
| --- | --- |
| Not Colonel Saunders, Judson Dunaway | |
Written by Strawbery Banke Archive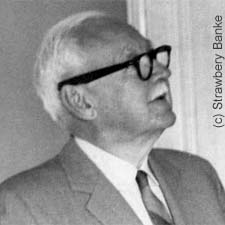 Strawbery Banke Presents
HISTORIC PORTSMOUTH #170
Dorothy Vaughan, first president of Strawbery Banke, shows Judson Dunaway of Dover around the Wheelwright House in Puddle Dock in the mid-1960s. Sea captain John Wheelwright built the attractive house just prior to the Revolution, but died bankrupt in 1784. Dunaway funded the restoration and the building of the 1967 Dunaway General Store nearby, now a restaurant.
HISTORIC PHOTOS of the Greater Portsmouth Area appear here weekly
(c) Strawbery Banke Museum Collection
All rights reserved.
BONUS IMAGE
Model of the Dunaway Store at Strawbery Banke
before construction in 1967

This image from the book STRAWBERY BANKE:
A Seaport Museum 400 Years in the Making
by J. Dennis Robinson
(c) Strawbery Banke Museum Collection
Please visit these SeacoastNH.com ad partners.