Written by Seacoast Historic Tours
Page 2 of 2
The city looked a little tired on a perfect Sunday morning. There are empty store windows, but a palpable sense of revival along the waterfront. New Bedford is four times larger and tougher than Portsmouth. Its urban population is more diverse. A shadow of its former self, the city seems to need its history even more than we do. Sometimes homeless citizens like to add a few colorful details to Malcolm's walking tour.
We made one quick loop around the cobbled area where the streets are paved with old ballast stones. Then like most tourists since 1916, we visited the Whaling Museum. We saw the looming whale skeleton and climbed aboard the half-scale model of a whaling ship. Thanks to Malcom's introduction, we were not strangers. Our two-hours in New Bedford left us curious and willing to come back. It only takes one person to set off a whole cascade of positive first impressions. Malcolm and his visitor center colleagues did exactly that. We could do that here too.
Copyright © 2007 by J. Dennis Robinson. All rights reserved.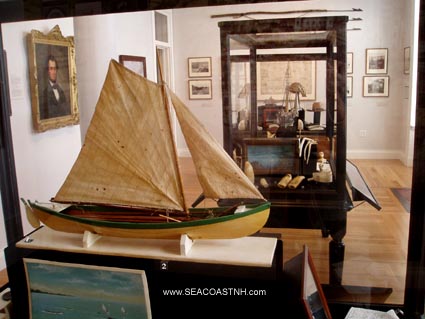 All photos by J. Dennis Robinson. Copyright (c) SeacoastNH.com.

Please visit these SeacoastNH.com ad partners.