Written by Strawbery Banke Archive
Strawbery Banke Presents
HISTORIC PORTSMOUTH #68

The unpaved roads, cobblestone crosswalks, ox carts and ship masts are gone. Signs show the shops of Josiah S. James (flour and grain), Charles E. Boynton ("small beer"), John F. Shillaber (gunsmith) and George C. Wendell (blacksmith). The two wooden buildings, long missing from modern Bow Street were then carpenter and joiner shops located next to Eldredge's Brewery office.
HISTORIC PHOTOS of the Greater Portsmouth Area appear here weekly
From HISTORIC PORTSMOUTH
Early Photographs from the Collections of Strawbery Banke
by James L. Garvin & Susan Grigg, Peter Randall Publisher
(c) Strawbery Banke Museum . All rights reserved
BONUS CLOSE-UP DETAILS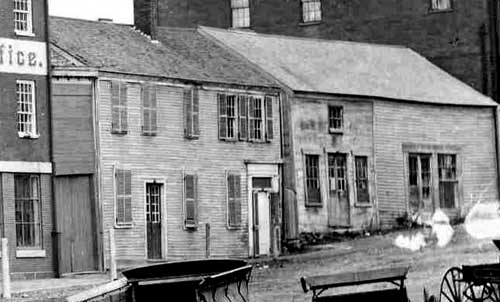 Please visit these SeacoastNH.com ad partners.