Written by Charles W. Brewster
Page 1 of 5


BREWSTER'S RAMBLES #144
In one of Brewster's best read essays, he takes on the supernatural 17th century and the famous "Stone Throwing Devil" of New Castle island. This article appeared on the front page of the Portsmouth Journal in the 1830s and we actually have a rare copy of the original newspaper.
RAMBLE CXLIV.
Witchcraft in Portsmouth and Newcastle – Death of Molly Bridfet – Stone Throwing Devil of Newcaste.
Editors Note: See the update at end of article. C.W. Brewster was a Portsmouth, New Hampshire columnist and editor in the early to mid-1800's. This article includes his opinions and may not reflect current research or current values. From Brewster's Rambles About Portsmouth, 1859 exclusively on SeacoastNH.com. – JDR
SEE ALSO: Goody Cole Convicted in Hampton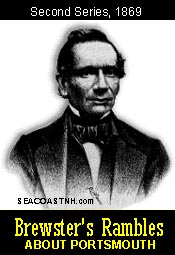 For a large portion of the century which terminated some thirty years since, witchcraft was regarded as a relic of ancient superstition; but now, in the modern developments of mesmerism, spiritualism, etc. we have again brought up under the auspices of a new science, developments everybody in olden time called witchcraft and charged to Satanic influence. It is science now - it was witchcraft then.
Although belief in witchcraft in late years has not been general, yet at no time has it been without some who have had a belief in it. There are many stories given in proof of the agency of evil spirits in conferring superhuman powers upon those over whom they had an influence.
In the time of the Revolution when our almshouse was kept by Mr. Clement March, there was among the inmates a woman who bore the name of Molly Bridget. She had been notorious as a fortune teller. She was regarded as a witch in those times, and to her was attributed many of the domestic evils of that day. Her fame as a witch was wide spread. Finding her way to Boston, the police gave her warning to leave the city forthwith. "Why?" she asked. "Is not your name Molly Bridget?" "No, sir," she replied -" do you think I am such a despicable creature as Molly?" Although she denied the identity, she took pains to return by the first opportunity. It was in the year 1782, when she was at our almshouse, that there was trouble in the pig stye. The pigs were pronounced bewitched, and the remedy resorted to was to cut off the tips of their tails and ears. The evil spirits however were not cast out. It was then said that those tips must be burned. But nothing could be found of them. Mr. March directed that all the loose chips and leaves in the yard should be scraped up and burned in the several fireplaces in the house. After the fires were kindled, Molly hastened from room to room in a frenzied manner'. She soon went to her own room, and as the flames began to subside her sands of life began to run out, and before the ashes were cold, she was actually a corpse. At the hour fixed for her funeral, arose one of those dreadful storms which are said to occur when witches are buried. These are facts - how far the results were induced by the superstitious feelings of that day, the reader is left to judge. The poor creature might have believed herself a witch, and the expectation expressed that the burning of the pigs' tails would kill the witch, might have so wrought upon her mind as to produce the result.
The principal object of this ramble is to bring up some of the strange developments: which were made in early times in what was once a part of Portsmouth, but afterwards became the town of Newcastle. Cotton Mather, who lived in that area, refers to the Stone-Throwing Devil of Newcastle, and thus notices it:
CONTINUE to read WITCHCRAFT IN NH
Please visit these SeacoastNH.com ad partners.