Written by Charles W Brewster


BREWSTER'S RAMBLES #148
Brewster muses on the rotting remains of a once great elm that stood outside of Auburn Cemetery on South Road in Portsmouth. In this 1862 essay he shuttles back in time to imagine what the elm might have seen in its long life.
VISIT South Cemetery Today
EARTLY PHOTO of South Cemetery
RAMBLE CXLVIII.
Editors Note: C.W. Brewster was a Portsmouth, New Hampshire columnist and editor in the early to mid-1800's. This article includes his opinions and may not reflect current research or current values. From Brewster's Rambles About Portsmouth, 1869 exclusively on SeacoastNH.com. -- JDR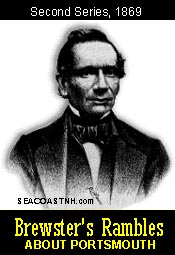 GREEN and fresh as early childhood is the general aspect of Auburn-Street Cemetery. No wilted shrubbery, no decaying tree, is to be met with in its extensive avenues. It seems more like a place of life than a residence for the dead. But such is not the aspect of the whole vicinity outside of its
walls. Opposite its north-west corner on the north side of the road, stands as a "Memento Mori," a huge skeleton, sixty to seventy feet in height, with sinuous feet stretching far beneath the soil, and from a body of masterdom size, extend five long weather beaten arms far into the air, seeming to say
to all visitors to the spot,
"I am Old Mortality--
As I now am, so you must be:
Once a fresh and vigorous tree
Was this sear Mortality."
That old elm , on which the lightnings have so often played, that it has been without a leaf for many years, should not pass away, as it now appears to be gradually, without a slight sketch of its early history. As trees do not travel they have not much to tell -- but are content with casting a cooling
shade upon those who may come under their branches. Do you see the peculiar form of that old trunk? It has the size of twenty feet in circumference up to twice your height from the ground, and then divides off into five branches of nearly equal size -- each branch six feet in diameter, as large as almost any of our forest trees. Now when that tree sprang up, about 135 years ago, it was as regular in form as the beautiful elms generally are. So it grew for a few years. We will look at it in 1732, perhaps on the very day on which Washington was born, but for this we cannot vouch.
This was then the main road to the Plains and Rye, and was the principal thoroughfare. Here comes along a man on horseback with his bag of meal from Pickering's mills. The horse is soon to go up a little elevation in the road, and needs something to quicken his pace. So the rider approaches this young elm and breaks off, for a switch, the top of the thrifty tree. It is done with a twist, leaving the broken end fibrous. Thus the main body of the tree was stopped in its progress, and the five branches, which otherwise would not have appeared, shot forth at this place.
This old elm has never parted with its five venerable children, but continues still to bear them up, although they are all alike dead, well representing a decayed family standing solely upon its high pedigree. One main branch has become disintegrated from the main body--but seems not ready to depart, for above it interlocks its arms with its old associates -- and thus is left, perhaps for years, to be in a state of suspense; if not fearful to itself, it is to the passer by. But the branches are not held up in vain, every one of them points towards the cemetery -- some inclining earthward and others towards the sky.
This Old Mortality thus appears in its huge vegetable skeleton to preach its sermon on the transitory nature of earth, exhibiting in its own image the changes which may be made through life, in animal and moral as well as vegetable formation, by influences in youth which are hardly thought of by those who are the agents that use them. Was there ever a more impressive illustration of the adage--"Just as the twig is bent, the tree is inclined."
Within sight of this tree have some of the most exciting local scenes transpired. Here was the training field before the Plains were laid out for the purpose. A few rods west of this old tree was buried in the road the body of Eliphaz Dow, who in 1755 was hung on a gallows in that neighborhood for the murder of Peter Clough. And thirteen years after, a few rods from it was hung Ruth Blay, also for murder. By the side of this tree Gov. Burnet passed in 1729, and Gov. Belcher many times in years after, when "Boston was so distant from Portsmouth, and the roads so bad, that he could only make one annual visit."
This tree Gov. Wentworth made his turning point when he came from his Little Harbor seat into town, and when its shade was larger, John Hancock, George Washington and a host of eminent men passed near if not beneath its shadow. And in later years, as the cemetery gates are opened to receive some new comer, the huge skeleton stands out to the mournful procession in its full proportions, like the apocalyptic angel, who proclaims that time shall be no longer.
[1869 EDITION NOTE.--Shortly after this Ramble was written, in 1862, by the hand that, after the labors of a busy lifetime, is now at rest in the cemetery just across the way, the old elm was felled by the woodman's ax. But the Ramble remains, and we give it an appropriate place at the close of this book.--Ed
TRIVIA, UPDATES & LINKS: Charles Brewster died a few years after this article first appeared and is buried not far from the tree described in this poem. The author was also well aware that a large tree on South Road, perhaps this one, was considered the local hanging tree, although a scaffold was likely built for the first New Hampshire executions held here in the early 18th century. Always ready to recycle an idea, Brewster used this same narrative technique when he imagined what the weathervane on the Old North Church had seen during its long life, but this story came out as a poem. -- JDR
Text scanned courtesy of The Brewster Family Network
Copy of Rambles courtesy Peter E. Randall
History Hypertext project by SeacoastNH.com
This digital transcript © 1999 SeacoastNH.com
Please visit these SeacoastNH.com ad partners.