| | |
| --- | --- |
| The Eccentric Josiah Shackford | |
Written by Charles W. Brewster

BREWSTER'S RAMBLES #123
According to Brewster, when Mr. Shackford's wife refused to live with him in New York, he sailed a small boat alone 3,000 miles to Surinam. Josiah Shackford later began an entire town in Ohio named Portsmouth, but refused to allow his wife to visit. Strange, and possibly even true.
Central Portsmouth before the Great Fire -- Nicholas Rousselet's Courtship --The eccentric Josiah Shackford -- His Unparalleled Feat of crossing the Atlantic alone--The founder of Portsmouth, Ohio.

RAMBLE CXIII
Editors Note: C.W. Brewster was a Portsmouth columnist in the mid-1800's. This article includes his opinions and may not reflect current research or current values. -- JDR

ABOUT Charles Brewster

IN the expiring light of the old Museum the reader was left in our last (Ramble #122). Let us stir the embers a little to throw some light on a small romantic incident in the life of its old proprietor.
Proposing Marriage in Church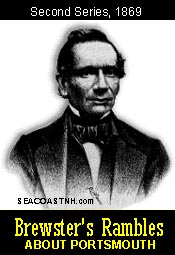 Nicholas Rousselet was a man of good exterior, and when dressed in the official consular costume which he wore on public days, was a man to attract attention. Of his first acquaintance with Miss Moffatt, we have no account, but tradition gives the story, that it was at the Episcopal Church, in service hours, that the most important crisis in their courtship transpired. Sitting with her in her father's pew, Mr. Rousselet handed Miss Catharine the Bible in which he pencilled, in the first verse of the second epistle of John, "Unto the elect lady"--and the 5th verse entire--"And now I beseech thee, lady, not as though I wrote a new commandment unto thee, but that which we had from the beginning, that we love one another." Miss Catharine, fully comprehending the appeal, turned down a leaf in the first chapter of Ruth, beginning in verse l6th--"Whither thou goest, I will go; and where thou lodgest I will lodge; thy people shall be my people, and thy God my God. Where thou diest, will I die, and there will I be buried: the Lord do so to me, and more also, if aught but death part thee and me."
The Bible with folded leaf was returned to him; and after the appeal was thus silently and favorably answered, the happy man doubtless "kissed the book."
After marriage, they became occupants of the Atkinson mansion recently taken down on Court street, the residence where Gov. John Wentworth wedded the widow Lady Frances, in ten days after her husband's death. The strange sounds which, it is said, troubled Mr. R. while residing, there must rather be attributed to the superstition of the times, than to the return of any restless spirit.
While in the vicinity of the old Museum, we will pass to another two-story residence, of some historical interest.
Opposite Mulberry street on the south side of State street, stood the mansion house of Madame Eleanor Shackford, built by her father Nathaniel Mendum, probably as early as 1700. She was twice married, and although she lived to the advanced age of 91 years, she died in the same room in which she was born, and never lived in any other house. By her first husband, named Marshall, she had four daughters--one of them was grandmother to the late Col. John N. Sherburne. Her youngest daughter, Deborah, never left her. They kept negro slaves, as was the custom in those days. The names of the three were Adam, Marcer and Bess. Adam lived to be very old, and one day while left alone he fell in the fire and was burnt to death.
After Mr. Marshall's death, the widow married Josiah Shackford. He had one son then absent at sea, Capt. Josiah Shackford, Jr. When he returned home, he sought the residence of his father. He met Deborah at the door. As soon as he saw her he fell desperately in love, and determined in his mind to make her his wife: but on making a declaration, she refused him, saying she had no heart to bestow, as hers was engaged to another. He however persisted in his suit, declaring she was the one who was raised up before him by an astrologer in Europe, and he should marry her or nobody. She being naturally of an amiable and condescending disposition, like a dutiful child took her parents' advice and married him. After they had been married several years he wanted her to remove with him to New York, as that was the port he always sailed from and returned to, but she refused to leave her aged mother.
Without making known to her his intentions, he left his wife and Portsmouth, and was many years absent, making no communications to his connections here.
Solo Sail to Surinam
In the "Essex Journal and New Hampshire Packet" of May 2, 1787, we find the following announcement, related by a gentleman at New York, "from such authority as puts the truth of it quite out of dispute:"
"A Mr. Shackford, sometime since, from Piscataqua, having the misfortune of discontent with his wife, left that place for Surinam. On his arrival there, he left the vessel he first sailed in, and took the command of one for Europe. He performed his voyage and gave such satisfaction to his owners, that they gave him a cutter-built sloop of about 15 tons. With her he returned to Surinam ALONE, after a passage of 35 days. When he arrived, the novelty of the expedition excited unusual surprise, so far as to induce the government to take notice of the fact. Suspicions prevailed of his having dealt unfairly by the people who were supposed to have come out with him.
But he produced his papers and journal, and proved his integrity so far to the satisfaction of his examiners, that they permitted him to take another man on board and proceed to Sr. Bartholomews, where he arrived in safety, and now follows the coasting business from that Island."
We have understood that the place in Europe which he left was Bordeaux, in France. The vessel appears to have been a personal gift to him. He engaged a man to accompany him, who becoming fearful when he put to sea, jumped on board the pilot's boat, and left Capt. Shackford with no other companion than his dog. He was a man of too stern materials to turn about, so he undertook the voyage of three thousand miles alone. What a resolute spirit! See him on the boisterous mid-ocean alone in his little bark a thousand miles from any land -- without a human being to consult when awake, or to aid in keeping watch while he slept; without a hand to aid when the storm beat about him, and his little boat is hid between the mountain swells! With an eye on the compass, a hand on the helm, and a firm trust in Providence, on he goes for five long weeks, witnessing the moon pass into its full, its several quarters, and fulling again before he came in sight of the land for which he was steering!
This unparalleled feat he successfully accomplished--the statement of which, however, was not readily believed by the South Americans. To prove his statement, he was required to take his vessel down the harbor of Surinam alone, and bring it in again. This exhibition was so satisfactorily made, that his story received credit, but the government was not fully satisfied until a return was made from Europe confirming his statement.
Mr. Shackford Founds Portsmouth, Ohio
Some years after, he returned to Portsmouth, put up at a hotel, and in the afternoon called on his wife, took tea with her, in the evening returned to his hotel, and the next morning left again never to return.
He was next heard of in Ohio, where he purchased a large tract of land when that State was almost a wilderness, laid out a township, and in commemoration of the place of his birth called it Portsmouth. He erected mills and stores, and built several houses. He lived alone, excepting a boy, and never would suffer a woman to enter his house, having his washing and sewing sent out and brought home by his boy. His wife, after her mother's death, offered to go and live with him. She wrote him several letters, but received no answer. He wrote to his nephews in Portsmouth, and said if one would come out and settle there, he would make him his heir. The late Samuel Shackford, about forty years ago, went and visited his uncle, but returned, not liking well enough to remove there. At his death he left his property to strangers.
He died about forty years since, over 80 years old, living to see his town, so beautifully situated at the junction of the Scioto and Ohio rivers, become a place of note and the chief county town. He was a studious man, intelligent, but of an eccentricity which to some minds bore marks of insanity--but those who recollect him in Ohio will not allow that he was any other than a sane man. He was probably convinced that astrologers' sayings should never have an influence in the selection of a wife; and his wife doubtless was satisfied that the heart which was held by another should not be bartered, even by parental influence.
Mrs. Shackford still lived in the old mansion which her father bequeathed to her and to a grandson, Thomas Jackson, until the fire of 1813, which consumed it, and drove them to another habitation.
Mr. Jackson had been several years an instructor of youth in Portsmouth, and was then teaching at the South School. He conveyed as many things as he could to the school house; they were saved, but the rest were burnt or stolen. The next day he took possession of the old Chauncey house on the South road. No one lived in it but an old man named John Shores, who had been put there to take care of it. He told thrilling tales of the house
being haunted, and said there was a closet in the cellar where a minister had laid a spirit twenty years ago, and it had never been opened since. Mr. J. and Capt. John S. Davis had the curiosity to open it. Found two barrels, one containing beef and the other pork, in a good state of preservation. Three or four dead rats were all that indicated any appearance of evil spirits
having visited the closet. Mr. Jackson and family lived there unmolested two years, when he built a brick house on his land in State street, and moved back on the old spot again. Mrs. Shackford sold her lot to Capt. Andrew W. Bell, as it joined his property, which is now owned and occupied by Mr. George Henderson. She lived to a good old age, beloved by all who knew her, and would without doubt, like her mother, have breathed her last in the house where she was born, had not the devouring element laid it in the ashes.
Text scanned courtesy of The Brewster Family Network
Copy of Rambles courtesy Peter E. Randall
History Hypertext project by SeacoastNH.com
This digital transcript © 1999 SeacoastNH.com
Please visit these SeacoastNH.com ad partners.