Written by Charles W. Brewster


BREWSTER'S RAMBLES #145
In an odd juxtaposition, Brewster uses this 19th century column to talk about old men and old furniture. Perhaps they are similar. He lists the name, age and death date of almost 100 "former men" of Portsmouth, NH, back when being old was a sign of distinction and veneration.
RAMBLE CXLV
The Former Men of Portsmouth -- Ancient Furniture.
Editors Note: See the update at end of article. C.W. Brewster was a Portsmouth, New Hampshire columnist and editor in the early to mid-1800's. This article includes his opinions and may not reflect current research or current values. From Brewster's Rambles About Portsmouth, 1869 exclusively on SeacoastNH.com. – JDR
IN 1862, John G. Brewster, then in his 83d year, furnished the following record of the deaths of old people in Portsmouth. He himself passed away October 10, 1867, at the age of 89 years 9 months.
"When the mind is active, and we look back to former years, even to our childhood and youth, and remember well the looks and appearance of many of the aged men of those days, we can say in the language of the prophet of old --"Our fathers, where are they? And the prophets, do live forever?" The Scriptural answer is--"Few and evil are the days of the years of thy servants here on earth."
Died --. Name -- Age. -- Profession
1787--Clement March, 78, Keeper Alms-house
1787--Daniel Fowle, 72, Printer
1787--Noah Parker, 64, Rev. Univ.
1787--Edmund Roberts, 46, Sea Captain
1788--Clement Jackson, 83, Doctor
1791--Jacob Sheafe, 76, Merchant
1791--Daniel Hart, 50, Joiner
1792--John Langdon, 41, Tanner
1792--John Fernald, 50, Founder
1795--Joseph Alcock, 77, Trader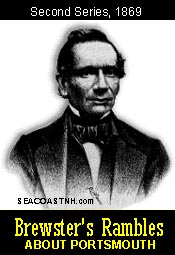 1795--George Hart, Jr., 40, Laborer
1795--Michael Wentworth, 76, Gentleman
1797--John Sherburne, 77, Merchant
1797--Hall Jackson, 58, Doctor
1797--Stephen Hardy, 68, Tailor
1798--Eleazer Russell, 76, Naval Officer
1798--Elisha Hill, 55, Blacksmith
1800--Jeremiah Hill, 48, Joiner
1801--John Noble, 66, Keeper Alms-house
1802--Joshua Brackett, 69, Doctor
1802--George Jaffrey, 86, Merchant
1803--Samuel Rice, 59, Sea Captain
1803--John Fernald, 58, Captain
1805--Woodbury Langdon, 66, Merchant
1805--John Pickering, 68, Judge
1805--Thomas Martin, 73, Merchant
1805--Stephen Chase, 61, Merchant
1806--John Mendum, 68, Sea Captain
1806--Samuel Haven, 79, Rev. Dr.
1806--Eliphalet Ladd, 63, Merchant
1807--Samuel Hale, 89, School teach'r
1807--George Hart, 77, Blacksmith
1808--Richard Billings, 75, Captain
1808--Jonathan M. Sewall, 60, Lawyer
1808--Walter Akerman, 71, Tanner
1809--George Gains, 73, Town Agent
1809--Theodore Furber, 58, Captain
1810--Nathaniel Jackson, 69, Farmer
1811--Supply Clapp, 69, Merchant
1812--Richard Salter, 68, Captain
1812--Samuel Hill, 67, Merchant
1812--Neil McIntire, 68, Tobacconist
1812--Jos Buckminster, 61, Rev. Dr.
1813--Timothy Gerrish, 60, Goldsmith
1813--John March, 55, Sadler
1814--John Peirce, 68, Bank Officer
1814--James Hill, 58, Blacksmith
1815--Benjamin Slade, 80, Trader
1815--Rich'd Champney, 71, Merchant
1816--Joseph Whipple, 78, Naval Officer
1817--William Cutter, 48, Doctor
1818--David Brewster, 79, Joiner
1818--Wm. Brewster, 77, Taverner
1819--John Langdon, 79, Governor
1820--Wm Langdon, 82, Tanner
1820--Ammi Cutter, 86, Doctor
1820--Micha'l Whidden, 87, Joiner
1820--Richard Hart, 87, Merchant
1821--George Massey, 70, Gentleman
1821--Timothy Ham, 79, Joiner
1822--R. C. Shannon, 77, Lawyer
1822--Joseph Walton, 80, Reverend
1823--Robert Ham, 85, Farmer
1823--John Flagg, 59, Captain
1823--Nath'l Kennard, 68, Captain
1824--Jere'h Libbey, 76, Gentleman
1824--Nath'l Jackson, 60, Tanner
1825--Samuel Ham, 83, Farmer
1827--John Bowles, 72, Captain
1829--John Goddard, 73, Merchant
1829--Gideon Walker, 63, Miller
1829--Jacob Sheafe, 84, Merchant
1830--Thomas Sheafe, 80, Merchant
1830--Clement Storer, 70, Merchant
1830--Samuel Fernald, 74, Town Clerk
1832--Joseph Akerman, 92, Cordwainer
1838--William Ham, 84, Merchant
1844--Kendal Fernald, 92, White smith
1849--Thomas Spinney, 83, Laborer
1851--Mark Green, 89, Boat builder
'Tis but a few whose days can count
To three score years and ten
And all beyond that short amount Is sorrow, toil and pain."
A venerable bureau was recently exhibited at a town fair in Connecticut, which was brought to this country at its early settlement, and is still preserved in the same family. A chair that has been in one family 150 years, and another some 200 years old, were also exhibited.
We have in daily use, and as good as new, four chairs made by our great grandfather, John Gains, in 1728. He built the house in the rear of the Mechanics Reading Room in that year, and these chairs he made for his parlor. The Marseilles counterpane which was in use in the family before our grandmother's birth, in 1739, we also have in as good condition as it was a hundred and twenty years ago. A looking-glass which formed a part of the furniture when "that old house was new," bears more the marks of age, and has for several years reflected the countenances of the inmates of the Journal office. When our venerated ancestor used to look in this glass, there were but four newspapers published in the United States.
[1872 NOTE--The old mirror hung unharmed in the Journal office until the Friday evening previous to the death of the writer of these Rambles. Then by a singular coincidence, just as the last number of the last paper previous to his decease was worked off, the glass was broken by an accidental blow.--Ed.]
PHOTO CREDIT: TOP: Reader submitted painting of former Portsmouth sea captain. MIDDLE: "A Venerable Group" of Portsmouth men from Gurney's 1902 history of Portsmouths / SeacoastNH.com
Text scanned courtesy of The Brewster Family Network
Copy of Rambles courtesy Peter E. Randall
History Hypertext project by SeacoastNH.com
This digital transcript © 1999 SeacoastNH.com
Please visit these SeacoastNH.com ad partners.