| | |
| --- | --- |
| Peace of Portsmouth Parade | |
Written by SeacoastNH Camera Tours

THE 2005 CENTENNIAL
A century ago hundreds of NH Guardsmen marched through Portsmouth to welcome visiting envoys from Japan and Russia. They successfully negotiated a famous treaty that was named in honor of the city. In August 2005, in a time of renewed war, the Guard returned to Market Square in what was officially called "Military Appreciation Day".

READ: Peace Treaty Essay
The irony did not go unnoticed. On the 60th anniversary of the US atomic bombing of Hiroshima (200,000 killed including Nagasaki), Portsmouth celebrated its famous Japanese peace treaty. One hundreds years ago, Japan and Russia declared an end to their territorial war (600,000 killed) after a month of treaty negotiations in New Hampshire.
The delegates arrived in Portsmouth, NH in August 1905 in shiny Pope Toledo motorcars followed by 500 members of the state's National Guard. The classic convertible was back this year and so were hundreds of the NH National Guard. American reserve soldiers marched beneath large white doves, the symbol of the peace centennial, followed by army vehicles, an anti-aircraft gun and a model of a nuclear submarine.
The group followed the historic route taken in 1905 from the Port Authority, up Market Street, into Market Square. The group was led by NH Governor John Lynch and his wife Susan and included the governor's official mounted guard. The parade looped around the city and moved into Strawbery Banke Museum where "Military Appreciation Day" ceremonies were held under a large tent. Guard members, many back from tours of duty in the ongoing Iraq War, and others due to travel there, were treated to speeches and a perfect summer day in the city's waterfront park area.
The parade was one of more than a dozen special events and exhibits honoring the centennial of the 1905 peace treaty.
Photos (c) copyright SeacaostNH.com. All rights reserved.
OUTSIDE LINK: Official Peace Treaty Celebration web site
CONTINUE Photo Essay of Peace Treaty Parade, August 6, 2005

Peace Centennial -- August 6, 2005 (Continued)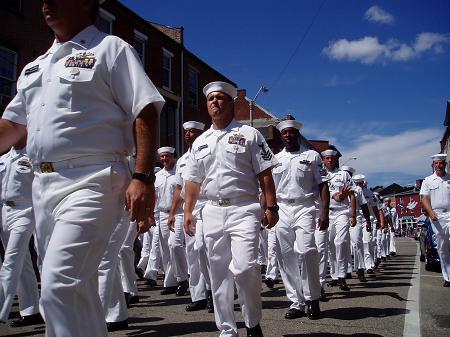 Copyright (c) photos by SeacoastNH.com. All rights reserved.