| | |
| --- | --- |
| Webster Farm Calling All Angels | |
Written by J. Dennis Robinson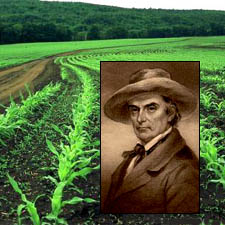 SAVING DANIEL WEBSTER'S FARM
Daniel Webster went to Hell to save one NH farmer, but who will save his heavenly farm? Webster called his Franklin, NH farm the sweetest spot on Earth. Scientists agree that its black alluvial soil is ideal. But can historians also save the Webster homestead and a Civil War orphange? Daniel could use an angel or two.
VIEW color photo gallery of Webster Farm
Daniel Webster had a farm. And on that farm he had a cow. He also had prized imported cattle, sheep, pigs and grew amazing vegetables in the rich black alluvial soil along the Merrimack River in what is now Franklin, NH. Few know even today that the nation's most famous orator and defender of the union was also a successful farmer. Like Washington and Jefferson and Adams before him, Daniel Webster loved the land. Now that very land is on the brink of being preserved for all time. Or is it?
READ: Dan Webster Lost in Portsmouth
"The immediate threat is gone," says Julie Iffland of the Trust for Public Land (TPL), a national conservation organization. "But this is not done. It is not saved."
Last year the historic Daniel Webster Farm almost turned from a field of dreams into a field of condos. Developers planned to build 130 manufactured homes on the 141-acre property that may just be the oldest continually farmed land in the state. In two tense midnight-hour public sessions, conservationists, historians and Franklin citizens defeated the plan to develop what Webster himself called "the very sweetest spot in the world." TPL stepped in at the nick of time to purchase Webster Farm for $1,750,000 from the new owner. The developer, for a quick half million dollar profit, opted to abandon plans to build.
But TPL is only a "bridge" organization, according to Colin Cabot, president of the recently formed Webster Farm Preservation Association.
"They (TPL) need their money back," Cabot says, "and if they don't get it, they lose their job. The bridge fund allows conservation forces to save pieces of property, but they have 11 other projects to support."
Julie Iffland, the TPL senior project manager concurs. She says that her nonprofit group acts as "risk-takers", jumping in to provide money to save land, that when paid back, goes into the next project. But sometimes she has to act the part of the bad guy to make good things happen.
"We didn't step in to say – OK, relax folks. We stepped in to create a window of opportunity. We are an interim step. If we cannot pull this off, we may have to sell it. We did not sign on just to leave all this money on the table. At this point in the game Daniel Webster needs an angel."
CONTINUE Webster Farm

DANIEL WEBSTER FRANKLIN, NH FARM (continued)
Iffland is referring, of course, to the popular short story and play, "The Devil and Daniel Webster" by Stephen Vincent Benet. In this fictional tale, attorney Daniel Webster takes on the case of Jabez Stone, a New Hampshire farmer who has sold his soul to the devil. Webster defends Stone during a courtroom trial in Hell – and wins. Since the real Webster honed his legal skills during nearly a decade as a Portsmouth lawyer, the story has special resonance here on the Seacoast. Which is why Cabot, Iffland and others were recently in Portsmouth searching for "angels" to save the Franklin property and a cluster of historic buildings there that are presently unused and rapidly deteriorating.
The group, with state architectural historian James Garvin, makes a compelling case for why the farm may actually be the sweetest spot in the world. They ticked off the reasons in a slide show fundraiser held recently in the home of New Hampshire senator Martha Fuller Clark in Portsmouth. It begins with that alluvial flood plain and almost a mile of frontage along the Merrimack River that creates some of the richest planting soil in, not only the state, but in the nation. Native Americans were drawn to this rich planting area, which makes it a prized location for future archeological research. The first white settlers began farming here around 1740 and the property is still being farmed today by a neighbor. Revolutionary War hero John Stark surveyed the road through the farm that has never been paved. There was a wilderness fort on the property during the French and Indian War.
And that's just the warm-up. Ebenezer Webster, Daniel's father, arrived on the property soon after the Revolution around 1785. After Ebenezer's death, the famous son transformed it into an experimental farm which was largely run by a hired manager. Webster visited when he could, relaxing from the furor of politics. Two extremely rare early photos show Webster on his bucolic estate just before his death in 1852. After the Civil War the farmhouse became a home for children orphaned by the deadly conflict.
According to Jim Garvin, the 1871 New Hampshire Home for Orphans, located on a working farm, was a step-up in the care of homeless children. It was "one of the first American orphanages to be located in a rural, healthful environment, away from the grime and congestion of the cities," Garvin says. In his slide presentation Garvin showed souvenir postcards of healthy farm children eating dinner, attending classes, working at the farm and playing with the animals. Charitable donations in the early 20th century led to the construction of a number of large brick buildings, a nursery, school and chapel. By the end of World War II the aging institution was renamed the Daniel Webster Home for Children.
In 1960 the Sisters of the Holy Cross purchased the orphanage. Their numbers eventually faded, and in the year 2000 the Sisters sold the land and deteriorating buildings to a potential developer for $1.25 million.
In 2005 the National Trust for Historic Preservation designated Elms Farm, as it is sometimes known, as one of the nation's most endangered properties – a category previously applied to the Wentworth by the Sea Hotel on the Seacoast. The new Webster Farm protection group formed soon after with a complex use plan. Local farmer Dan Fife could farm and eventually buy the land, but not develop it. Recreational groups could manage public use for hiking, kayaking and hunting. Others might create an historic destination point, while another group could rent the campus of buildings. A separate volunteer group now watches over the Webster family cemetery that includes Daniel's parents and siblings, as well as a few children from the orphanage, the former leader of the Sisters of the Holy Cross and residents of Franklin. It is an elaborate and optimistic scenario.
But first things first, Julie Iffland reminds everyone and recites a three step process required before this unique parcel of land and historic features can be used effectively.
"Those buildings are truly truly threatened," she says. "But first you have to control it, then you have to own it, before you can protect it."
CONTINUE Webster Farm

DANIEL WEBSTER FRANKLIN FARM (continued)
Colin Cabot says there are 70,000 re-usable square feet of space in the old orphanage complex plus the 1780 farmhouse that can be "a sink hole for money". Plans to stabilize and renovate the buildings and find a tenant or open an historic outdoor museum and recreation area cannot begin until the debt to TPL is paid.
Everyone is optimistic. Major funds have been earmarked, including a large L-CHIP grant and others for a total of $1.68 million currently committed to the project. But the group now needs to raise a total of $2.5 million quickly – as early as this summer -- to accomplish its many goals. Much of the funding is based on a cascading timetable of payments and grant deadlines that is coming due, so the need for private and corporate "angels" has arrived. These critical contributions may determine whether the historic farm survives intact.
TPL, meanwhile, is left "spinning its wheels" according to Cabot.
"The hard cold fact is that the money that we have not raised costs money," he says, and there is a growing fear that the historic buildings, if not quickly cared for, may have to be torn down.
Like Daniel Webster debating the Devil, there is a quiet battle going on here. An important victory is at hand, an irreplaceable piece of New Hampshire may be saved, but the jury is still out.
Iffland recalls the tense zoning board meetings with cinematic clarity. This was not just about saving some old buildings, she says, but a blood fight to keep a classic way of life in New Hampshire from disappearing.
"Old farmers were getting up in overalls and plaid shirts," she says. "It's the stuff movies are made of. People spoke very passionately from their hearts about the preservation of land."
Iffland, Cabot and Garvin all point out that, from his pastoral farmhouse, Daniel Webster could look out and see the graves of his family. Standing there today, a visitor still sees the same view. Like Daniel, the modern visitor can stroll beside the undulating green rows rising from the black fertile soil and take the old dirt road down a gentle slope to fish in the blue river -- possibly forever.
Copyright © 2006 by J. Dennis Robinson. All rights reserved.