| | |
| --- | --- |
| Webster Farm Calling All Angels | |
Written by J. Dennis Robinson
Page 1 of 3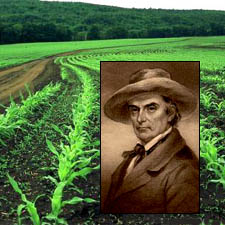 SAVING DANIEL WEBSTER'S FARM
Daniel Webster went to Hell to save one NH farmer, but who will save his heavenly farm? Webster called his Franklin, NH farm the sweetest spot on Earth. Scientists agree that its black alluvial soil is ideal. But can historians also save the Webster homestead and a Civil War orphange? Daniel could use an angel or two.
VIEW color photo gallery of Webster Farm
Daniel Webster had a farm. And on that farm he had a cow. He also had prized imported cattle, sheep, pigs and grew amazing vegetables in the rich black alluvial soil along the Merrimack River in what is now Franklin, NH. Few know even today that the nation's most famous orator and defender of the union was also a successful farmer. Like Washington and Jefferson and Adams before him, Daniel Webster loved the land. Now that very land is on the brink of being preserved for all time. Or is it?
READ: Dan Webster Lost in Portsmouth
"The immediate threat is gone," says Julie Iffland of the Trust for Public Land (TPL), a national conservation organization. "But this is not done. It is not saved."
Last year the historic Daniel Webster Farm almost turned from a field of dreams into a field of condos. Developers planned to build 130 manufactured homes on the 141-acre property that may just be the oldest continually farmed land in the state. In two tense midnight-hour public sessions, conservationists, historians and Franklin citizens defeated the plan to develop what Webster himself called "the very sweetest spot in the world." TPL stepped in at the nick of time to purchase Webster Farm for $1,750,000 from the new owner. The developer, for a quick half million dollar profit, opted to abandon plans to build.
But TPL is only a "bridge" organization, according to Colin Cabot, president of the recently formed Webster Farm Preservation Association.
"They (TPL) need their money back," Cabot says, "and if they don't get it, they lose their job. The bridge fund allows conservation forces to save pieces of property, but they have 11 other projects to support."
Julie Iffland, the TPL senior project manager concurs. She says that her nonprofit group acts as "risk-takers", jumping in to provide money to save land, that when paid back, goes into the next project. But sometimes she has to act the part of the bad guy to make good things happen.
"We didn't step in to say – OK, relax folks. We stepped in to create a window of opportunity. We are an interim step. If we cannot pull this off, we may have to sell it. We did not sign on just to leave all this money on the table. At this point in the game Daniel Webster needs an angel."
CONTINUE Webster Farm
Please visit these SeacoastNH.com ad partners.