| | |
| --- | --- |
| The Prescott Sisters Kick Butt | |
Written by J. Dennis Robinson


HOW PRESCOTT PARK WAS BORN
This is the story of two elderly ex-teachers who knocked down four city blocks. They turned a former "combat zone" and immigrant neighborhood into a family garden park. But first they had to win a legal battle that made them millionaires. All this happened while the rest of America struggled through the Great Depression.
READ: The earlier history of Water Street
Imagine a video game in which two gray-haired little old ladies lay waste to four city blocks. The object of the game is to flatten all the buildings and replace them with a scenic park. That's pretty much what happened along the Portsmouth waterfront in the 1930s. Mary and Josie Prescott played a private game of Monopoly, buying up all the property along Marcy Street from the Memorial Bridge to the historic Point of Graves. Then they knocked the buildings down, planted flowers and turned the land over to the city.
It doesn't take a psychiatrist to deduce that the Prescott sisters had "issues" with the old neighborhood in which they grew up. After the Civil war the South End waterfront had evolved into a rough and tumble center of booze bars, bordellos, warehouses, low-rent tenements and rotting wharves. And it doesn't take a banker to know that giving away waterfront real estate takes deep pockets.
How two elderly schoolteachers suddenly became millionaires while most Americans were still reeling from the Great Depression, is in itself, a dramatic tale. The Prescott sisters had to fight for their fortune.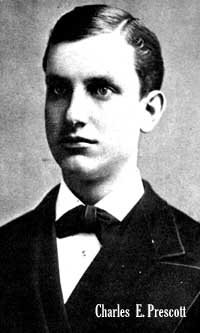 Every nickel of it came from their older brother Charles E. Prescott who, as a young man, became the business protégé of William B. Trask, a very successful retailer. How Trask hooked up with Prescott is still not clear. Trask came from Massachusetts to work as a clerk in a dry goods store in Portsmouth before the Civil War. He quickly took over the company. He married Miss Susie Walker, the only daughter of a Portsmouth mayor. Like Portsmouth ale tycoon Frank Jones, Trask bought his way out of military service and grew his business rapidly during the profitable war years.
By the time of his marriage to Susie in 1865, Trask was partner in a successful dry goods company in Boston. Charles Prescott, growing up with his two sisters just off the infamous Water Street (now Marcy) was just a high school freshman at the time. Portsmouth historian Raymond Brighton, author of The Prescott Story, was unable to pinpoint exactly how Trask met Prescott. Yet by 1877 the two were partners in a very successful retail business in Erie, Pennsylvania. Charles Prescott, like his two sisters, never married. He dedicated himself to business and lived for much of his life with the Trasks in their sprawling mansion in Erie. Both men worked hard, invested wisely and grew wealthy. When Trask died in 1916, Charles and Mrs. Susie Trask, the two Portsmouth natives, lived on in the Erie mansion.
In 1927 the Trask & Prescott retail chain celebrated its 50th anniversary. In November 1932 Charles Prescott, now 79-years old and dying, entered an Erie hospital. His assets totaled nearly $3 million and here the story takes a twist.
Although he survived only a few days at Hamot Hospital, Charles abruptly decided to leave the bulk of his fortune to the Hamot and its sister hospital. His deathbed will was handwritten on a sheet of notepaper -- not by Charles -- and witnessed by his doctor and nurse. In a faint childlike scrawl at the bottom of the page are the letters "C-h-a-r-l" followed by a large "X".
Next to the signature someone has written "his mark". Despite the strange conditions surrounding this will -- which also gave two of Prescott's partners $100,000 each -- it was accepted for probate in Erie Pennsylvania. An earlier will from 1927, granting the bulk of his estate to his sisters in Portsmouth, was thrown out.
CONTINUE the Prescott sotry

HOW PRESCOTT PARK WAS FOUNDED (Continued)
Enter Charles Milby Dale. Exactly how the Prescott sisters selected Dale as their attorney is not known. Dale had come to Portsmouth during World War I, married a local woman and set up a law practice. He had served as the city's mayor. Josie and Mary Prescott, historian Brighton makes clear, were never entirely cut out of their brother's will. Even the deathbed note allowed them the interest income from millions of dollars in the middle of the Depression. But good was not good enough for the sisters and their attorney.
The Prescott sisters sent Dale to Erie with orders to break their brother's alleged deathbed will In a bitter encounter Erie lawyers argued that Charles had been moved in his final days to support the hospital's charitable work with the poor. Dale argued that Pennsylvania law strictly prohibited dying bequests made to charitable institutions. The probate judge, clearly annoyed, was forced to honor the 1927 will.
The Erie judge appended a plea that the Prescott sisters might show charity to the city where their elder brother had earned his fortune and lived for half a century. They didn't. Attorney Dale returned home triumphant with a court decision worth $2,752,693. His personal fee, historian Brighton speculates, was probably a million dollars. He went on to become a two-term governor of New Hampshire.
Under the direction -- critics say "under the thumb" -- of Charles Dale, the Prescott sisters gobbled up waterfront real estate and razed the old buildings. Eventually only three structures, including an historic 18th century warehouse, were left standing in Prescott Park. The upper end of the park opened in 1939 just a few months before the death of Mary Prescott, aged 84. Josie Prescott survived to age 91 and her will left Dale almost totally in charge of completing her dream park. Dale invested both his own money and the Prescotts in a dizzying array of properties in the South End and beyond.
In another odd twist, Dale became even more powerful when Susie Walker Trask died in 1936. The widow of the Erie millionaire donated a considerable sum to three charities in Portsmouth, NH, her hometown. Additional gifts of stock in her husband's company, combined with shares already inherited by the Prescott sisters, gave Charles Dale -- who represented all the Portsmouth parties -- legal control of the surviving Pennsylvania company for years to come.
Although she left Portsmouth at the end of the Civil War in 1865, and despite her 50-year marriage in Erie, Susie Walker Trask decreed that her body be shipped back to Portsmouth for burial. Sixteen years earlier the body of Charles Prescott, her husband's partner, had also been delivered from Pennsylvania to a Portsmouth cemetery. Whatever bond the two shared went to the grave with them.
And although he paid – and his estate still pays -- for what is now acres of waterfront park, with lush manicured gardens and a hugely popular outdoor summer theater, Charles E. Prescott gets no special credit for his inadvertent benevolence. Visitors should look closely at the stone dedicated there in a quiet ceremony in 1939. It names, not Charles the millionaire son, but his father, a man who had no special success in life. A farmer, grocer and carpenter, Charles S. Prescott brought his three children into the rugged neighborhood on Water Street, then died mysteriously in an upstairs bedroom.
The unobtrusive dedication to Charles S. Prescott stands very near the site of the house where Josie Prescott was born in 1858. But that house is gone. It was torn down – flattened like the entire waterfront neighborhood they grew up in -- by the Prescott sisters themselves.
Copyright © 2005 by J. Dennis Robinson. All rights reserved.