| | |
| --- | --- |
| The Prescott Sisters Kick Butt | |
Written by J. Dennis Robinson
Page 1 of 2


HOW PRESCOTT PARK WAS BORN
This is the story of two elderly ex-teachers who knocked down four city blocks. They turned a former "combat zone" and immigrant neighborhood into a family garden park. But first they had to win a legal battle that made them millionaires. All this happened while the rest of America struggled through the Great Depression.
READ: The earlier history of Water Street
Imagine a video game in which two gray-haired little old ladies lay waste to four city blocks. The object of the game is to flatten all the buildings and replace them with a scenic park. That's pretty much what happened along the Portsmouth waterfront in the 1930s. Mary and Josie Prescott played a private game of Monopoly, buying up all the property along Marcy Street from the Memorial Bridge to the historic Point of Graves. Then they knocked the buildings down, planted flowers and turned the land over to the city.
It doesn't take a psychiatrist to deduce that the Prescott sisters had "issues" with the old neighborhood in which they grew up. After the Civil war the South End waterfront had evolved into a rough and tumble center of booze bars, bordellos, warehouses, low-rent tenements and rotting wharves. And it doesn't take a banker to know that giving away waterfront real estate takes deep pockets.
How two elderly schoolteachers suddenly became millionaires while most Americans were still reeling from the Great Depression, is in itself, a dramatic tale. The Prescott sisters had to fight for their fortune.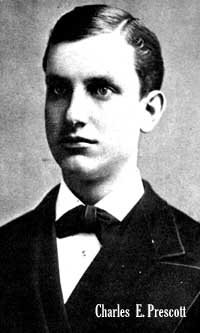 Every nickel of it came from their older brother Charles E. Prescott who, as a young man, became the business protégé of William B. Trask, a very successful retailer. How Trask hooked up with Prescott is still not clear. Trask came from Massachusetts to work as a clerk in a dry goods store in Portsmouth before the Civil War. He quickly took over the company. He married Miss Susie Walker, the only daughter of a Portsmouth mayor. Like Portsmouth ale tycoon Frank Jones, Trask bought his way out of military service and grew his business rapidly during the profitable war years.
By the time of his marriage to Susie in 1865, Trask was partner in a successful dry goods company in Boston. Charles Prescott, growing up with his two sisters just off the infamous Water Street (now Marcy) was just a high school freshman at the time. Portsmouth historian Raymond Brighton, author of The Prescott Story, was unable to pinpoint exactly how Trask met Prescott. Yet by 1877 the two were partners in a very successful retail business in Erie, Pennsylvania. Charles Prescott, like his two sisters, never married. He dedicated himself to business and lived for much of his life with the Trasks in their sprawling mansion in Erie. Both men worked hard, invested wisely and grew wealthy. When Trask died in 1916, Charles and Mrs. Susie Trask, the two Portsmouth natives, lived on in the Erie mansion.
In 1927 the Trask & Prescott retail chain celebrated its 50th anniversary. In November 1932 Charles Prescott, now 79-years old and dying, entered an Erie hospital. His assets totaled nearly $3 million and here the story takes a twist.
Although he survived only a few days at Hamot Hospital, Charles abruptly decided to leave the bulk of his fortune to the Hamot and its sister hospital. His deathbed will was handwritten on a sheet of notepaper -- not by Charles -- and witnessed by his doctor and nurse. In a faint childlike scrawl at the bottom of the page are the letters "C-h-a-r-l" followed by a large "X".
Next to the signature someone has written "his mark". Despite the strange conditions surrounding this will -- which also gave two of Prescott's partners $100,000 each -- it was accepted for probate in Erie Pennsylvania. An earlier will from 1927, granting the bulk of his estate to his sisters in Portsmouth, was thrown out.
CONTINUE the Prescott sotry
Please visit these SeacoastNH.com ad partners.