| | |
| --- | --- |
| Blood on the Snow in Portsmouth | |
Written by J. Dennis Robinson
Page 1 of 3

BOYS WILL BE BOYS
Every city has its turf wars. Young boys especially like to stake out their territory. Two winter battles, based in Portsmouth, have been immortalized in 19th century novels. One focuses on the bloody snowball fight on Slatter's Hill. The second is about a death defying sled race down Mason's Hill. Both speak volumes about being a boy.
Long before the winter Olympics, Portsmouth, New hampshire played host to a pair of cold weather games that still shiver in the annals of American literature. The famous snowball fight on Slatter's Hill was perhaps more war than sport.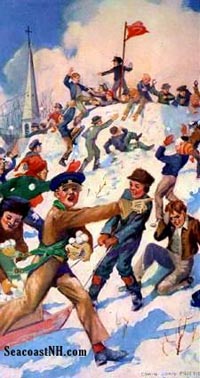 The fictionalized battle in The Story of a Bad Boy by Thomas Bailey Aldrich (1836-1907) is drawn from the author's childhood experiences here in the early 1850s. The fight between the North Enders and the South Enders, Aldrich says, was based on a "mortal hatred" that had gone on between Portsmouth boys for centuries. The origin of the neighborhood rivalry was unknown, but traces of it still survive today among local natives.
In his famous 1869 novel, Aldrich describes the battle with military precision and even includes a detailed sketch of the snow fort and its armory. One afternoon, the story goes, twenty or thirty North-enders took control of the fort on a rise of ground called No-Man's Land. The walls were four feet high and twenty-two inches thick. Each gunner was equipped with a sizeable pyramid of perfectly-shaped snowballs. Projectiles containing rocks or made of ice had been banned by agreement of the opposing generals. A make-shift hospital was in place and a detention area set aside for captured prisoners. By 2 pm a force of fifty Puddledock boys or "River-Rats" were poised for the attack.
Continue BLOOD ON THE SNOW
Please visit these SeacoastNH.com ad partners.