| | |
| --- | --- |
| A Yankee in the Desert, Part Two | |
Written by J. Dennis Robinson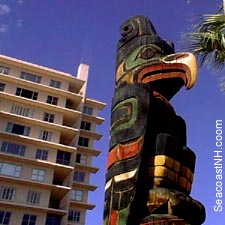 LOST IN PHOENIX
Who would purposefully live near a scorching desert with rattlers and scorpions under every cactus? Funny thing is, the independent, hard-knuckle entrepreneurial citizens of Phoenix sure many of the characters of a life-long New Englander. And with Global Warming, even the temperature is similar.
JUMP BACK to Part One
The Yankee version of American history goes like this: (a) the Pilgrims founded this nation when they landed here in New England; (b) the 13 original colonies, including all six New England states, formed here in the East; (c) our Boston Tea Party and the Shot Heard Round the World kicked off the American Revolution; (d) the North won the Civil War; (e) a guy from New Hampshire named Horace Greeley said "Go West, young man," people did, and the American Frontier was settled.
That view may be distorted, even downright false, but it's what I learned in school. Those Plymouth Pilgrims, the original New Englanders, were headed West too, but arriving by sailing ship instead of prairie schooner -- and arriving first -- got them into Chapter One of the US history textbook, and first place in this culture, means everything. Whatever we studied about the West must have been crammed in at the end of the school year. I recall only a guacamole of proper nouns - Alamo, Lewis & Clark, Donner Pass, Gold Rush, Mexican War, Mormons, Geronimo, Missouri Compromise, Tombstone, Fort Apache.
Newspaperman Horace Greeley, born in Amherst, NH, had never actually been West in 1841 when he urged young Americans to abandon squalid Eastern cities and factories, and head for the Frontier. When Greeley finally took his own advice and got a look at the great American desert in 1859, he wrote, "This desolation seems irredeemable." Make up your mind, Horace!
By the time I took Greeley's advice to go West, I was no longer a young man. My brain had been pickled in the brine of Yankee chauvinism for half a century. My first instinct, upon arriving in Phoenix, Arizona, was to hike alone into the Senoran desert and commune with an ancient saguaro cactus. The next day I visited what Westerners call "historic houses" preserved from way back in the 1920s. Heck, my last office building was a century older than that. The Phoenix Historical Society has a covered wagon out front, but the architecture is distinctly space age. To break down my cowboy TV-stereotype of the Wild West, I visited a dude ranch near Mesa, where a bunch of good ol' boys dressed up like cowboys and re-enacted the founding of Arizona by shooting the hell out of each other with Colt 45s loaded with blank cartridges. Then we all 'et some biscuits and beans out of a chuck wagon and listened to a bluegrass band.
The third day, craving company and guidance, I joined a dozen fellow tourists in a glass-walled maxi-van. I skipped over the quickie shopping spree across the Mexican border and the mad dash one-day tour to the Grand Canyon and settled, instead, for a day trip to scenic red-rock Sedona. Our group leader Rick Kingsbury, a third-generation Arizonan, got right to the point:
"We don't hold much stock in that East-to-West theory of American history around here," he said over the PA system while easing the van onto the Arizona State highway. Forests of ancient saguaros, arms uplifted, whirled by. Phoenix might look modern, the guide explained, but it was built atop abandoned Hohokam Indian irrigation ditches that date to the late 1400s.
The Native American presence, methodically eliminated from New Hampshire by whites in the 1700s, remains strong in Arizona. Reservations comprise a third of the state's territory where a range of tribes and languages thrive. Trading posts, petroglyph markings, Indian folk and fine art, even gambling casinos abound here. Phoenix didn't even become a state until 1912. Still it's hard to argue the seniority of New England while standing below the five-story high cliff dwellings of the Sinagua Indians at Camp Verde, our first stop on the tour.
Archeologists estimate Native Americans lived in the American Southwest at least 25,000 years ago. That may be true of New England, too, but the current proven date is about 10,000 years. If only European exploration starts your clock, Arizona history still beats the Mayflower crowd by nearly a century with the arrival of Spanish explorers in the early 1500s. They were searching for easy gold, as were our pre-Pilgrim explorers in the East. Instead they found natural resources - and a lot of back breaking work.
Yankee in the Desert, Part 1

NH Tourist in Phoneix, AZ (continued)

Kingsbury never missed a chance to take pot shots at Yankee members of the tour.
"You people from the East are so strange," he offered. "Where did you ever get the idea that grass is green and rivers have water in them?"
The more Rick Kingsbury talked, the more familiar the West became. When we pulled into Jerome, an old copper mining village teetering on a steep hill, it felt like Newmarket, NH. Old photos of Jerome miners look like old photos of French Canadian factory workers. All but abandoned by 1950, the ghost town was adopted "by the hippies" in the 60's Kingsbury said. Today, it's a super funky tourist town with tie-dyed aging hipsters and hard rock Hell's Angels.
Something of the outlaw spirit still hovers over the Southwest territory where the last of the nation's bad boys found refuge from civilization and law. Arizonians appear as proud of their late 48th state status as we are of the first in the nation presidential primary. These are badges of our shared pioneer spirit and iconoclastic nature. They brag about surviving scorching summers the way we take pride in digging out from six foot snow drifts. Cordial, yet cantankerous, the desert residents I met could have easily passed for Yankee fishermen.
Last stop on the tour was the stunning rock hills of Sedona, as dry and red and tall as the ocean is wet and blue and flat. You've seen it all in the movies, in cowboy films like Broken Arrow, Yellowstone Kid, Cheyenne, Riders of the Purple Sage, Copper Canyon, Legend of Lobo, Tall in the Saddle. That's all Sedona. Formerly Arizona's little secret, today, Rick Kinsgbury explained, it is home to more millionaires per capita, than any other town in the United States. It ranks just below Portsmouth, NH as one of the best places in the nation to live.
What we had in Upper Sedona, nevertheless, was a mall dropped in the middle of a natural wonder. I was happier in Jerome, in downtown Phoenix or on the surrounding desert than watching chic people on cell phones drink double mocha lates with a mountain view. Sedona has been gaining fame as a New Age Mecca. Some say it is the Vortex, home to some great Cosmic rift. Two well-dressed young men sat in a lotus position and "ommed" meditatively on a park bench near an ice cream and T-shirt shop. Next door there was a half price sale on mystic amulets and powerful crystals. This, even the members of our tour bus agreed, was not really Arizona, but some horrid convergence of California and New York City. I bought the obligatory souvenir and climbed back into the tour van early.
Even in the middle 19th century, Horace Greeley saw the whole thing coming. Three decades after urging Eastern men to become Western men, Greeley wrote in his New York Tribune: "This Daniel Boone business is about played out." It isn't played out, though, quite yet. A bit of that trail blazing spirit survives. I still feel it on a lobster boat chugging around the Isles of Shoals. Rick Kinsbury feels it on his boat on Arizona's man-made Lake Havasu. The West and East, it seems, are much closer than any map of our expansive nation indicates.
Copyright (c) SeacoastNH.com. All rights reserved.
Please visit these SeacoastNH.com ad partners.