FRESH STUFF DAILY
Seacoast New Hampshire
& South Coast Maine
SEE ALL SIGNED BOOKS by J. Dennis Robinson
click here
Written by J. Dennis Robinson

SEACOAST NH FILMS
New Hampshire filmmaker Louis de Rochemont had a crazy idea at the dawn of the Cold War. He would animate George Orwell's classic fable "Animal Farm". Turn a barnyard novel about totalitarianism into a cartoon? Yes, and he did – but not without a lot of help from the CIA. Read the backstory.
Written by J. Dennis Robinson

THE ISLES OF SHOALS
No Virginia, there is no pirate treasure on the Isles of Shoals. But yes, people keep looking and hoping. In this archived episode, we ride with the HISTORY CHANNEL to search for pirate gold at Lunging Island. A behind-the-scenes look at the making of a less-than-swashbuckling TV documentary in Seacoast New Hampshire.
Written by J. Dennis Robinson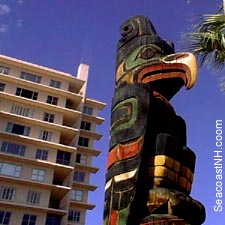 LOST IN PHOENIX
Who would purposefully live near a scorching desert with rattlers and scorpions under every cactus? Funny thing is, the independent, hard-knuckle entrepreneurial citizens of Phoenix sure many of the characters of a life-long New Englander. And with Global Warming, even the temperature is similar.
Written by J. Dennis Robinson


AMONG THE LCOAL CACTI
The editor, who doesn't get out much, finds himself on a Phoenix city bus heading toward the desert. His mission is to meet his first ancient saguaro cactus. In the end, he meets hundreds, but your first cactus, they say, is always the best. The two part tour begins here (Click above)
Written by J. Dennis Robinson


TALES OF HAMPTON
Take a lesson. Gen. Jonathan Moulton was a Revolutionary War hero. But he flaunted his wealth in the poor Puritan town of Hampton, NH. He made too many locals angry when he curried favor with the British and married a second young wife. Townspeople said he was in league with the devil – and the story stuck.
Subcategories
History Matters

HISTORY MATTERS

Seacoast History by author / editor J. Dennis Robinson, presented biweekly in collaboration with The Portsmouth Herald. (check the Monday Herald every other week for printed version). In "History Matters" Robinson explores regional history and its connection to modern issues in a dramatic and highly readable style. The author has been writing about the "America\'s Smallest Seacaost" (sm) for over two decades.For up to 100 original aritlces by JDR also click here to visit AS I PLEASE. For the latest news see the Portsmouth Herald online web site just click here.

Article Count:

178

As I Please

HISTORY MATTERS

The editor ponders history, mostly, in this popular Seacoast column. This index contains over 100 original columns by J. Dennis Robinson. The author has been writing about the "America's Smallest Seacaost" (sm) for over two decades.

Article Count:

88

Historical Societies


You will find a small historical society building in almost every town in the Seacoast region. Each is unique, run by its own cluster of local history fans and filled with curios. Most are in great need of funds and volunteer help. If you have more updated links, please send them along, and please -- help preserver your town history before it is too late.

Article Count:

2

Jesse James Films

THE DINGUS PROJECT
Jesse James in the Movies

At least 50 American films and documentaries include the character of outlaw Jesse James. The Dingus Project is one man\'s attempt to view ALL of those films. Writer J. Dennis Robinson began this project after writing a biography of Jesse James for children -- Jesse James, Legendary Outlaw, published in hardcover and paperback by Compass Point Books.The goal, besides watching a lot of movies, is to provide a quick databse that shows how few of these films are based on fact, and how widespread the "imaginary" view of Jesse James has grown. Thanks to Hollywood, the historic Jesse James has all but disappeared. So far we\'ve obtained copies of over 30 films and documentaries related to Mr/ James and we\'re posting them like crazy in anticipation of the Brad Pitt film to be released in 2007. Sure, it\'s crazy, but so was Jesse.

Article Count:

25
Please visit these SeacoastNH.com ad partners.
News about Portsmouth from Fosters.com
Friday, February 23, 2018