WHAT'S NEW?
| | |
| --- | --- |
| Signature Dishes of Seacoast Chefs | |
Written by Crystal Ward Kent
Page 3 of 3
Three Chimneys Inn
Durham, NH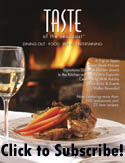 Over in Durham, New Hampshire, is The Three Chimneys Inn, a beautifully restored mansion and carriage house dating from 1649. There are two cozy and distinctive indoor dining areas. The ffrost Sawyer Tavern, with its open hearth, summer kitchen, granite walls and rough-hewn beams is a warm haven on a winter's night. The Maples is a quietly elegant room, with soft yellow walls, hardwood floors, floral print armchairs and intimate tables. The stone fireplace is hung with cooking pans, just as in Colonial times, and with the candles lit, one easily feels transported back to the days of Early America.
Three Chimneys Inn has won numerous awards for their cuisine. Yankee magazine has named them "Editor's Pick" every year since 1998; Phantom Gourmet has voted them "Best Inn Dining in New England," and they received the 2004 Award of Excellence from the American Restaurant Association.
Executive Chef David Masotta is new to Three Chimneys Inn, but already is committed to carrying on the tradition of excellence. "I want to keep the menu updated and fresh," he says. "Right now, it's a good blend of New American cuisine, with hints of French, Italian and even Thai. It's very distinctive fare."
David has added some new dishes to the menu that are already very popular.
For lunch, try the homemade focaccia bread with marinated garlic chicken, fresh Mozzarella, Provolone, and roasted red peppers with a sun-dried tomato mayonnaise. The combination is especially fresh and flavorful, and perfect any season. Another new favorite is their traditional Reuben with a twist--you still get your sauerkraut, Swiss cheese and tomato, but these classic ingredients are combined with marinated Portobello mushrooms and served on mottled rye bread.
At dinner, look for his tasty mix of shrimps, scallops, shallots and tarragon, which are sautéed in a blend of pear juice and white wine. "I created this recipe some years ago in Boston and it was very popular," he notes. "The pear juice adds an unexpected sweetness that accents the seafood."
Another new classic is the lobster and salmon combination. The salmon is pan-seared, then when half done, poached in a Thai curry sauce. David then adds lobster broth and coconut milk with a dash of lime. The finished fish is served on a bed of Yukon gold potatoes, tomatoes and spinach. A lobster claw or tail accompanies the halibut.
Other favorites at Three Chimneys Inn are the grilled tenderloin accompanied by a sweet potato bleu cheese dauphinois, a bleu cheese fritter, and a watercress salad and port wine sauce; and the Potato Crusted Haddock, fresh North Atlantic Haddock baked with a potato crust, then topped with lemon dill butter sauce.
Lunch is served Tuesday through Saturday from 11:30 a.m. to 2:30 p.m., and dinner seven nights a week, from 5 p.m. on. For more information on The Three Chimneys Inn, please call (603) 868-7800, or visit their web site.
By Crystal Ward Kent. © 2007 Taste of the Seacoast. All rights reserved.
Please visit these SeacoastNH.com ad partners.