WHAT'S NEW?
| | |
| --- | --- |
| Signature Dishes of Seacoast Chefs | |
Written by Crystal Ward Kent
Page 2 of 3
Grissini
Kennebunkport, ME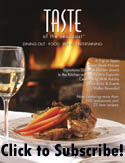 Continue exploring Kennebunkport with a visit to Grissini — the Italian word for breadstick--a wonderful Italian restaurant at 27 Western Avenue. Grissini is stunning inside, with warm, golden walls, open beams, and a massive stone fireplace at one end. Candelabras and flowers adorn many of the tables. Black-and-white checkerboard floor and Italian art clearly capture the essence of the Old Country.
Their specialty dishes are based on northern Italian classics. They opened in 1996, and their offerings have clearly struck a chord with locals and visitors alike.
Grissini offers baskets of warm breadsticks (of course), and a diverse array of salads and antipasti. The menu changes frequently, but these samplings give an idea of what everyone's talking about. For salads, the classic Caesar is always a favorite with its mix of hearts of romaine, shaved Parmesan cheese, garlic croutons, and garlic-anchovy dressing. Another distinctive choice is the Polenta Verde, which is mixed greens, polenta croutons, grape tomatoes, Kalamata olives, and fresh Mozzarella with a balsamic vinaigrette. Among the antipasti selections there is always homemade soup, plus traditional offerings such as fried calamari with lemon aioli and salsa puttenesca, or Involtini, a smoked salmon with Ricotta, capers, and a lemon-artichoke-caper vinaigrette.
Diners love the open kitchen at Grissini, which features a wood-burning grill. The grill allows them to create unique dishes such as their farm-raised chicken with cippolini onions and wood-grilled asparagus--already a classic. Equally flavorful is their wood-grilled salmon with sautéed shitake mushrooms; served with spinach, garlic mashed potatoes, and a balsamic butter sauce. Or try the Agnello, a braised honey glazed lamb shank with spicy barlotti beans and arugula pesto.
"Just about anything we do on the grill becomes a customer favorite," says Lee Fopeano, general manager. "Customers love seeing their dishes created and the flavor combinations are amazing."
Their brick-oven pizza is famous and constantly in demand. If you love cheese, try their Formaggi, which is loaded with Fontina, Mozzarella, Gorgonzola and Parmesan cheese, accented with a dash of garlic oil. Fans of combinations go for the Pancetta Affumicata which is topped with tomato sauce, caramelized onions, roasted red peppers, smoked bacon and goat cheese. But the number one choice is The Margherita, a classic, topped with tomato sauce, mozzarella cheese and fresh basil.
What would an Italian restaurant be without homemade pasta? Grissini doesn't disappoint, presenting a wide selection including Burina, a fresh fettuccini mixed with peas, onions, prosciutto, and parmesan in a light cream sauce; Cannelloni, featuring stuffed pasta sheets of beef, Mozzarella and Parmesan with tomato sauce, and a of penne pasta with Bolognese meat sauce, and Parmigianino Regina.
The dessert offerings are all classics, including crème brulee, chocolate mousse and of course, tiramisu. "The Tiramisu is a house favorite," says Lee. "It is a traditional Tuscan dish. We make our own sponge--we don't use lady fingers. It's then laced with espresso and Mascarpone mousse, and dusted with powdered chocolate. We serve lots of them each night."
For more information about Grissini, call (207) 967-2211.
CONTINUE TO NEXT SECRET
Please visit these SeacoastNH.com ad partners.