WHAT'S NEW?
| | |
| --- | --- |
| Seacoast Brunch is Weekend Indulgence | |
Written by Crystal Ward Kent
Page 1 of 3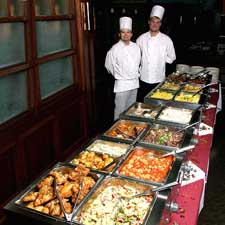 TASTE OF THE SEACOAST
It's a lazy Sunday morning, perfect for snoozing late, reading the newspaper, and enjoying a leisurely brunch. But where to go? Help is at hand. This sampling of well-known brunches and breakfast buffets is sure to tempt you. Thank goodness Sunday comes every week..
SUBSCRIBE TO Taste of the Seacoast
Perhaps the most elegant brunch on the Seacoast is found at the Wentworth-by-the-Sea in New Castle, New Hampshire. The Wentworth is one of the last grand hotels, with graceful architecture and stunning harbor views. From the moment the doorman ushers you in, you know a treat is in store. Brunch is served in the Wentworth's dazzling grand ballroom, complete with Victorian decor and crystal chandeliers. If it's especially busy, you may also be seated at a cozy table in the adjacent enclosed veranda, which overlooks the gardens and harbor.
Although the setting is refined, a jazz duo keeps the ambience light and relaxed. Brunch is served every Sunday from 10 a.m. until 2 p.m. and reservations are recommended. In addition to the standard beverages, such as coffee, tea and orange juice, you can also start off with a sparkling glass of champagne or a mimosa. Now it's time to meet the challenge ahead--choosing what to eat from one of the most amazing selections around.
JUMP TO: Abercrombie & Finch AND Acorns
JUMP TO: Harbor's Edge AND Stage Neck Inn and Clay Hill Farm
Wentworth by the Sea
New Castle, NH
The Wentworth kitchen staff starts work on brunch a full day ahead, and it shows. There are literally hundreds of different offerings. Numerous "action stations" allow chefs to personally prepare your food. The arrangement is entertaining, informative and lets you get your meal exactly as you like it.
"Customers enjoy the open concept; they like being able to interact with the chefs," says Dan Dumont, executive chef. "At our cheese station, we also have local cheesemakers, who not only carve the cheese for you, they also tell you about the cheese as they work."
At the far end of the room, a glittering ice sculpture marks the seasonal fruit display. The display features an abundance of berries, melons, and selected fruits, as well as fruit salads, and on this day, a strawberry fondue. Nearby is the array of breakfast pastries, with assorted whipped butters, cream cheeses and jams. A little further down is the salad and soup table. The menu varies, but it's always creative. On this visit, guests were treated to Chilled Mint Strawberry Soup, Fresh Blueberry, Apricot with Sweet Onion Salad, and Baby Spinach with assorted Fresh Berries, Honey Toasted Walnuts & Crumble with a Bleu Cheese/Champagne Raspberry Dressing.
In the center of the room, is a huge semi-circular table which holds the main entrees and breakfast foods. Chefs move quickly about within the circle as they prepare and serve. Lines quickly form for the Eggs Benedict, cornbeef hash with poached eggs and hollandaise sauce, and Monte Cristo with Lobster Avocado Salad and Melted Gruyere Cheese (all prepared while you wait). Children head for the pancake station, and eagerly watch their choices being flipped. You
can have pancakes with fruit, or the kids' number one choice--chocolate chips. Adults, meanwhile, are asking for the Vanilla and Almond French Toast with warm maple syrup, or maybe a cheese blintz.
If you want something other than breakfast food, try some Gravlox with potato pancakes, or the Seared Atlantic Halibut. At the carving station, chefs carefully slice portions of Pepper Crusted Sirloin, or Herb Roasted Turkey Supreme with Ginger Cherry Chutney. Oysters on the half shell, shrimp cocktail, and covered dishes too numerous to mention round out the main meal.
It would be a serious mistake not to save room for dessert. A three-tiered table features such delicacies as petit fours*, various mousses with fresh berries, pies, strawberries dipped in chocolate, mini strawberry shortcakes, and an assortment of creme brulees.
An outstanding staff is key to the Wentworth's distinctive fare. According to Dan, the hotel's dining room is rated number one out of all American Marriotts--that's 340 hotels--and Ken Shimmer, his banquet chef, is also ranked number one.
"Dining at the Wentworth should be a memorable experience," says Dan. "We strive to have unforgettable food featuring local, organically grown products of highest quality; and, of course, always a beautiful presentation."
OUTSIDE LINK: Wentworth by the Sea, call (603) 373-6566

CONTINUE TO NEXT SEACOAST BRUNCH
Please visit these SeacoastNH.com ad partners.