WHAT'S NEW?
Written by Jean Kerr


TASTE OF THE SEACOAST
You know her for the Italian cookbooks and the TV cooking shows. But did you know that this bestselling author got her start writing for a free Portsmouth weekly newspaper? Mary Ann Esposito offers a candid look at her busy life in this fascinating interview with her first publisher.
EDITOR'S NOTE: Writer Jean Kerr is editor of Taste of the Seacoast magazine. Back in the early eighties, she was the editor and publisher of a local arts and entertainment weekly called re:Ports. Kerr ran a Culinary Arts column which she occasionally wrote under a pseudonym. Most weeks, however, it was written by a local Seacoast cook and writer by the name of Mary Ann Esposito. Kerr is proud to say she was the first to publish Esposito's work.
CLICK FOR 3 New 30-Minute Recipes
Since then, Mary Ann has risen to international prominence as a writer and chef. She is the author of nine bestselling cookbooks, the host and co-producer of the longest-running cooking show on television, Ciao Italia, with a per-episode audience of 1.2 million people. I consider my self fortunate that our paths have crossed again.
Taste Magazine talks to Ciao Italia creator
about cooking, writing, and seventeen years on camera.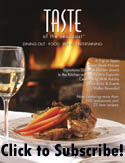 More than 20 years ago, Mary Ann Esposito enrolled in a writing course at the University of New Hampshire near her home in Durham. Their weekly assignment was to bring a piece into class each week with the aim of submitting it for publication. Re:Ports, a local arts newspaper, began running her column frequently but her aims were higher. She submitted a column to the in-flight magazine for Alitalia. The response was positive, but she says, "They wrote back and said we really liked your article but we can't publish it because you're not famous." Undaunted, she submitted a story on how the tomato came to Italy to Attenzione, an Italian-interest magazine published in New York. Finally, she was able to go back to her writing class with the news that she was being published in a national publication.
How she managed to find time to write is anyone's guess. At the time, she was running a catering business, teaching Italian cooking at a local adult education center, beginning work on her master's degree and raising two kids. Her ability to juggle numerous priorities led to her continued success and to the pilot for Ciao Italia which first aired in 1989. When New Hampshire Public Television accepted her proposal for a new Italian cooking show, she was unprepared for what came next.
On a hot August day in 1988, the television crew arrived. "They came to the house and I had no idea what this would entail — I didn't have a clue. Twenty two people arrived at the house and started rearranging things. It was two o'clock before they were ready to shoot. The producer just kept saying, 'Mary Ann, you have to be up, up up! Up, up, up!"
"The theme was an Italian picnic and I remember sitting on the lawn after we finished shooting sometime around seven o'clock at night and just being exhausted. It was hot and I was just mentally tired."
The next day, when her husband asked how it had gone, I said 'You know, I hope they don't do this program. It's too mental, too exhausting, too draining —this up, up, up."
Thankfully, she rose to the challenge. The station sent the pilot out and it got a great reception so the station decided to film 13 episodes. Looking back she says, "I would hate to see those first shows…I would die!" Still, she recalls the day the first show aired, listening to NHPTV host Fritz Weatherbee introduce the program "and I thought, you know, dreams really do come true. That was the beginning of Ciao and now we've just finished our 17th season."
CONTINUE ESPOSITO INTERVIEW

CIAO ITALIA CREATOR INTERVIEW (continued)
In the second season, Ciao Italia was picked up by PBS. "I had no idea what this implied since I felt I was doing this for the local community," says Mary Ann. "I had no idea for this to be a national show. But I was in the right place at the right time because there were no Italian cooking shows — none. There was Julia Child, Jacques [Pepin], there was Graham Kerr and there was The Frugal Gourmet. That was it. And Italian has always been a popular cuisine." Not only were there no Italian cooking shows, the interest in authentic Italian ingredients like extra-virgin olive oil and balsamic vinegars was just beginning in mainstream America. And given Mary Ann's own Italian heritage, the direction was a natural.
"My mother's mother came from Naples—my mother was born here though. My grandmother lived with us so we only spoke Italian, a Neapolitan dialect. Inside you were in Italy. Outside, you were back in America. Except it followed me to school because my grandma would make my lunch. I'd have a fried egg sandwich when everyone else had peanut butter and jelly and Twinkies."
"In our fridge there were pig hocks, gelatin from cow's feet. My grandmother had owned a boarding house so she was always cooking. She was very clever — she had no education and couldn't speak English. She'd charge twenty five cents for a bath and a meal so she was always in the realm of cooking. My other grandmother was from Sicily and she had her own butcher shop. She lived near Rochester, New York and every summer I'd go spend time with her and she'd get excited about things like how we were going to singe the feathers of the chickens that day. And if you've ever done it you know it's the messiest job but, boy, her chicken in wine, I just can't supersede it. Every Saturday we had zucchini and eggs and liver and onions. I got to hate liver because we had it so much."
"But these women had nothing — they had to survive by their wits. What I love about what I do is that I've been able to immortalize that. People will come up to me and say 'I made your grandma's such-and-such.' or 'You remind me of my mother.' "
"Ciao Italia shows you and gives you a reverence for food. Respect for food as it is in Italian culture — respect that comes from knowing where your food comes from. To be a cook is like being an artist; you begin with a blank palate. You start with an idea and blend things together like colors. And if you have fresh local ingredients you don't need a recipe. That's why it's so hard to write a cookbook because I don't cook that way.
But once again, she rose to the challenge. Her first cookbook, Ciao Italia, appeared as a companion volume to the show in 1991. Since then she has written eight more cookbooks, including Nella Cucina, Celebrations Italian Style, What You Knead, Mangia Pasta, Ciao Italia in Umbria, Ciao Italia in Tuscany and her most recent volume, Ciao Italia Pronto! released in 2005.
I asked how her life has changed in the past 17 years.
"I still do everything I did before, I'm just busier." (I wondered how that could be possible, although her children are grown now.)
"I'm still who I am. It's very nice when someone comes up and says 'Oh my God, I love your show, I watch you all the time,' but I just think of myself as a cook, and that's what I am — a cook. If people get enjoyment out of it and they learn something, I think that's wonderful, but I certainly am not walking around with a big head. I don't believe in that and I try to be as low-key as possible."
"There have been so many doors that have opened to me in terms of the people I've met in the world of food. I've cleaned honeycombs, baked pizza in brink ovens, made pasta and planted gardens with people in Italy. Those are wonderful things — they might not seem so wonderful to somebody else but they are to me. I've been in situations that I could never have imagined. Cooking polenta with Regis Philbin, appearing on the Today show with Katie Couric and Ann Curry."
The production of Ciao Italia now takes place in the studios of Rhode Island Public Television where there is more of an Italian-based community. Mary Ann is now the co-producer of the show, responsible for the development of the show and the concepts behind it. Paul Lally, a former producer of Mr. Roger's Neighborhood is her co-producer.
"We have fun and what I loved about Paul is he just said 'Be yourself, just do what you do.' We start each show with the same three words, 'Chip a dish.' Kind of like break a leg." Studio filming is grueling, shooting as many as 19 shows in ten days, each featuring three recipes. On location filming takes her to Italy, other European destinations and all over the U.S.
In May of 2006, Mary Ann was awarded a well-deserved honorary doctorate from St. Anselm's College in Manchester, New Hampshire, applauding her for her many achievements. "Educating her viewers and readers not only about technique, but about meaning, symbolism, history and culture, she has brought to a new generation an appreciation of the value of thoughtful hospitality, something very close to our Benedictine hearts. Her warmth and authenticity combine with her culinary expertise and mastery of Italian history, religious tradition and folklore to produce a five star course that feeds not only the body but the mind and the spirit as well."
So what does the future hold for her?
"We are working towards a project called Food University. It will be a PBS pilot that showcases food 101. The concept is to start with four different chefs and teach four different ethnic cuisines. I'll do Italian, Martin Yan will teach Chinese, Sara Moulton will teach American and Jacques [Pepin] will do French. It will be basic information — right back in to the kitchen, how to skin a tomato, how to make stock, how to cut up a chicken, how to cook a chop."
"My big goal is to do the 20th anniversary edition of Ciao Italia," her first cookbook. "We're also going to completely update our web site because that's really how to reach younger people these days. After that," she says, laughing, "if I'm still alive, I'd like to help others produce their own shows." Good news for any protégé she might take on.
Copyright (c) 2007 by Jean Kerr and Taste of the Seacoast magazine. All rights reserved.
Please visit these SeacoastNH.com ad partners.