WHAT'S NEW?
Written by Jean Kerr
Page 1 of 2


TASTE OF THE SEACOAST
You know her for the Italian cookbooks and the TV cooking shows. But did you know that this bestselling author got her start writing for a free Portsmouth weekly newspaper? Mary Ann Esposito offers a candid look at her busy life in this fascinating interview with her first publisher.
EDITOR'S NOTE: Writer Jean Kerr is editor of Taste of the Seacoast magazine. Back in the early eighties, she was the editor and publisher of a local arts and entertainment weekly called re:Ports. Kerr ran a Culinary Arts column which she occasionally wrote under a pseudonym. Most weeks, however, it was written by a local Seacoast cook and writer by the name of Mary Ann Esposito. Kerr is proud to say she was the first to publish Esposito's work.
CLICK FOR 3 New 30-Minute Recipes
Since then, Mary Ann has risen to international prominence as a writer and chef. She is the author of nine bestselling cookbooks, the host and co-producer of the longest-running cooking show on television, Ciao Italia, with a per-episode audience of 1.2 million people. I consider my self fortunate that our paths have crossed again.
Taste Magazine talks to Ciao Italia creator
about cooking, writing, and seventeen years on camera.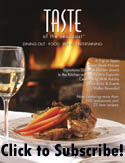 More than 20 years ago, Mary Ann Esposito enrolled in a writing course at the University of New Hampshire near her home in Durham. Their weekly assignment was to bring a piece into class each week with the aim of submitting it for publication. Re:Ports, a local arts newspaper, began running her column frequently but her aims were higher. She submitted a column to the in-flight magazine for Alitalia. The response was positive, but she says, "They wrote back and said we really liked your article but we can't publish it because you're not famous." Undaunted, she submitted a story on how the tomato came to Italy to Attenzione, an Italian-interest magazine published in New York. Finally, she was able to go back to her writing class with the news that she was being published in a national publication.
How she managed to find time to write is anyone's guess. At the time, she was running a catering business, teaching Italian cooking at a local adult education center, beginning work on her master's degree and raising two kids. Her ability to juggle numerous priorities led to her continued success and to the pilot for Ciao Italia which first aired in 1989. When New Hampshire Public Television accepted her proposal for a new Italian cooking show, she was unprepared for what came next.
On a hot August day in 1988, the television crew arrived. "They came to the house and I had no idea what this would entail — I didn't have a clue. Twenty two people arrived at the house and started rearranging things. It was two o'clock before they were ready to shoot. The producer just kept saying, 'Mary Ann, you have to be up, up up! Up, up, up!"
"The theme was an Italian picnic and I remember sitting on the lawn after we finished shooting sometime around seven o'clock at night and just being exhausted. It was hot and I was just mentally tired."
The next day, when her husband asked how it had gone, I said 'You know, I hope they don't do this program. It's too mental, too exhausting, too draining —this up, up, up."
Thankfully, she rose to the challenge. The station sent the pilot out and it got a great reception so the station decided to film 13 episodes. Looking back she says, "I would hate to see those first shows…I would die!" Still, she recalls the day the first show aired, listening to NHPTV host Fritz Weatherbee introduce the program "and I thought, you know, dreams really do come true. That was the beginning of Ciao and now we've just finished our 17th season."
CONTINUE ESPOSITO INTERVIEW
Please visit these SeacoastNH.com ad partners.